"I have reformatted my hard drive, how can I recover files from the reformatted hard drive? I download your software on my computer, is it possible to recover these reformatted files?" – Linda
Everyone will have the sinking feeling when reformatting a hard drive by mistake. Accidentally reformatting a hard drive or installing new OS to a wrong hard drive will get all your files lost. Linda has the bad feeling, she lose all documents, photos, videos on reformatted hard drive. No backups are available for data recovery, Linda has to recover formatted files from the original hard drive. Let's read on and see how she recovers her files.
First: Stop writing to the reformatted hard drive.
The first thing you should know is that before new data takes up the disk space you have a good chance to recover reformatted files. Before you get all your files back, you'd better not write new data to the reformatted hard drive. When we receive Linda's email, we strongly suggest that she stop using the reformatted hard drive in case that the lost files would be overwritten by new data.
If you want to successfully recover reformatted files, just stop writing new data to your hard drive. Most of all, quickly find a reformatted files recovery solution from the internet to recover your files.
Reformatted files recovery software
You can find many of reformatted files recovery solutions from Google search. Which one is the most effective and easiest one? Our recommendation is reformatted files recovery software – Do Your Data Recovery Software. Do Your Data Recovery is the powerful data recovery software that can recover deleted or formatted files from hard drive or storage media. It offers both quick scan and deep scan for recovery files from your reformatted hard drive.
First of all, you run the software in quick recovery mode to scan your reformatted hard drive in minutes. When the process gets finished, you could see if all files are found. If you can't find all the files you have lost, advanced recovery mode with a deep scan is available for you. The deep scan takes longer time, but it will find much more lost files, it is very effective for reformatted files recovery.
Do Your Data Recovery Software is very easy to use. Even a computer newbie can smoothly use it to recover reformatted files. A few clicks are enough to get all your files back. Here are three main steps running this software to recover reformatted files.
Step 1: Select the reformatted hard drive.
Run Do Your Data Recovery on your computer, then select the hard drive which is reformatted to start data recovery.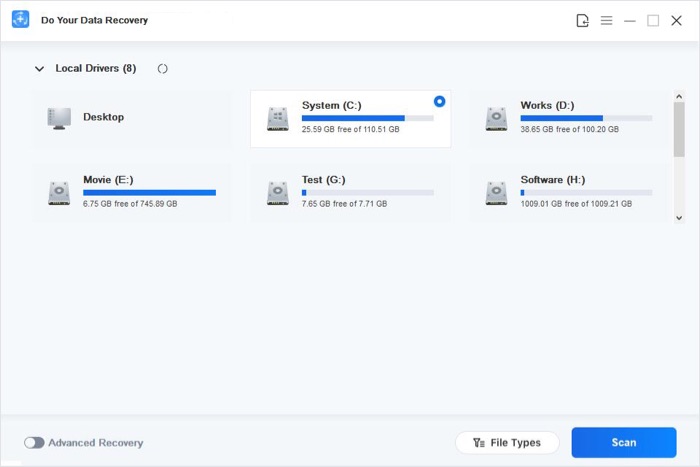 Step 2: Select the file types you want to recover.
All types of files can be recovered by this data recovery software. Then scan the hard drive and find lost files.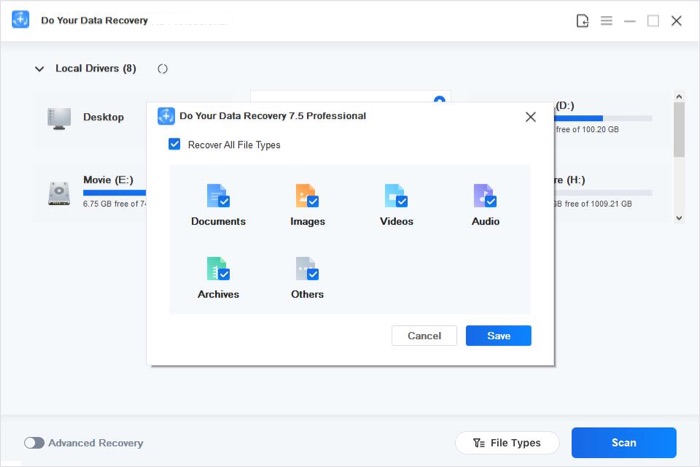 Step 3: Preview and recover reformatted files.
Once the scan is completed, you can preview all recoverable files. Then select the wanted files and save them.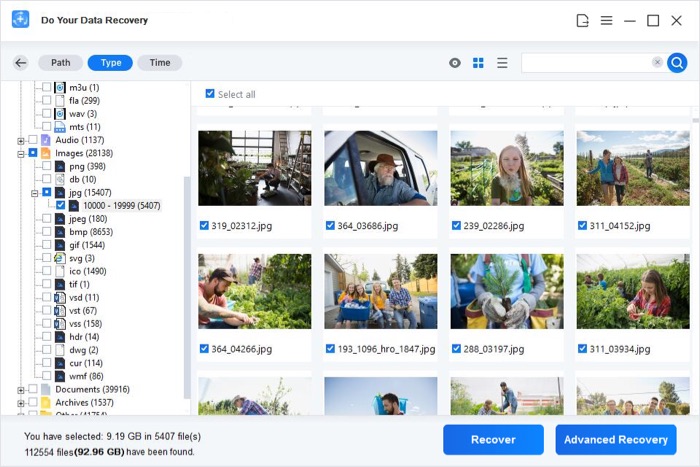 It is not recommended to save your files to the reformatted hard drive. As we said before, any new data would overwrite the reformatted files. You'd better save the files to another hard drive or device. Do Your Data Recovery Software also can recover reformatted files from USB drive, SD card, Memory card, external hard disk or other removable devices. It provides both Windows version and Mac version. You can download it by clicking the following button.