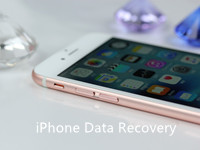 Data loss can be the most annoying thing that may happen to us as the iPhone 6s/6s plus user. Sometimes, you can accidentally format or delete some important data inside our iPhone 6s/6s plus. When this really occurs, you must be very sad and regretful. You must wonder whether there is an iPhone 6s/6s plus data recovery solution in order to get the whole lost data back from your iPhone. You have to be happy because now you have the solution to recover your lost data from your iPhone 6s/6s plus. We know that all of the people want, so we build a nice software for iPhone 6s/6s plus data recovery solution.
iPhone 6s/6s Plus Data Recover Software
The software we built is called Do Your Data Recovery for iPhone. In fact, we build this software which supports Windows 7, 8 , and 10 as well as MAC OS. So, the iPhone 6s/6s plus date recovery solution must use computer to perform the recovery. Our software is easy to use, so you are no need to learn how to use it. Since everybody will instantly understand the use of the software. However, if you still need some guides from us, we will help you show the steps to recover the data with pleasure. In order to follow the steps, you can download the software here first, and then run the software after downloaded.
Three Steps to Recover Lost Data from iPhone 6s/6s Plus
Step 1: Take your iPhone 6s, and then connect it to your computer where you install the Do Your Data Recovery Software while you are also running it.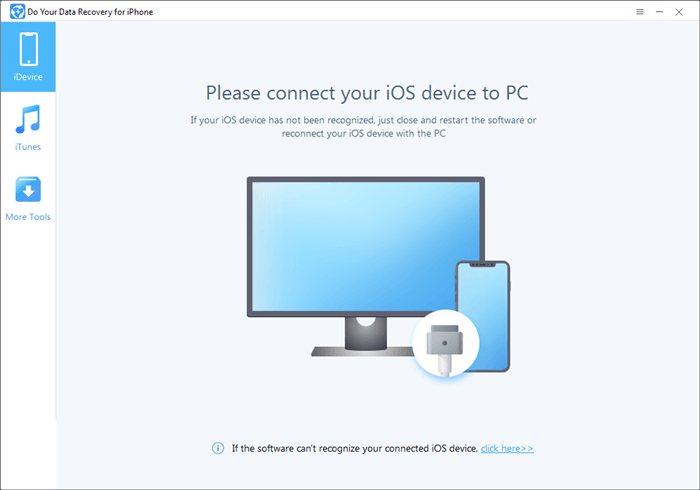 Step 2: After connecting it to the computer, you can select "Recover from IOS Device" and it will automatically detect and scan your iPhone 6s/6s plus. Just wait until the scanning is done.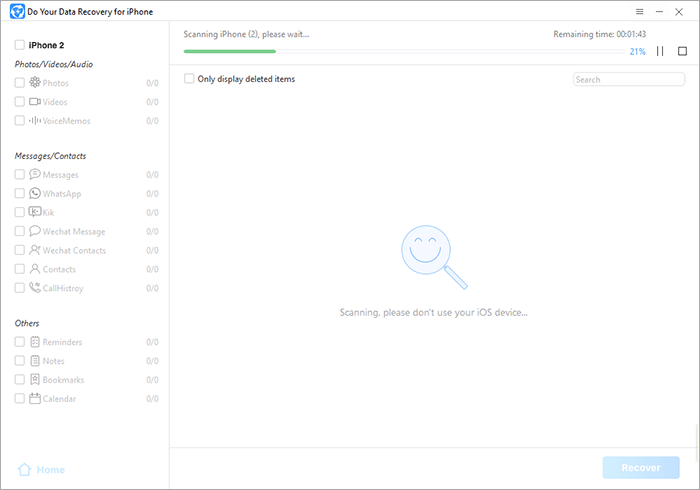 Step 3: After scanning is done, you will see the whole files of your iPhone 6s/6s plus. You select "only display deleted items" so you will only recover the deleted files, not the whole files that are not lost. Select your deleted files that are going to be recovered, and then click "RECOVER" at the right bottom of the page.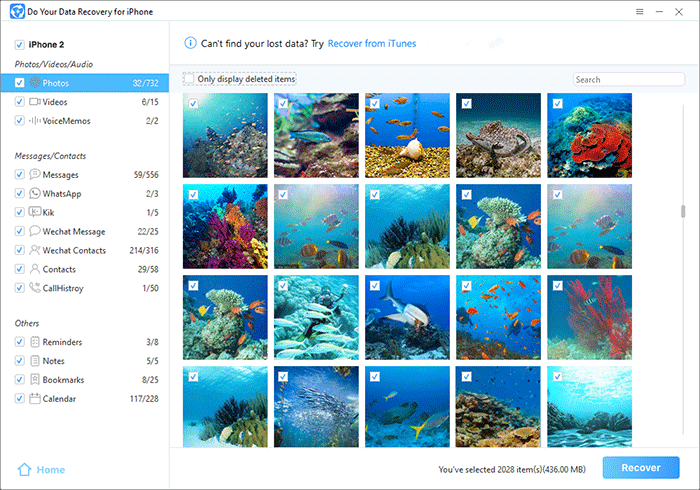 What do you think about this software? Is this really helpful for you? Do not worry about it because we have already tested the software and the software has worked effective to recover any Apple devices. Not only your iPhone 6s/6s plus, but also other iPhone that you may have. iPhone 6s/6s plus data recovery solution can be done using those steps above, or you can also choose another alternative to recover the data from your iCloud or iTunes backup using the same software if you always activate the backup feature. You can download your data from your iCloud and iTunes backup by selecting "Recover from iCloud" or "Recover from iTunes backup" at the homepage of the software. This is just an option, you can try it if you want.