How to permanently erase Mac files? You may think that the deleted files are permanently lost after you delete them and empty the trash bin. Actually, the deleted files are not lost. Mac deleted file recovery software can easily recover deleted files from emptied trash bin. Imagine that someone could recover your private photos, documents from your old Mac computer. That's terrible! Now you realize that the deletion or emptying Mac trash bin can't kill your data dead, you should find another way to permanently erase your data. Try to erase Mac trash bin and kill all the deleted files dead.
How to erase Mac trash bin? How to permanently erase the deleted or formatted Mac files when the trash bin has been emptied? And in most cases, you only want to permanently destroy the deleted files rather than erase all your hard drive data. How to do that? Here, DoYourData offers this secure and reliable solution to erase Mac trash bin, wipe emptied trash bin data.
Super Eraser: Best Mac Data Erasing Tool
DoYourData Super Eraser for Mac is an all-around data erasing program that can help Mac users to permanently wipe data under different situations. It not only deletes the files, but also destroys, shreds the files and overwrites the disk space of the deleted files, so that it can make data recovery impossible. It means the erased files are lost forever, can't be recovered by any data recovery software or data recovery service. Of course, it can erase Mac trash bin data and get the deleted files lost forever. Here are the steps.
Two Steps to Erase Mac Trash Bin
Step 1: Delete the files and empty the trash bin.
If you want to permanently erase some files, just delete them and empty the trash bin. This is not an essential step. If the files are deleted previously, you don't have to do this step. Just move to the step 2.
Step 2: Erase the Mac trash bin with Super Eraser to permanently erase the deleted or lost files.
After running Super Eraser for Mac on your Mac, you will see three data wipe modes. The first mode allows you to permanently erase selected files or folders; the second mode allows you to wipe entire hard drive or storage device; the third mode allows you to erase the free disk space.
To erase the Mac trash bin, you should select the third data wipe mode – wipe free disk space. When you delete the files and empty the trash bin, the deleted files are not lost forever. They are stored in the unused disk space and can be recovered by data recovery software. So you should wipe the unused disk space to permanently erase the deleted files.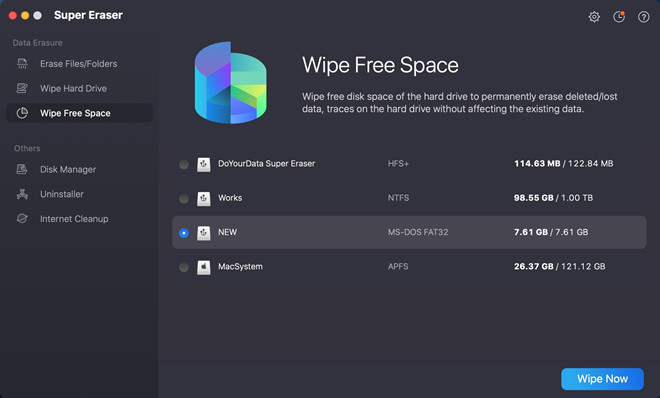 This step is easy, click "Wipe Free Space", then Super Eraser will list all the drives and devices on your Mac, select the drive where you delete your files then click on "Wipe Now" button. Super Eraser will erase the unused disk pace to permanently erase deleted/lost files and permanently erase the traces on the unused disk space.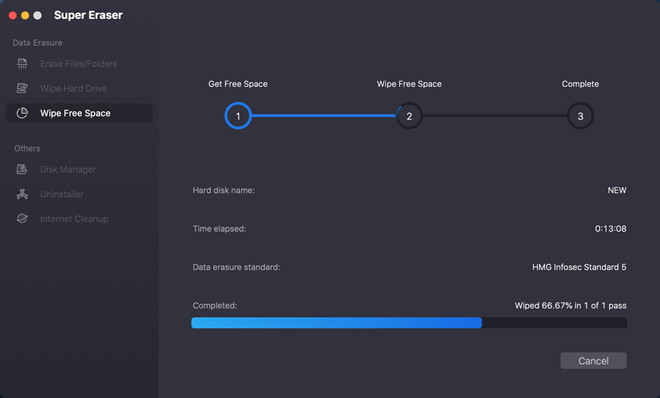 After erasure, your deleted files are lost forever. Also you can test, just download and install our powerful Mac data recovery freeware – Do Your Data Recovery for Mac Free to scan your hard drive. In our tests, the data recovery software can find nothing.