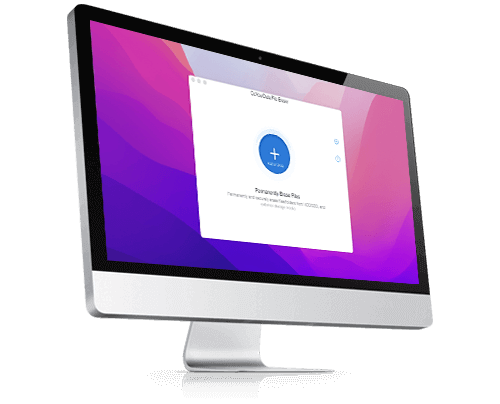 Powerful & Easy-to-Use File Eraser for Mac
Don't let your sensitive data fall into the wrong hands. With DoYourData File Eraser for Mac, you can securely and permanently delete files, shred files from Mac hard drive or storage media, beyond the scope of data recovery. Before you sell, donate, lend, give away or discard your Mac and other storage device, this is the reliable file shredder for you to securely and permanently destroy your files.
It is very simple to use. You just need to steps to erase your files: step 1: add files/folders; step 2: shred all selected files/folders by click on "Erase Now" button.
Why Choose DoYourData File Eraser for Mac?
100% safe data eraser & file eraser for Mac
Support All Devices

Support to permanently erase any types of files/folders from Mac computer, SSD/HDD, external hard drive, memory card, USB flash drive, digital camera, and other storage media device.

No Chance for Data Recovery

This file eraser for Mac offers government & military data erasure standards, including HMG Infosec Standard 5, Baseline; DOD 5220.22-M; U.S. Army AR380-19; Peter Gutmann's algorithm. No chance for data recovery.

Safe Mac File Eraser

Once your files/folders are erased by File Eraser for Mac, no data recovery method can recover the erased files/folders – they are lost forever. And no damage to your computer, system or device.
File Eraser VS Super Eraser

File Eraser for Mac
Erase Files
Permanently erase unlimited files and folders from hard drive and storage media device.
Erase Entire Hard Drive
Erase a hard drive or device to permanently erase all data on the hard drive or device.
Erase Free Space
Wipe free disk space to erase already deleted/lost data on the hard drive.
Clean up internet privacy
Clean up internet browsers' cookies, passwords, junks, caches, etc.
Full Erasure Report
Check the report of file erasure, data erasure.
License & Support
Lifetime license code.
Free lifetime updates.
Free lifetime tech support.
Note: You can erase 20 files/folders for free with the trial version.
Free lifetime technical support.
Free lifetime upgrades.

Product FAQs
User Review
Garber

DoYourData File Eraser is best of the best file shredders. It so simple to use and has powerful feaures for erasure...

Ricard Lee

Smart file eraser for Mac. Really useful if you want to permanently erase some files or dolders...

Lurious

Thanks so much! This app helps me a lot. I will keep it on my MacBook...

TINNA

I use File Eraser to erase data on my external hard drive, it works great. I run a data recovery program to scan the external hard drive, it found nothing. The files are gone forever...
You May Be Interested In These Items
Super Eraser for Mac

Clean Mac Junk

Mac Data Recovery Freeware