Summary: Download the best data recovery software - Do Your Data Recovery to help you easily and securely recover deleted or lost CDR files.
Page Content:

What can I do to recover missing CDR-files?
"About a year ago, I started to use Corel Draw X4 to work with some projects. It works well before. But in the paste 2 weeks, Corel Draw X4 crashed twice while working on very important files. Although I save every few minutes and create new names every day on ongoing file activity; both times the files disappeared even though the name and file size (40 mb) show in the stored location. I have tried everything I can thing of (looked in temp file, tried opening in CMX and Paint) but I only get a single blank page. What is the advice in such cases? Why is this happening? And any chance of recovering the lost files, or do I have to rebuild everything?"
Common Situations Call for CDR File Recovery
CorelDRAW is a fantastic vector drawing software built for graphic designing. Its explicit features and an intuitive user interface make it quite popular among designers. At present, its community of users is over 100 million strong. When you designed something like logo, typography, illustrations, and others and save it to a folder with CorelDRAW, it will be saved as a CDR file which consists of shape, image, text, colors.
But sometimes, these CDR files you created with a lot of time can be get lost or corrupted due to various reasons, for example:
You accidentally click Delete button while you are trying to do some other operations on a CDR file.
You Mistakenly format the disk partition or external storage device where saved you CDR files.
The CorelDRAW program or system crashed unexpectedly before saving a newly-created CDR file.
When encountering any of the above situations, most of you will be very anxious and eager to find a CDR file recovery solution to retrieve the missing data. But what is the best way for CDR files recovery?
What is the best way to recover CDR files?
If you are an ordinary user without any technical background, the most common choice for you is to turn to a professional data recovery service company. It is truly a workable way to rescue your lost data. But on the downside, this CDR file recovery solution is usually more expensive and there is a risk of data leakage.
Reading here, I guess most of you will ask: "So, is there any other alternative solution which is more economical and safer to restore missing CDR files?" Of course, the answer is yes.
Here, our recommendation is Do Your Data Recovery, a powerful and easy-to-use file recovery software designed for home users to rescue their important data lost due to different reasons. It takes only simple steps for you to retrieve all the lost CDR files. No professional knowledge and skills are needed.
Recover Missing CDR Files with DoYourData Data Recovery Software
Now, download and install this CDR file recovery software on your PC and learn how to recover the deleted or unsaved CDR files using this tool independently step by step.
Step 1. Run DoYourData CDR file recovery software to start file recovery.
Launch DoYourData CDR file recovery software on your PC where you have lost the CDR files. Here, if you lost CDR files from an external storage media, please connect the device with the computer first before running the CDR file recovery software, preparing the CDR file recovery.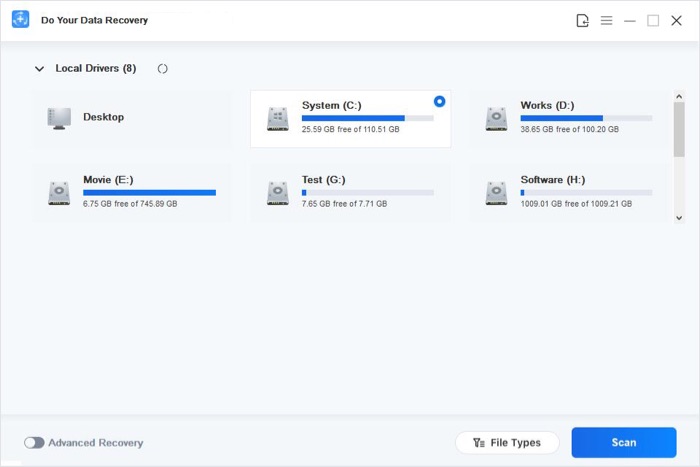 Step 2. Locate the disk where to recover CDR files.
In this step, all the disk partitions including the external USB devices will be listed. Choose the one where you get your data deleted or lost and click "Scan" to let DoYourData file recovery software to start finding lost CDR files on the selected disk.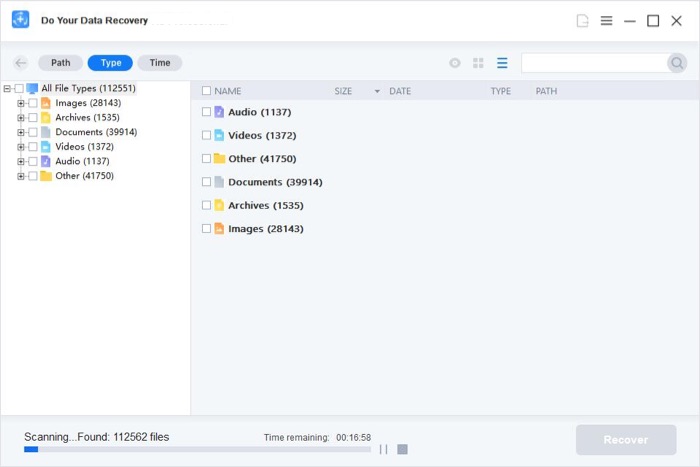 Step 3. Preview and recover the deleted or missing CDR files.
Scanning the entire disk will take some time. The CDR file recovery software will have a progress bar, telling you how it goes on with the recovery process. When it finished, it will list all the found data. You are allowed to preview all the recoverable files. Check and choose the CDR files you want to get back, then click Recover to save them to a secure location on your PC or external storage device.