System cleanup software (or system cleaner, optimization utility) can help you easily scan and remove junk files, download files, useless files from your system as well as empty the recycle bin. It is good for your computer if the cleanup software only delete the useless files. But not every cleanup is perfect. In some case, the cleanup software may remove some useful files from your hard drive. For instance, the cleanup software may completely empty the recycle bin, delete items on desktop, clean up downloads without asking you if you want to cleanup them.
After running the cleanup software, you find some of your important files are gone! How to recover them? How to recover lost data after running cleanup software to do system clean job. If you could perform the data recovery as soon as you lose your files, you have really good chance to get them back. For example, when you run CCleaner to cleanup your system, you can run data recovery software to recover your lost files that deleted by the CCleaner.
If you can't find an easy data recovery software tool that can help you easily recover lost data after running cleanup software, here you can try Do Your Data Recovery Professional. This is complete DIY data recovery software with clean & wizard-based interface and powerful features. When the cleanup process gets finished, you files are erased by cleanup software, but they are not lost forever. The deleted/erased files only are removed to the unused disk space. Before the disk space of the lost files is overwritten by other files, you can easily recover them using data recovery software.
Recover Lost Data that Deleted by Cleanup Software
Do Your Data Recovery Professional enables you to recover lost data under Windows or Mac OS. It offers two recovery modes.
Quick Recovery Mode
This is the default mode for data recovery. This mode will quick scan the hard drive and find recently deleted files. It takes only a few minutes to complete, so it is recommended to try this mode in most cases.
Advanced Recovery Mode
This mode will deeply scan the hard drive and find much more lost files. You can select this mode before scanning your hard drive or try it re-scan the drive when you can't find your lost files after the quick scan.
Let's see how it works:
Step 1: Select the hard drive to scan. For example, if you lose files on C drive, just select C drive to start data recovery.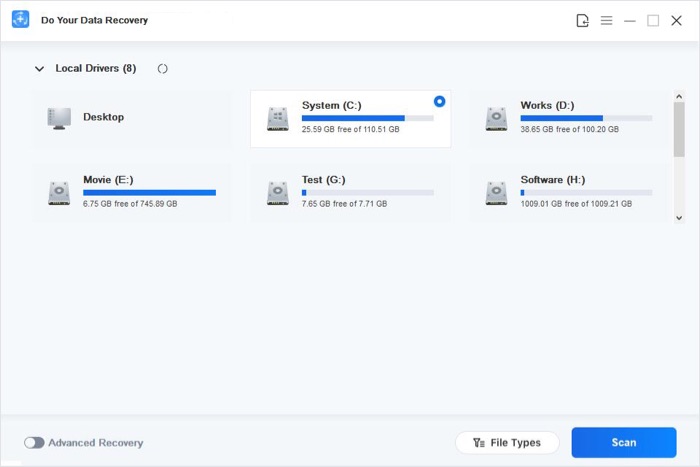 Step 2: Do Your Data Recovery Professional can recover all types of lost files by default. It also allows you to choose specific file types before it scans your hard drive.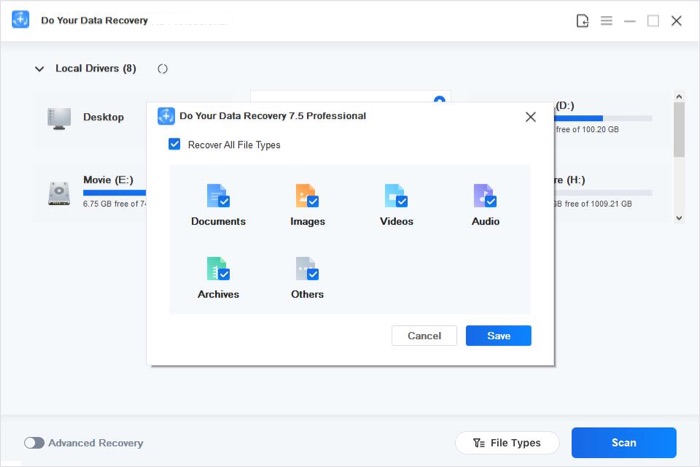 Step 3: After scanning, you can preview the files and selectively recover the files you want.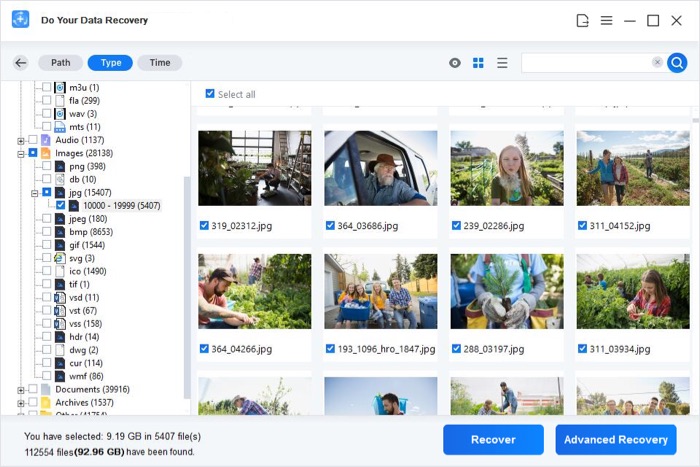 It is not very difficult to recover lost data after running cleanup software. DoYourData offers the most efficient data recovery solution to restore the files that cleaned up by system utilities like CCleaner, CleanmyMac, Advanced Care, Win utility etc.