With the excellent quality, high capacity and reliable storage, Samsung hard drive has gained a large popularity among users. Thousands of people with Samsung Hard Drive both internal and external meet the problem: How to restore files from Samsung hard drive? John Doe from Las Vegas now is facing such an awkward situation.
"I bought a Samsung external hard drive one year ago. I came back home this weekend to open some document that I had saved on it, unfortunately, couldn't open it, the drive seem to be faulty. Is there a solution to retrieve back all my life work that was stored?"
Have you met the same situation, Samsung drive crashed and lose important data unexpectedly? Don't panic. The good news is that, there is still a great possibility to restore files from your Samsung hard drive, but first let us look at the main reasons to recover a Samsung HDD below.
Main reasons of Samsung Hard Drive Data recovery
Partition/hard drive format: Unintentionally format your Samsung hard drive, or the drive asks you to format first when you access it.
Accidental deletion: We all know that deleted files won't go to recycle bin when you directly delete them from your Samsung hard disk by mistake.
Virus attack: When you accidentally delete a partition on your Samsung hard disk by mistake.
How to restore files from your Samsung Hard Drive?
When files get lost from your Samsung hard disk, they're not disappeared or deleted immediately, but only become invisible. Why? Because the space in which the lost files occupied before deletion/disappearance, is marked as blank and reusable for new files. Therefore, you can retrieve them before they're overwritten by new data! Cool right?
To perform Samsung hard drive recovery, you need a data recovery tool. Not just any hard drive data recovery, but the type that will do the job easily and quickly. For instance, you can use Do Your Data Recovery Professional. No matter the files are lost from deletion, virus attack, corruption, formatted or some other reasons, as long as it's not physically damaged, it can help to retrieve them all quickly and safely. You can download Do Your Data Recovery Professional for both Windows and Mac OS and within a couple of minutes you can get your lost files back.
Three Steps to Restore Files from Samsung Hard Drive
If you are utilizing Do Your Data Recovery Professional to restore files from a Samsung Hard Drive, you need finish the procedure in three no-brainer steps. Do Your Data Recovery Professional Software is surprisingly easy to use. You don't have to be a Data recovery expert to perform Samsung Hard Drive file recovery securely and rapidly.
Step 1: Choose the hard drive you need to restore files from.
You may have different hard drives on your PC. Pick the one where you lost your files as the objective hard drive to begin recovery. The Software will check the drive you have chosen and discover lost files on it.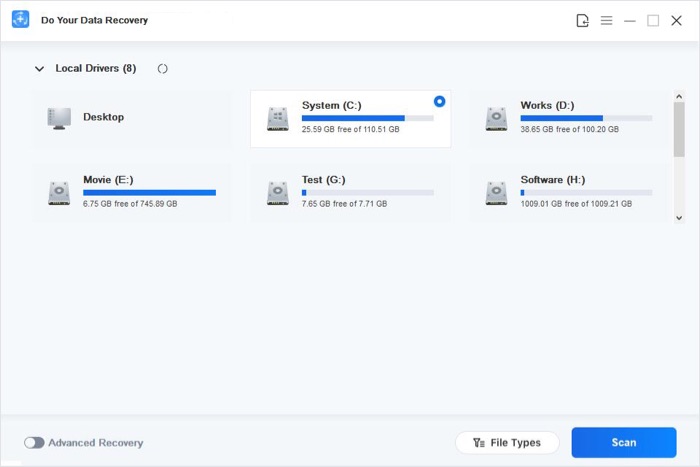 Step 2: Select the file type you need to recover.
Before the scanning process begins, you have the opportunity to choose the file types you are searching for. It will accelerate the procedure, and offer you some assistance with getting a focused scanning result.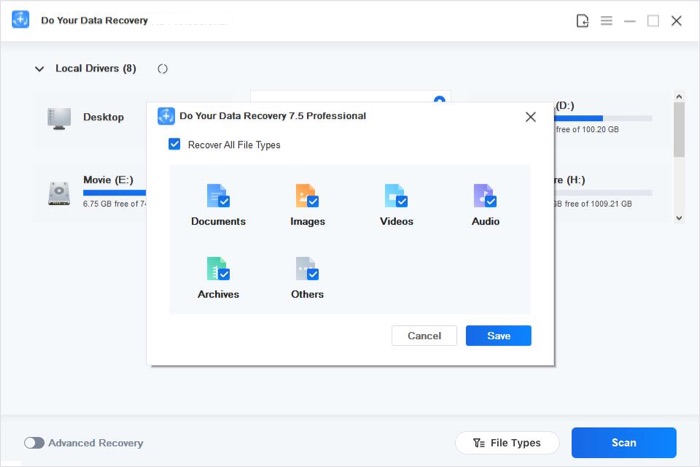 Step 3: Preview and recovery process.
At this point you can preview the discovered files and choose the documents that you need to your hard drive.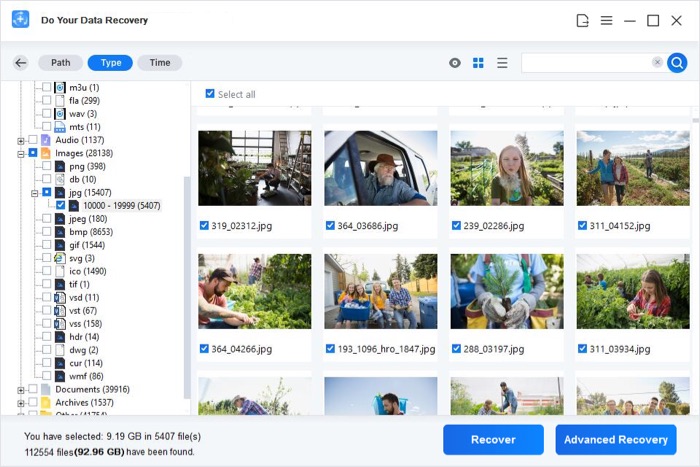 If you can't find all lost files from Samsung hard drive after quick scan, just try advanced recovery mode to deeply scan the Samsung hard drive again. After deep scan, you will find all lost files in your Samsung hard drive. Do Your Data Recovery also can help you recover lost data from other hard drive, memory card, USB flash drive, digital camera, etc.