Have you ever deleted any of your important files which you didn't want to on Windows Vista? No need to worry. You still have a chance to get it/them back. This article helps you undelete files in Windows Vista with easy solution. You can retrieve your deleted files from Windows Vista hard drive instantly, reliably and easily.
Windows Vista is a version of operating system crafted and manufactured by Microsoft. This OS was successor of Windows XP. The OS has many unique features and even now this operating system is used by millions of users worldwide. But like any other Windows OS, even Vista cannot solve problems such as recovery of deleted files either intentionally or accidentally.
Before we go through the process on how to undelete files in Windows Vista operating system, let us look at the MAIN Reasons for deletion or loss of files on the OS in the first place.
Main reasons for deletion/loss of files on Windows Vista OS
Accidental deletion of important file while freeing up hard disk space
Erasing a file using "Shift + Delete" keys or from MS-DOS utility
An unauthorized user deleting your file without your knowledge
File conflicting with Windows Vista OS resulting in file deletion
Electro static power surge while accessing your file
Virus infected files on Windows Vista can be removed by antivirus program
Deleting a file of large size which fails to get stored in the Recycle Bin
How can deleted/lost files from Windows Vista be recovered?
Deleted files can be recovered, because whenever you delete any file from your Windows computer; the Windows Vista OS does not permanently delete them from your hard disk. It just deletes the index entry of the files and marks that storage space as empty, so that new data can be added on it. Unless that deleted files are not overwritten by any new files, those files are recoverable.
If you have experienced any of the situations that brought about deletion/loss of files don't get disappointed. All you have to do is finding a data recovery tool that can undelete files in Windows Vista instantly, safely and without much stress. For instance, you can use Do Your Data Recovery Professional to undelete files in Windows Vista. This light weight software undeletes files in Windows Vista easily and quickly. It has successfully undeleted all files deleted using shift+delete key command, files deleted from MS-DOS prompt or after emptying Windows Vista Recycle Bin, Virus Attack, etc. It not only helps users in retrieving deleted files from Windows Vista, but also helps in recovering deleted, lost or missing files and folders from other Windows family of operating systems like Windows Server 2003, updated on 2008, Windows XP, Windows 7, Windows 8 and so on.
Along with hard drive you can get back deleted files and folders from external hard drives, USB drives, iPods, memory cards and other storage media on Windows PC. This software is a life saver when it comes to Data recovery. It is highly recommended for the Data Recovery process we are about to begin. You can download Do Your Data Recovery Professional here:
Three Steps to Undelete Files in Windows Vista
If you are utilizing Do Your Data Recovery Professional software you can follow the 3 No-brainer steps provided below to recover your files safely, instantly, easily and in a jiffy!
Step 1: Select a location to start the recovery process.
Select the partition or lost partition where you lost the files on your Windows Vista PC to start recovery. Do Your Data Recovery Professional supports to recover lost files from hard drive, lost hard drive, external device, etc.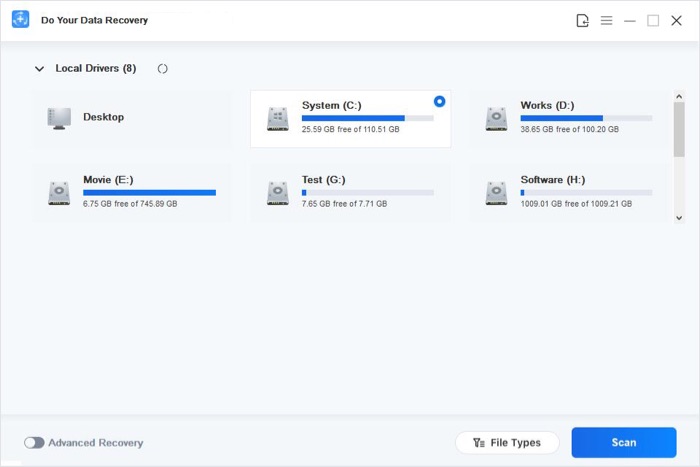 Step 2: Select file types.
Just select the file types you are looking for. Just click Scan button to scan your hard drive and find lost files.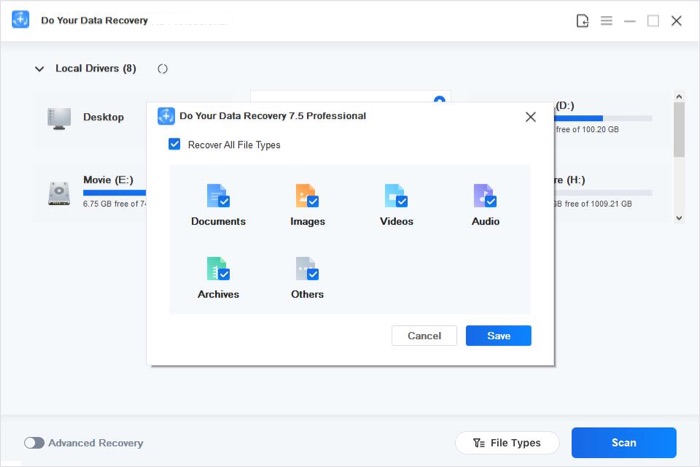 Step 3: Preview and recover the lost files.
After scanning, you will find the lost files. You will be prompted to Preview them and save them on your hard drive.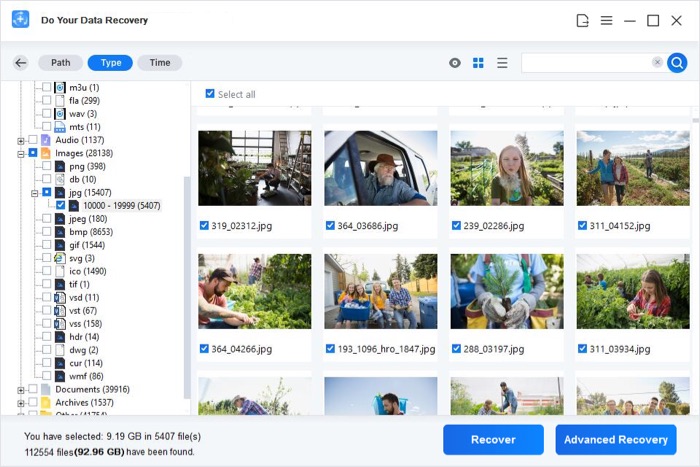 Do Your Data Recovery can easily undelete files in Windows Vista. It also can help you undelete files on Windows 7, Windows 8, Windows 10, etc. This powerful data recovery software also offers deep scan mode to help you find all lost files including deleted files, formatted data and inaccessible data.