Until macOS 10.15 Catalina, Mac users understood that their starting volume was exactly that: a single volume! (Okay, Fusion drive users have two physical drives that are controlled by software to seem as a single "disk drive," but it's not the same as the data organization that is a volume on a drive.)
Apple uses a feature called "volume group" in APFS (Apple File System), as I mentioned a few months back. This allows macOS to appear as a single disk by joining two distinct volumes. Apple adopted this strategy to improve security by separating read-only system files from your changing data, home directory, preference files, and everything else on one drive.
But what if you wish to clone your starting disk and build a backup that can be used to restore a broken drive or Mac, or even boot from? Fortunately, all of the software you require is current.
Time Machine archives your whole starting volume (as with any additional volumes you choose), allowing you to restore a Catalina drive to an earlier version of macOS.
DoYourClone for Mac is able to securely and easily clone macOS Catalina to an external hard drive and make the external hard drive be bootable.
The distinction between cloning and Time Machine
A clone is a 'image' of your hard drive, which means it's a compressed version of your whole hard drive that you may go back to at any moment.
Apple's default technique for generating incremental backups is Time Machine. Time Machine stores the most current copies of a backup on your Mac, which is intended to provide you with the most recent 'image' should you buy a new computer or need to do a factory reset. The objective is to get you back on your feet as soon as possible.
The problem is that you have no control over incremental backups and can't specify which backups should be maintained. For example, our Time Machine backs up automatically every other day or so.
Creating a Storage Backup with Disk Utility
Open disk utility from the spotlight (command + space) or from the utility folder in your program to generate a storage backup. You can view the storage disks with their volumes, including internal and external hard drives after it opens up.
Making a Backup:
The disk utility comes with a variety of functions and settings. The restore button lets you copy your backup files to your primary drive; these are the identical data that macOS recovery mode uses to restore your Mac OS to your hard disk if it fails.
Selecting an external drive as your backup drive follows the same steps. Select your external hard drive in the disk utility's sidebar, then click 'Restore' in the menu, and then choose your primary drive as the 'Restore From' option.
When you select 'Restore,' the backup tool will begin the copying process; this might take a few minutes, depending on the speed and connectivity of your Mac's external hardware. When using Thunderbolt, USB-C, or USB 3.0 connectors, the speed is comparable.
To see if it's done, power on your Mac and hold and click the escape key; this will take you to the boot switcher, where you may choose to boot from the external hard drive.
Data security and safety are becoming increasingly important these days, particularly for video artists who wish to undertake professional cloning of their Mac on a regular basis. Time Machine Tool, a built-in macOS utility, does the job, although its functions are restricted and not versatile. As a result, third-party software is utilized to make Mac clones. Here's an example of an excellent third-party cloning program, as well as how to utilize it.
Create a bootable clone of macOS Catalina with DoYourClone
One of the greatest disk copying programs for Mac is DoYourClone for Mac. It may build a bootable clone of macOS Catalina or any other Mac operating system in a secure and simple manner.
Create disk image on macOS Catalina.
Create bootable clone backup for macOS Catalina.
Connect your external hard drive to your Mac machine. Then, to clone the macOS Catalina starting disk, launch DoYourClone for Mac:
Step 1: Select Clone OS as the disk clone mode. Then, as the destination drive, choose the external hard disk.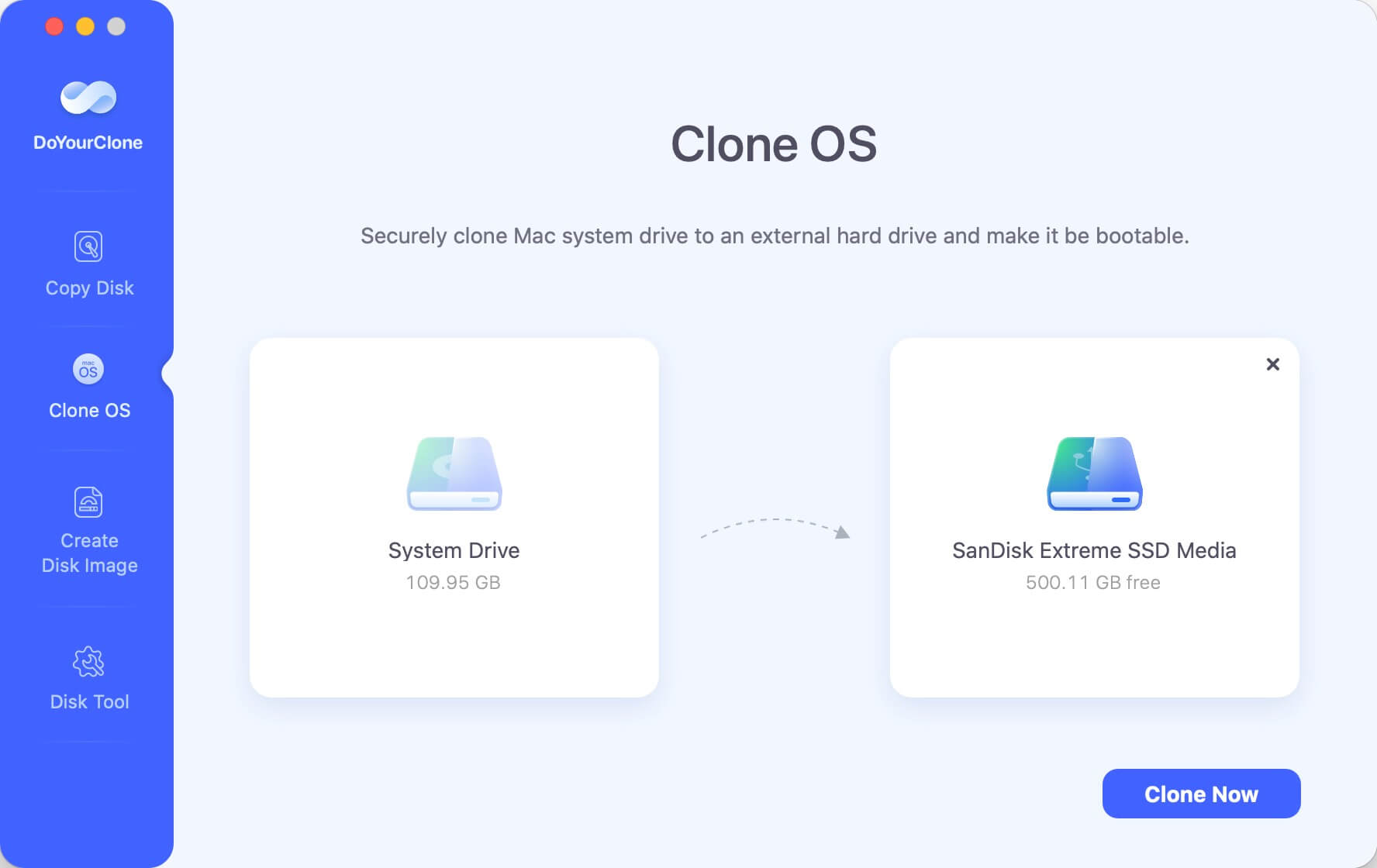 Step 2: To securely clone all data on the starting disk to the destination drive, click the Clone Now button.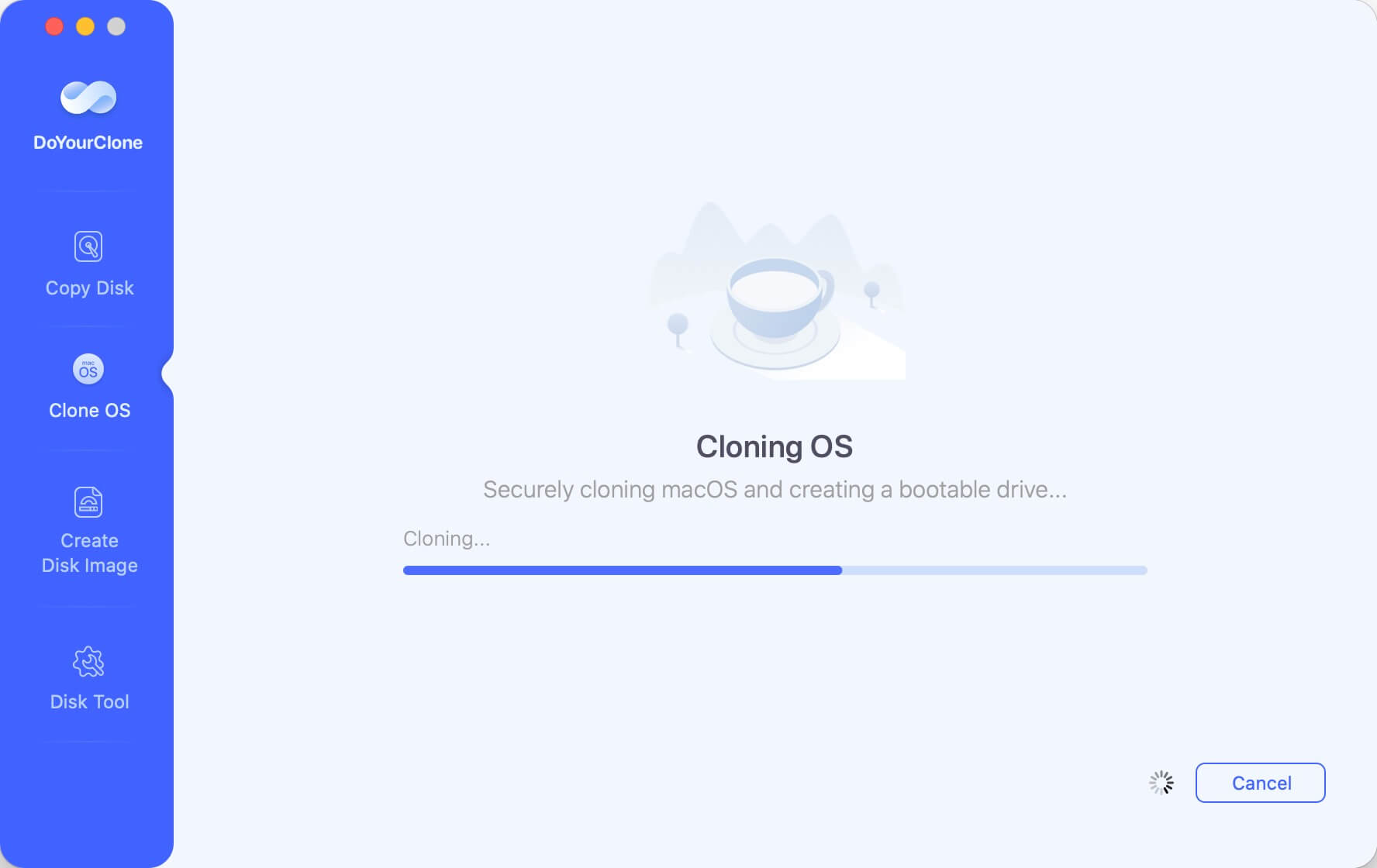 When the operation is complete, you'll have a complete bootable backup of macOS Catalina.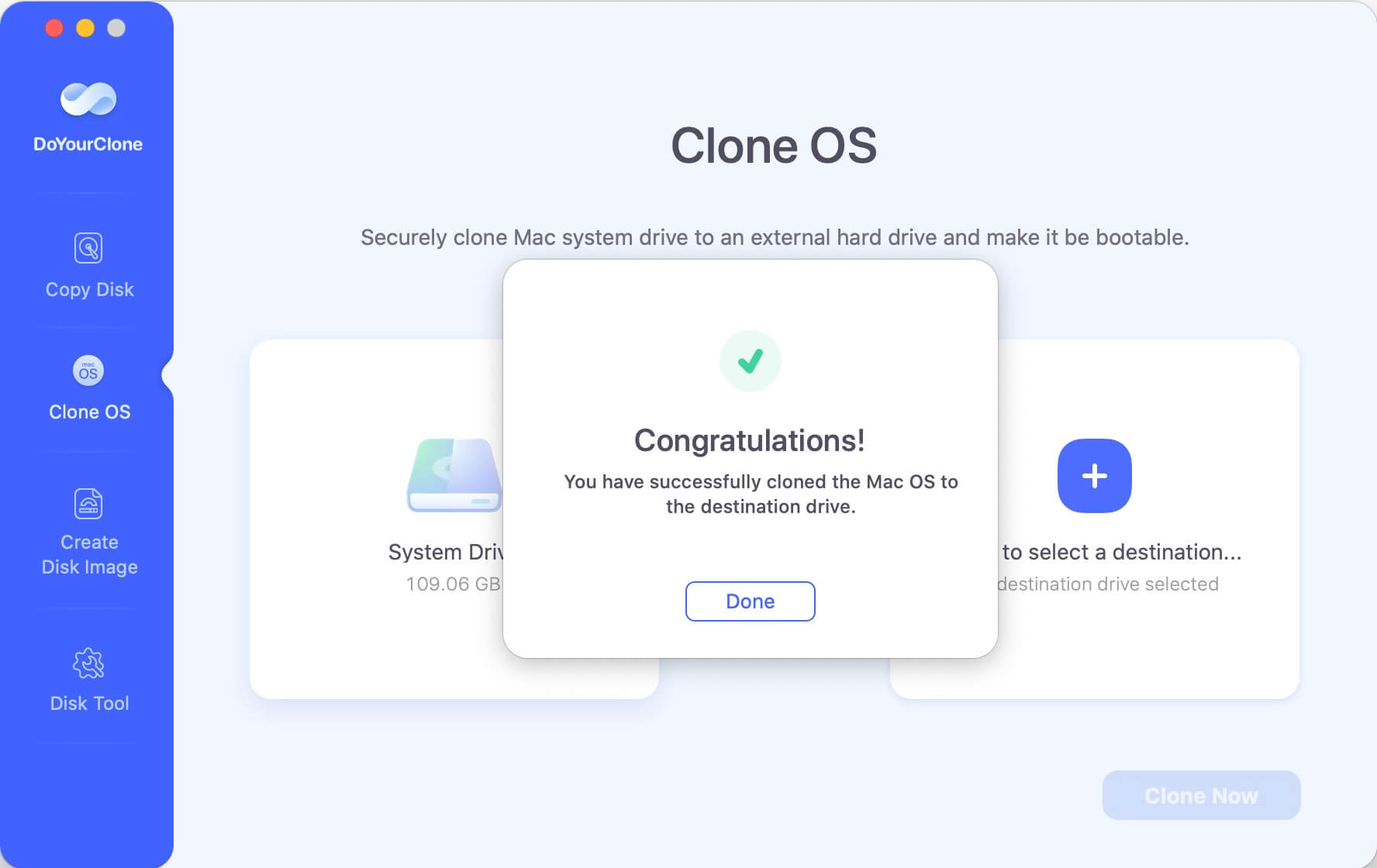 DoYourClone for Mac will quickly and securely clone macOS Catalina to an external hard drive and make the external hard drive be bootable. Then you can set the external hard drive as the startup disk on any Mac. Or, you also can use the external hard drive backup to restore your Mac OS or just restore some lost documents to your Mac.