Creating an identical replica, or duplicate, of all the data and file systems stored on the drive is referred to as making a hard drive clone. It's a sort of continuous file backup that begins as soon as your device boots up, or it may run on a schedule you define.
A copy may be made immediately on the SanDisk SSD using SanDisk's data migration software. This article will walk you through the process of cloning macOS onto a SanDisk Extreme PRO Portable SSD.
Why Would You Need Software for SanDisk Data Migration?
When upgrading a conventional hard disk drive (HDD) to a faster SanDisk solid-state drive (SSD), the first step is to transfer all of the data from the old drive to the new device. In certain cases, migration might be a sluggish process.
However, the SanDisk SSD backup program is available to those using SanDisk SSDs. Without losing any information in the process, you may clone your old drive and transfer its contents to the new one. It doesn't restore anything, and it doesn't even bother with the installation procedure.
All that is required is data backup software that is both dependable and quick. The device requires both the source disk and the target disk to be connected in order to transfer data. The SSD may be installed in your device with two disk bays.
The SSD may also be connected to the device externally by a USB or SATA connection. Once the device is linked to the SSD, the cloning software may be installed.
Before Attempting
When you swap out your disk, you alter your computer so that the programs you have installed may be recognized. Anti-piracy features in certain software indicate that it's installed on a new machine and needs reactivation.
If you have a maximum number of activations for the program and have already used up all of them, you may have trouble reactivating it. Before performing a clone, you should deauthorize any program that supports doing so. It should be noted that this is not a cloning-specific problem, and the same problem might arise when restoration from a Time Machine backup.
How To Transfer Everything from Mac Hard Drive to A SanDisk Extreme Pro Portable SSD?
Once you've established that cloning your HDD to a SanDisk SSD is necessary, you'll need to learn the specifics of the cloning process, such as how to copy the operating system and other data and file systems. Even though SanDisk does not provide the disk management application required to channel the SSD, it is possible to transfer all data using the tried and true method of copying and pasting. In this case, the key is found in a piece of third-party application software - specifically, powerful disk cloning software. We recommend DoYourClone for Mac.
Clone Mac OS to SanDisk Extreme Pro Portable SSD.
Create disk image on Mac.
Now, follow the steps below to move macOS to an SanDisk Extreme Pro Portable SSD and make it be bootable.
Step 1. Connect the SanDisk Extreme Pro Portable SSD to the Mac. Open DoYourClone for Mac, and select disk cloning mode - Clone OS. Select the SanDisk Extreme Pro Portable SSD as the destination drive.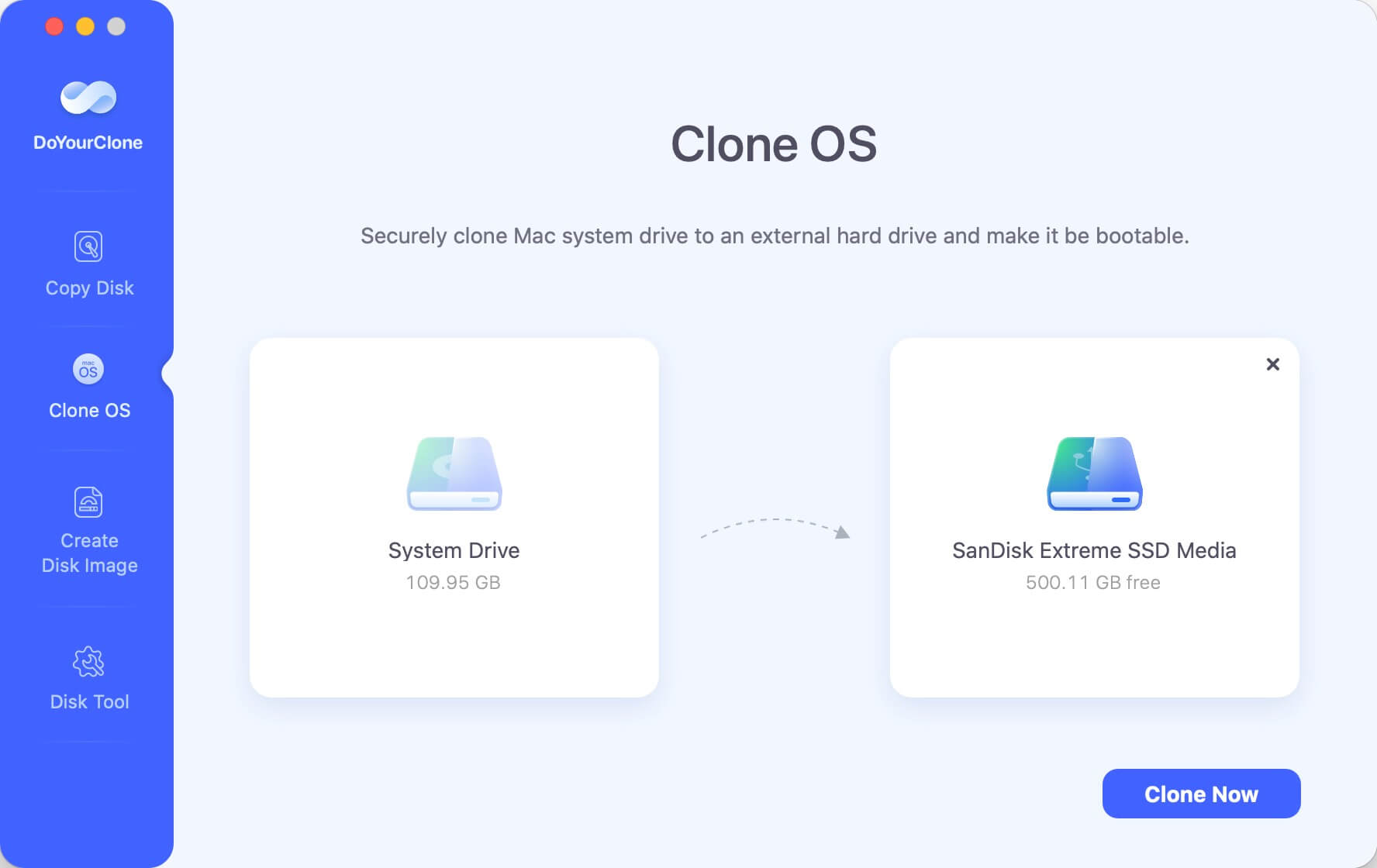 Step 2. Click on Clone Now button. It will quickly clone all data including macOS data, apps, settings, files to the SanDisk Extreme Pro Portable SSD.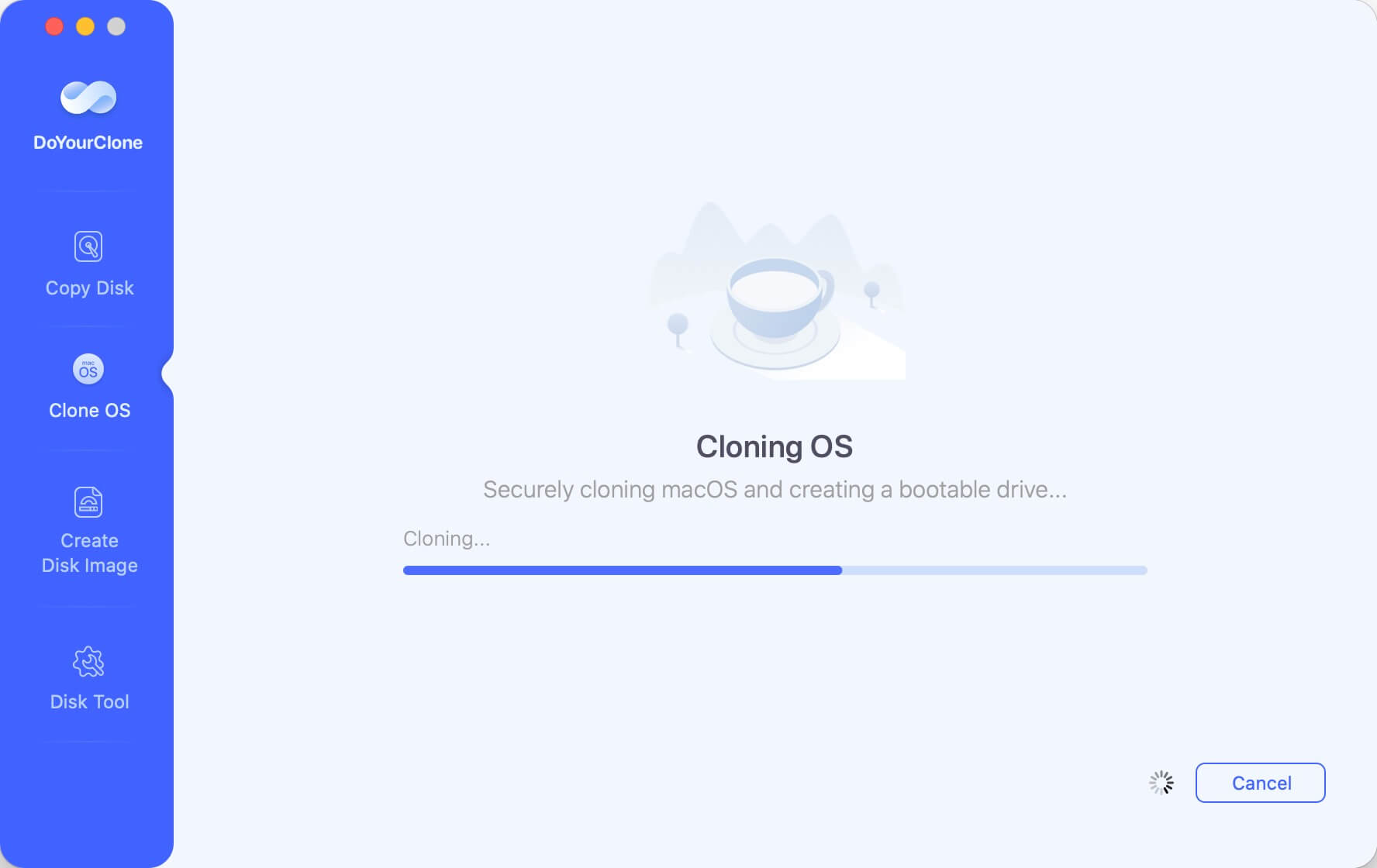 Once the process gets finished, you can use the SanDisk Extreme Pro Portable SSD as a bootable disk.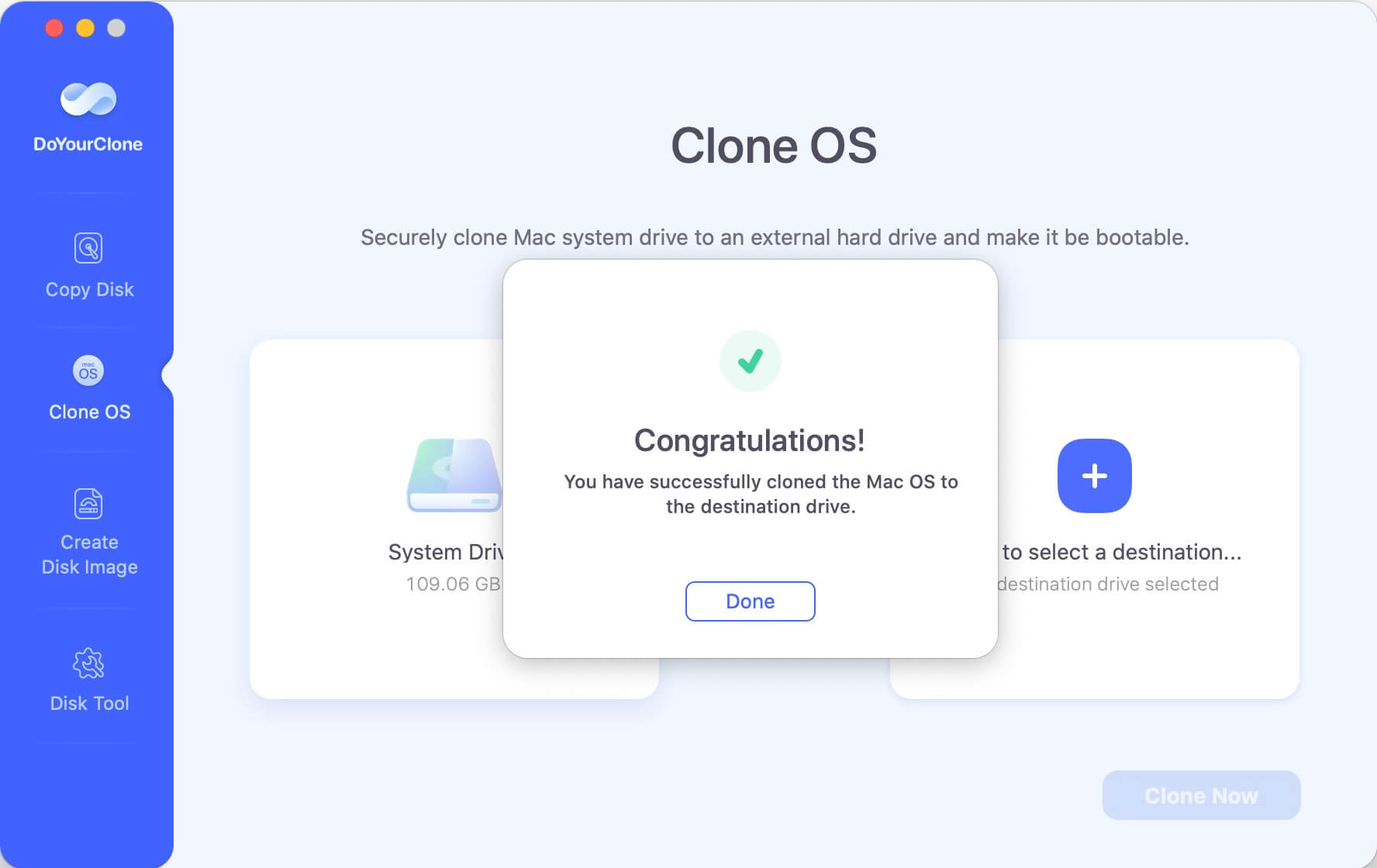 How Do You Configure Your Mac to Boot from The SanDisk External SSD?
To use the SanDisk external SSD with your Mac, plug it in.
When Using An Intel-Based Mac:
Start your Mac by either pressing the Power button or restarting it.
Keep your finger on the Option (Alt) key until the Apple logo appears.
Navigate to the boot device you wish to use using the left and right arrow keys (or the trackpad or mouse, if you have one). When you're ready, hit Enter or choose the Up arrow.
When Using An Apple Silicon Chip Mac:
Power down your Mac.
Hold down the Power button while doing so.
Hold until you hear a beep and see the message "Loading startup options."
Await the Startup Options page to appear.
Navigate to the boot device you wish to use using the left and right arrow keys (or the trackpad or mouse, if you have one). Then, to start with that, either hit Enter or choose Continue.