Apple decided to introduce the Apple Silicon Mac model in 2020. In this way, the transition of Intel-based Mac computers to self-designed M1 chips had started. This innovation brought excitement and concerns simultaneously, as many people loved using Intel-based Macs.
Hence, many Mac users went on to ask questions regarding Apple silicon and why they should prefer Apple silicon instead of Intel.
This discussion will tell you about the plus and negative points of the newly introduced Apple silicon.
Overview of Apple silicon Mac
Apple silicon Mac doesn't use multiple Intel chips. Instead, it tends to use a special kind of chip architecture. Surprisingly, this Arm based-silicon comes with features including memory, security, CPU, and I/O, taking the efficiency and performance to a new level for Mac machines.
Doesn't Apple M1 Mac work fast?
Yes, with the arrival of the revolutionary Apple Silicon, things have changed dramatically. Hence, you will see a clear improvement in the efficiency and performance of Macs.
Countless reasons make the M1 Mac so fast; some important reasons are documented below.
Having incredible enhanced CPU
An Apple silicon chip has two cores: high efficiency and high performance. These two things empower the Mac to perform multiple tasks with outstanding performance and the least use of power.
It means that things would become fairly easy for Mac; you will not see any slowness even if you pose tough challenges for Mac to work with.
Fast integrated graphics
M1 Mac can run about 25,000 threads simultaneously, courtesy of eight powerful cores. Moreover, Arm-based silicon also comes with 2.6 throughput teraflops, making the M1 Mac unbeatable and flawless. These few things provide the leverage to GPF to process complicated images with such ease and glance.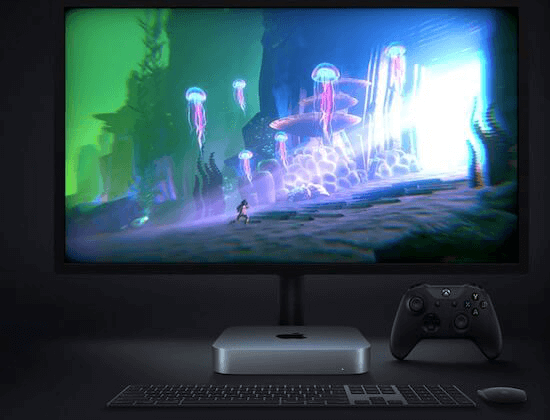 Accelerated Machine Learning
Mac gets the leverage of having Apple Neural Engine courtesy of the Apple silicon, enabling the 15 x faster speed. An Apple M1 Mac comes with a quick task processing ability than any other Mac, courtesy of Machine accelerators in the GPU and CPU.
Does Apple silicon Mac has weak points?
Although the Arm-based Mac comes with powerful and faster performance, it also has some weaknesses. You can know about the weaknesses listed below.
Third-party apps compatibility issues
Since MI comes with different management and the Intel processor, its operation code tends to get varied. That, as a result, brings incompatibility issues for applications and programs on Mac. However, third-party applications become the victim of the whole scenario you deal with.
Apple comes with Rosetta 2 software to tackle the incompatibility issues. This program empowers the Intel-based Macs by enabling a program that supports Intel-based Macs and, as a result, supports Arm-based M1 Macs.
However, you can only use Rosetta for bridging the transition between Apple and Intel processors. It does not help you to alter the Mac M1 architecture at all. Hence, you're bound to face compatibility issues when running software and programs on M1 Mac.
Excessive SSD wear issues.
Since Apple silicon comes with unified memory architecture and an 8-core CPU, it has been noted that M1 Mac's internal SSD undergoes high writes, which is a huge concern for Mac users. Hence, if you have M1 Mac that holds 8GB RAM, you'll probably face issues when running certain things on Mac.
There is no denying that the M1 chip improves the performance of your Mac, but it creates excessive SSD wear issues for Mac.
Intel Mac vs. Apple Silicon Mac
Apple silicon Mac has faster performance, but Intel-based Mac has been performing according to people's expectations for so long. Hence, you can't discredit or disregard the Intel-based Macs. Nevertheless, the thing is that the arrival of the Apple silicon Mac has left a huge point of discussion for many people.
Let us talk about the Intel i7 vs. Apple M1 discussion
The enhanced cores and high integration in your M1 chip improve Mac's efficiency and performance, bringing a faster and smoother operating system for experience when you compare it with your Intel-based Mac.
In short, you can assume that Apple silicon helps the Mac run faster than Intel-based Mac. Moreover, Apple M1 Mac can simultaneously deal with more tasks than the Intel-based Mac. However, when discussing software compatibility, Intel one is still miles better than M1 Mac. MI chip reportedly creates issues for software developers when they aim to update their products to be compatible with Apple M1 Mac.
The good news is that Apple has started using silicon chips and trying to make improvements and adjustments to Apple silicon to improve things for users. Hence, opting for Apple M1 Mac won't be a bad choice.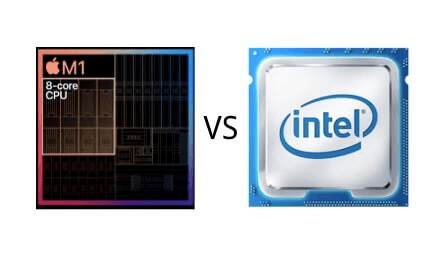 Final Words
The introduction of Apple Silicon in Mac computers brought many new things that many Intel-based Mac users were unfamiliar with.
Apart from making the Mac computers function pretty fast, Apple Silicon helps the Macs to perform multiple tasks in one go, and you can't expect Intel-based Macs to be as flexible as Apple MI Macs have turned out to be. However, at the same, Apple M1 Mac may pose compatibility and SSD wear issues.
Nonetheless, the thing is that Apple is now trying to make amendments to the newly introduced M1 chip to make things look better for Mac users. Thus, it would help if you did not hesitate before opting for Apple M1 Macs.
FAQs
1. Is i9 faster than M1?
Unfortunately, we won't be able to tell you the absolute answer to this question as M1 comes with faster single-core performance than i9. However, i9 maintains faster and more powerful multi-core performance. Nevertheless, if you talk about single-threaded performance, M1 takes the edge of our i9.
2. Which one is better, M1 silicon or Intel?
Regarding future trends and performance, M1 silicon is way ahead of Intel. It offers high power efficiency and performance than the Intel chip. Moreover, Apple silicon also comes with enhanced GPU capability and CPU cores; it performs multiple tasks simultaneously. Hence, Apple will soon replace the Intel chip Macs with the silicon chip.
Useful solutions for Apple Silicon Chip Mac
DoYourData Products
Clone HDD, SSD, Mac OS, external disk, USB drive, and more under Mac OS.
Free Trial