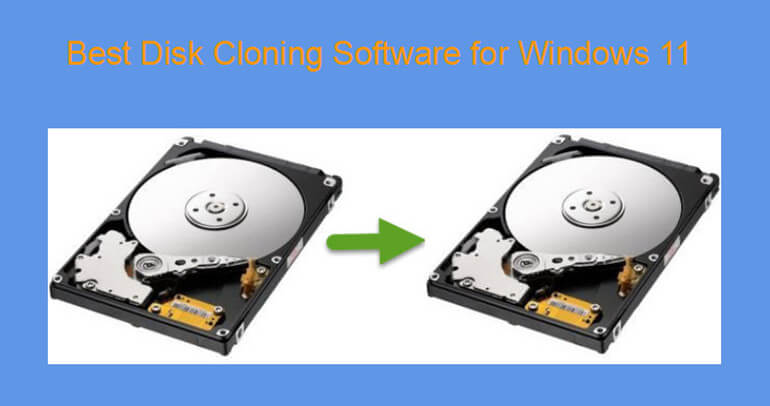 Best 6 Disk Cloning Software for Windows 11:
Why do I deed disk cloning software after upgrading to Windows 11? Keep computers up to date is one of the most crucial tasks. Upgrades to the operating system are required from time to time for optimal performance. When memory is limited, hard disk upgrades are needed.
Disk cloning software is crucial not only for professionals but also for home users in today's environment. On our computer's hard disk, we keep a lot of important information. Making a backup is a brilliant idea to avoid losing everything if the system crashes.
A disk cloning software helps to prevent data loss effectively by making an uncompressed hard disk data copy. This procedure copies all of your data from your hard drive and puts it on another drive. It will be a preventative step to prevent data loss and other system settings from being lost.
Top 6 Disk Cloning & Disk Copy Software for Windows 11 or Windows 10/8/7/Vista
Let see some of the top Windows 11 disk cloning software listed below: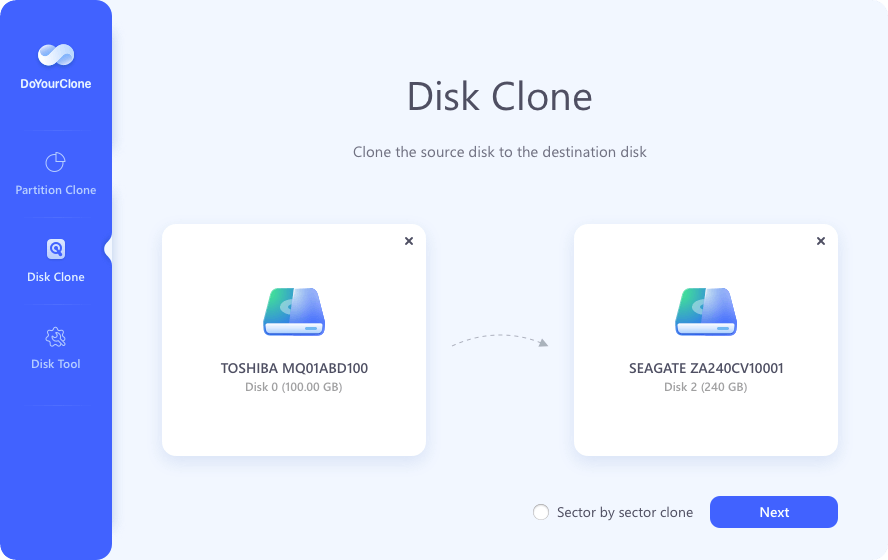 DoYourClone is a smart disk cloning program. It is fully compatible with Windows 11, Windows 10, Windows 8/8.1, Windows 7, Windows Vista, Windows Server, etc. This software is very easy-to-use. It takes only a few clicks to copy a hard drive from one location to another.
Features:
Clone HDD, SSD, memory card, external disk, and more.
Support sector-by-sector disk clone.
Two clone modes: disk clone and partition clone.
Clone hard drive on both Windows and Mac OS.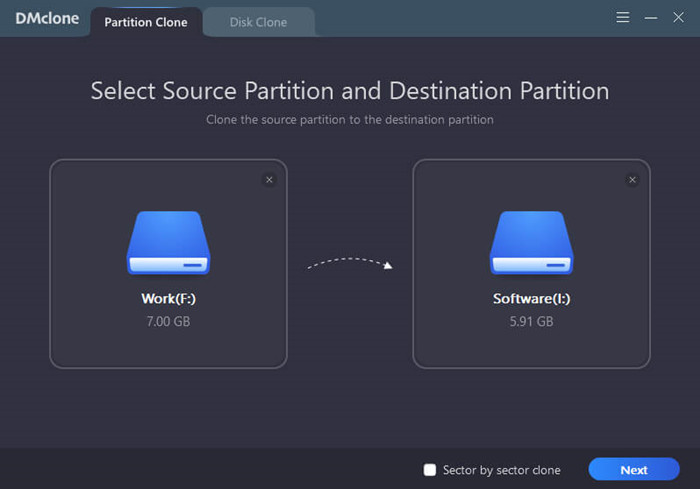 DMclone is a durable system recovery and data backup software with advanced home and business environments features. It is simple to use and offers consumers top-of-the-line data protection.
It is a cost-effective solution that enables users to secure a completely similar disk image on a PC and a business workstation for the entire operating system, apps, and data. By getting recovered files and folders quickly, you can save time and effort.
Features:
Cloning a disk.
Make a backup image.
Differential and incremental backups are both available.
Backups to the cloud.
Cloning MBR is a feature that allows you to clone a file.
Cons:
File synchronization and mirroring are not possible.
GPT/GUID partition tables are not supported.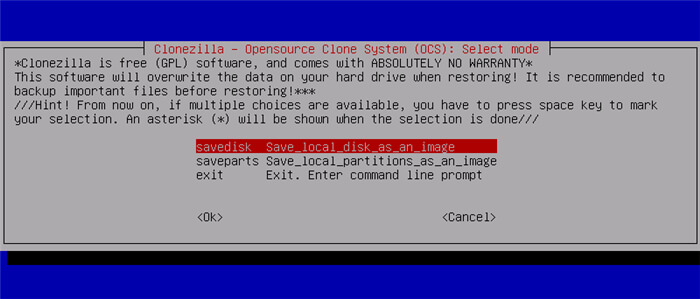 Clonezilla is a partition and disk imaging/cloning tool that can make disk copy or clone, bare metal backup, recovery, and other tasks. Clonezilla optimizes clone efficiency by saving and restoring only utilized blocks on the hard disk.
However, the targeted partition must have the same size as or larger than the source partition. A larger drive cannot be clone to a smaller drive. It is the simplest and most basic bone backup and recovery software that can clone a hard disk effortlessly. It's free and doesn't have to utilize much technical expertise.
Features:
Cloning of multicast.
Support BitTorrent.
Encryption AES 256.
Support for MBR and GPT partition.
Cons:
Not supported differential/incremental backup. Not supported online imaging/cloning.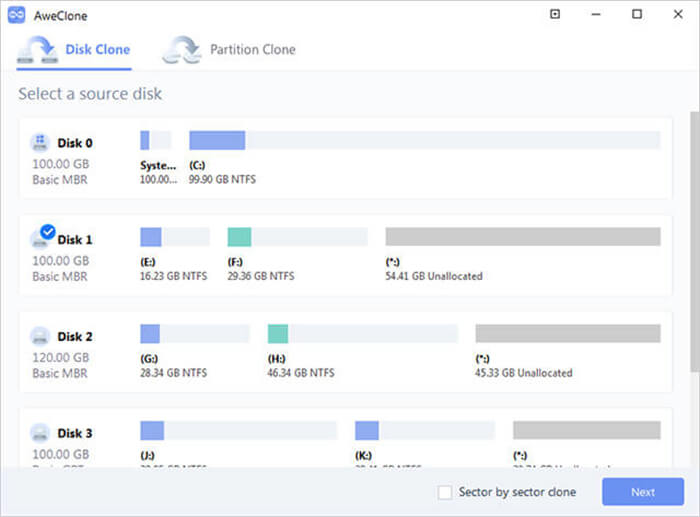 For Windows users including Windows 11 users, AweClone for Windows is an easy to use disk cloning software to easily make a backup of system disk drive. It also supports to create disk image of any type of hard drive or external storage device. This software supports to clone HDD to SSD or clone SSD to HDD, etc. It can clone disk in sector-by-sector mode or just data clone mode.
Features:
Partition clone and disk clone.
SSD disk clone.
Clone OS to external hard drive.
Cons: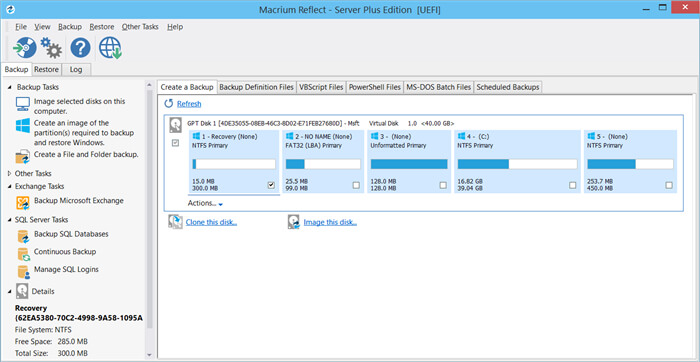 It is one of the most effective disk cloning backup programs for Windows 11. The free software edition allows users to do disk copying directly. But you can conduct speedy delta cloning and set incremental images with the home, server, and workstation editions.
By allowing you to update hard drives or backup files, the software can restore precise partitions images. This software may also mount virtual images of files and directories, allowing you to recover them in the event of a system failure.
Features:
Duplicate whole disks.
Create image backups of your files and folders.
The ability to create bootable drives with GPT and MBR support.
The backup template that has been pre-defined SSD trimming is supported.
Cons:
There isn't any support for incremental backups.
There is no backup synchronization.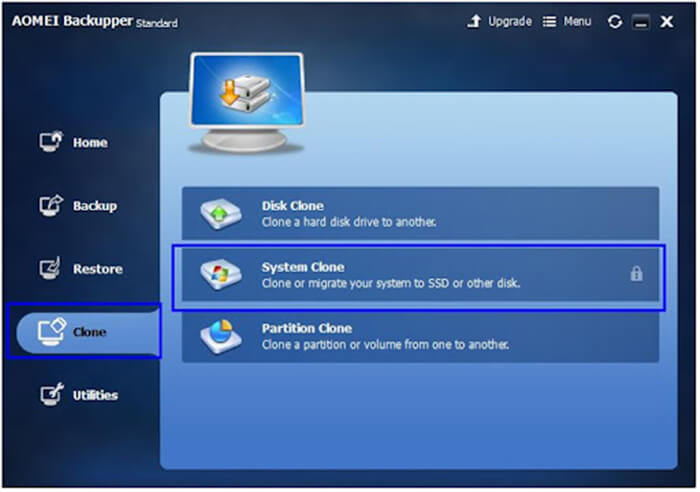 AOMEI Backupper is a free, crash-proof cloning software for your PC. The software allows free cloning of the network and the use of images. Within the LAN, the image file can use to boot numerous clients.
Individual files, programs, folders, and entire drive sectors can all restore with the software. Advanced features like data compression, data partitioning, and backup encryption are included in the free program.
Features:
Imaging and cloning of disks.
Bootable disk creation.
Converter NTFS to FAT 32.
Incremental backup.
Automatic backup and synchronization of real-time.
Suppose a destination disk is sufficiently large to accommodate all the data in the source disk. In that case, the user can clone a larger disk into a smaller disk.
All sectors are cloned to the target disk, and the source disk functions are also cloned to the target disk.
Cons:
How to clone disk on Windows 11
Now follow the steps below to clone hard disk drive on Windows 11.
Step 1. Download and install a disk cloning program - such as DoYourClone, then install it on your Windows 11 PC.
DoYourClone - Windows 11 Disk Cloning Software
Best disk cloning software for Windows 11 or other operating systems.
Clone HDD, SSD, external disk, USB flash drive, RAID, etc.
Two disk clone modes: partition clone and disk clone.
Very easy to use.
Step 2. Select the source disk and destination disk. This software will clone the source disk to the destination disk.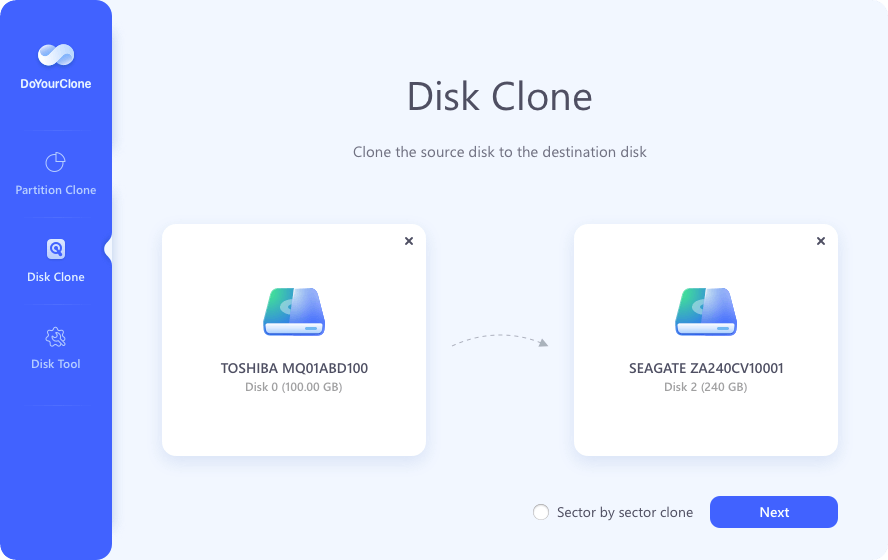 Step 3. Click on Clone button.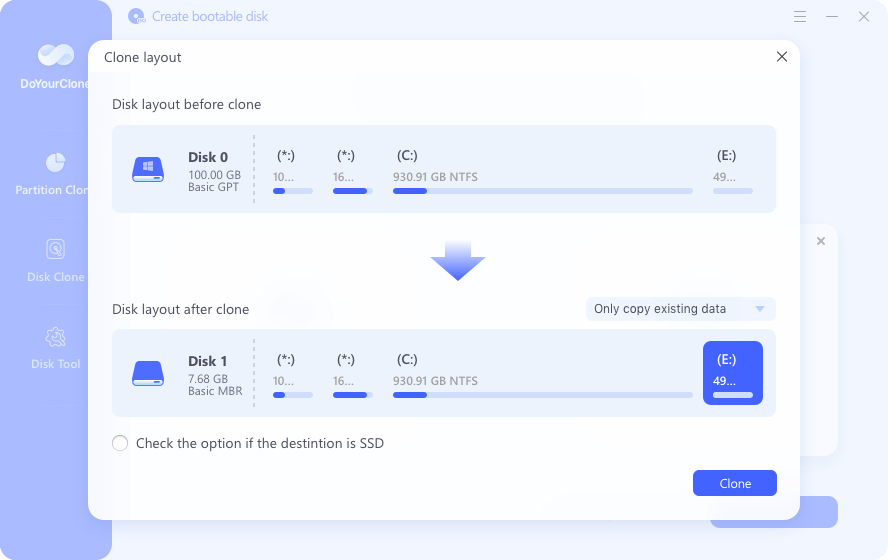 Once the process gets finished, you can check the cloned data on the destination drive.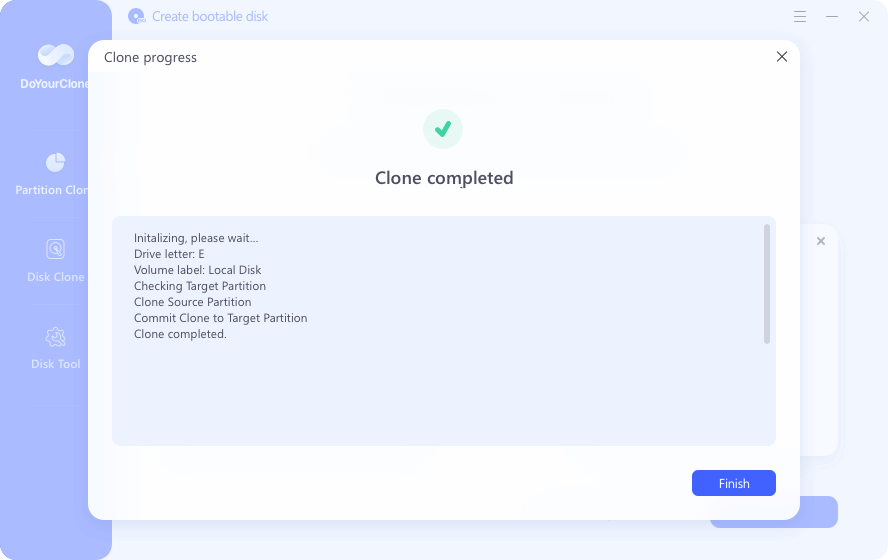 Disk cloning software can help Windows 11 users easily and securely clone hard drive or back up data. The software listed above are top Windows 11 disk cloning software. You can choose one of them - such as DoYourClone to help you upgrade your disk, copy disk or back up OS data.