According to a statement released by Mozilla on July 6, 2012, the company looks to be decreasing its focus on Mozilla Thunderbird development due to its failed feature upgrades. Mozilla's new development approach involves issuing "Extended Support Releases," focusing only on security and maintenance updates and handing over new feature development to the community.
Mozilla Thunderbird users have reported several issues. Being unable to utilize a schedule or to-do list since you don't have access to either. The user interface is old, there is no support for drag-and-drop features, and several features are unavailable.
In addition, there are still some kinks to work out, such as when you click on a subject line and are sent to the incorrect email or when a temporary topic suddenly vanishes.
Do you need to remove Mozilla Thunderbird to resolve issues? Do you want to know how to remove it from your computer without leaving any traces? Never fear! This page contains comprehensive steps for removing Mozilla Thunderbird from your computer.
What Is Thunderbird?
Thunderbird is an open-source, free, cross-platform email and news (NNTP) client developed by the Mozilla Foundation. The Mozilla Firefox project, which strives to develop a new browser, served as inspiration for this concept.
Mozilla Thunderbird and other email clients utilize IMAP (Internet Message Access Protocol) to get messages from a mail server. The email client may be programmed to automatically check for new messages from the email provider's server at a certain time each day.
Because Mozilla Thunderbird stores your email locally on your computer, you can read it even if you aren't connected to the internet. Since emails are often downloaded to a computer, it is important to check them with an up-to-date anti-virus tool periodically.
In What Ways May You Remove Thunderbird From Your Mac?
It's important that you know this before you move the Thunderbird to the trash. Service files are created on your hard disk when a program is started. In order to successfully remove an undesirable program from your Mac, you must also delete any traces of the program's existence.
The files and folders associated with the Thunderbird application must be manually located and deleted.
Start by quitting Thunderbird. Locate the program by navigating to the Applications folder, right-clicking it, and selecting the option to Delete. Right-click the Trash icon and choose "Empty" to clear up the trash. Make sure you have a backup of your trash before you do this since it will be permanently erased along with everything else in there.
You may finally remove Thunderbird from your Home directory. Services for an app are often stored in a hidden location, such as Library.
Please click the folder to get access. Select Go from the Finder's menu, then select Go to Folder, then in the search field, enter ~/Library/, and finally click Go.
Thunderbird's unused service files may be found and deleted from these locations:
~/Library/Thunderbird/
~/Library/Caches/Thunderbird/
~/Library/Preferences/org.mozilla.thunderbird.plist/

In addition to the default locations, the following folders may contain Thunderbird's service files, depending on your selected program settings.
~/Library/Application Support
~/Library/Logs
~/Library/LaunchAgents
~/Library/LaunchDaemons
~/Library/StartupItems
If any data traces are left behind, you should check these subfolders and remove them. Then, you may permanently delete Thunderbird from your Mac by emptying the Trash.
Get Rid Of Mozilla Thunderbird On Your Windows Computer
When you add new software to your computer, it will appear in the Programs and Features menu. The software may be removed from your computer by going to the Control Panel and selecting the Uninstall a Program option. If you want to get rid of Mozilla Thunderbird, the first thing you need to do is go into Control Panel and remove it from there.
Open Programs and Features.
To remove an application, go to the Start menu, then enter "Uninstall a program" into the Search programs and files box.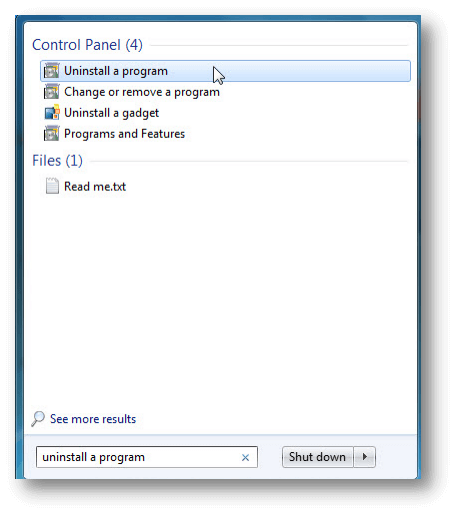 Click Programs and Features in the WinX menu that you can access by holding the Windows and X keys simultaneously.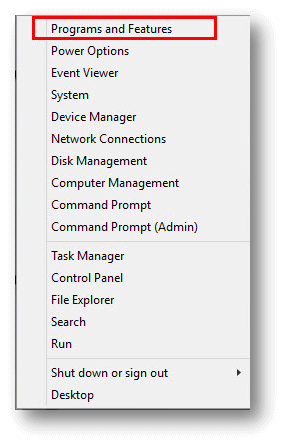 In the list, find Mozilla Thunderbird by searching for it, clicking on it, and then selecting Uninstall to start the uninstallation.
Will My Emails Be Lost If I Uninstall Thunderbird?
After doing so, the file will no longer be accessible via your Thunderbird profile, and you will no longer get updates about it. However, emails stored in that folder will remain accessible since it is a Gmail folder on the server.
Permanently Remove Thunderbird Emails from A PC
Whether you uninstall Thunderbird or delete Thunderbird folder from your computer, the lost emails still can be recovered by data recovery software. If you want to permanently remove Thunderbird and emails from your computer, just try data erasure software - such as DoYourData Super Eraser:
DoYourData Super Eraser
Completely uninstall Thunderbird and delete all related files.
Permanently erase hard drive data.
Wipe free disk space to permanently erase deleted/lost data.
For example, if you have Thunderbird installed on your C drive, you can follow the steps below to completely and permanently remove Thunderbird/emails from your computer.
Step 1. Open DoYourData Super Eraser, choose Uninstaller, select the Thunderbird and uninstall it. It also will remove all related files and emails.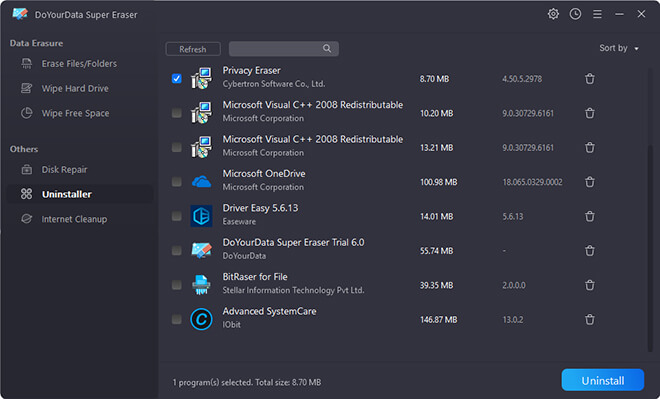 Step 2. Choose Wipe Free Space mode, select the C drive and wipe the free disk space of the C drive to permanently erase all deleted/lost data.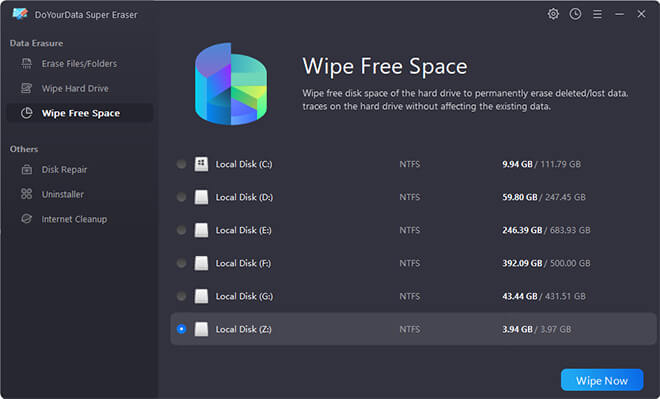 Conclusion
You need to uninstall apps fully if you want to free up space on your computer. App service files, as illustrated above, may hide in a number of different locations throughout your PC, making them difficult to track down and remove.
It may take a long time to delete everything properly manually. It is recommended that you use an app uninstaller to remove the software from your computer.