Why you can't permanently delete a PDF file?
When you delete a PDF file by right-clicking delete or shift+del, you may think you have permanently deleted the PDF file. Actually the PDF file that you have deleted is still on your computer even you have emptied the recycle bin. There are many of data recovery programs like Do Your Data Recovery can easily and quickly recover the PDF file you have deleted.
If the PDF file is not very important or private, you need not permanent delete it. But if the PDF file is very important or private and you don't want to share it with other people, you'd better permanent delete or erase it. As said before, you can't get it permanently lost by shift+del deletion or formatting your hard drive. You need a third-party data erasure tool that can permanently destroy, erase your PDF file.
How to permanently delete or erase PDF file?
If the PDF document contains your business material, private information or other secret information of you, it is strongly recommended to permanent destroy the PDF file to make it impossible to be recovered by data recovery software or manual data recovery service.
DoYourData Super Eraser is the most powerful data erasure software that can help you permanently delete PDF file from your PC, Mac or storage device. When you select the PDF file to erase, DoYourData Super Eraser will destroy, overwrite and permanently erase the selected PDF file. After erasure with DoYourData Super Eraser, the PDF file is permanently lost. You or other people can't recover it even by using the most powerful data recovery software. It means nobody will see your permanently deleted PDF file, and your information, your secret is totally safe now.
1. Add PDF or other files for erasure.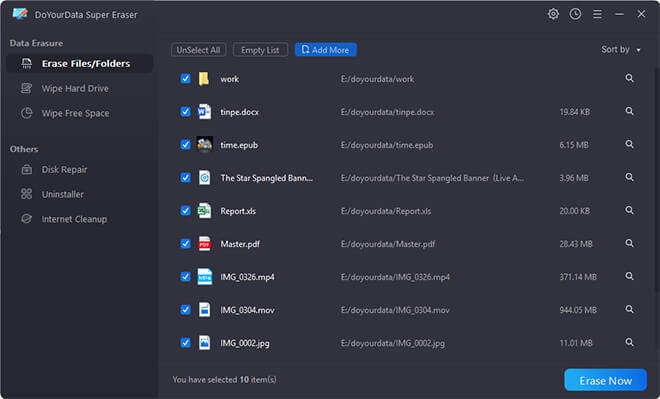 2. Permanently erase selected PDF files or other files.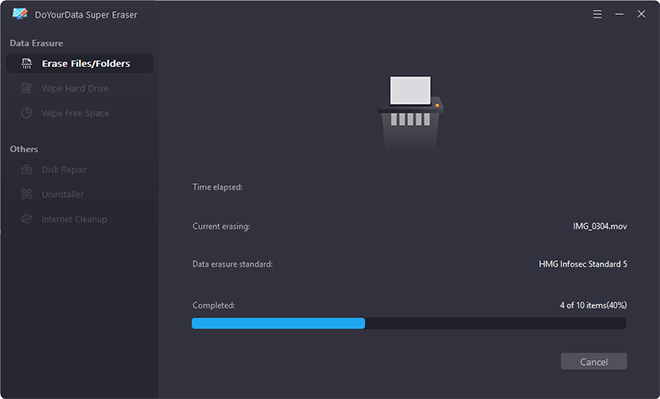 When you need to permanently delete PDF file?
Everybody has private information, everybody has secret. If some information is written in the PDF file and you don't want to share with other people, just permanently delete the PDF file. For instance, when you resell, recycle your old computer, you should delete all the important PDF files and make them impossible to be recovered. If you are a business man, you don't want to your colleague or competitor knows some information, just make sure the file which contains the information has been permanently erased. Especially, when you share a computer with other people, you'd better delete your PDF file and make it lost forever.
DoYourData Super Eraser offers secure permanent data erasure solution for individual and enterprises to permanently delete PDF files or other files. Nowadays, everybody knows the importance of protecting privacy, but not all of them can achieve it. With DoYourData Super Eraser, you can easily get your data permanently lost, beyond the scope of data recovery.