If you have stored important or sensitive data on a USB drive, you must take seriously. When you share your USB drive with other people, you should protect your privacy or you will become a victim of data leakage. The best way to keep other people from your sensitive or private data is wiping it before you give the USB drive to other people. How to wipe USB drive data? Deleting all the files? Formatting the USB drive? Actually you can't wipe USB drive data permanently by method of deletion or format. Other people can easily recover deleted or formatted data by using data recovery software.
If you want to permanently wipe USB drive data, you should turn to data erasure service or software. In most cases, sending your USB drive to a data erasure service provider is not cost-effective. The best solution is DIY data erasure software. DoYourData provides reliable and safe permanent data erasure solution – Super Eraser for permanently wipe USB drive data.
Before erasing your USB drive data, you should make sure that you definitely want to get those files or folders permanently lost. After data erasure with Super Eraser, the data can't be recovered. It means the data is permanently disappeared in your life. It is recommended to copy those files or folders to your safe hard drive before permanently wiping them from your USB drive in case that you will need these files or folders in the future. Super Erase supports to selectively wipe data. You don't have to wipe the entire USB drive, just select the files or folders as you want to get erased.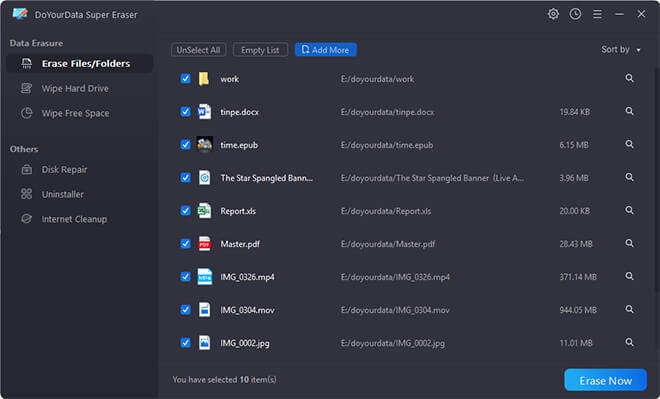 Wipe USB Data with Super Eraser
If you are thinking that how difficult it is to wipe USB drive data, just relax yourself. Super Eraser is pretty easy to use. After launching it on your computer, you will find it is so easy to use. Just select the files or folders you want to wipe, then the software will help you permanently wipe them. That's easy, is that? It also can help you wipe the entire USB flash drive to permanently erase all data on the USB flash drive.
Choose mode Wipe Hard Drive to wipe entire USB flash drive.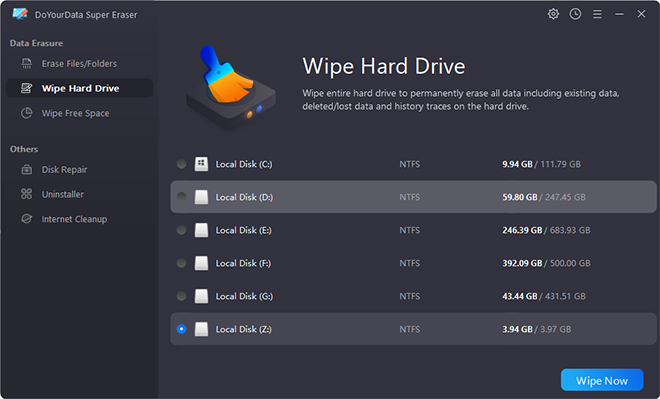 Permanently wipe all data on the USB flash drive.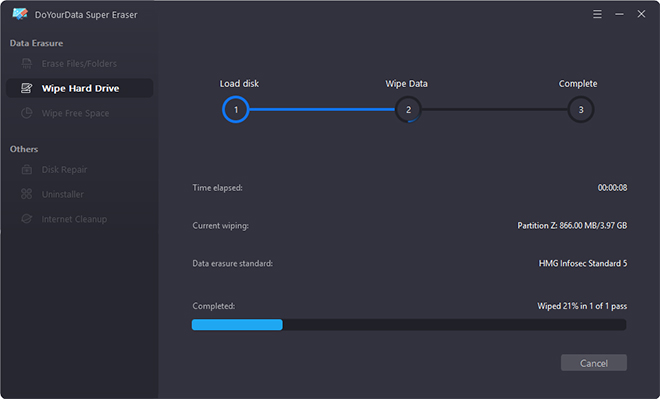 Of course you can test the wipe result if you want to make sure that the data has been permanently erased. Just download free data recovery software like Do Your Data Recovery Free to scan your USB drive to see if the erased data can be recovered. Actually, after scanning by free data recovery software, you can't see any trace of your erased data. We can promise you that the selected data has been lost permanently. Super Eraser also can wipe data on Windows hard drive, Mac hard drive or other storage device like SD card, Memory card etc.