Reinstalling operating system, deleting specific files or formatting hard disk can't make your data lost permanently. Many free data recovery tools like Do Your Data Recovery Free can easily and quickly find your deleted, formatted or lost files by scanning your hard disk. These common methods only get your data hidden, not permanently disappeared. In some certain cases, we do need to permanent disk wipe to KILL the data as we want. There are a lot of ways to obliterate sensitive data on your hard disk. For instance, you can damage it to make it useless. But for most us, we only want to remove some files, and want to preserve the functionality of the hard disk.
Data erase software – DoYourData Super Eraser can help you. To ensure permanent disk wipe, Super Eraser will destroy & overwrite the selected data and wipe it from your hard disk. When Super Eraser wipes a file, it not only deletes the entry of the file but also shreds it and uses random data to overwrite the disk space of it. So after permanent disk wipe, the data can't be recovered any more, even with the most powerful data recovery software.
Formatting hard drive is not equal to wiping hard drive. You can't remove the data permanently from hard disk after formatting. For permanent disk wipe, you have to use a third-party tool like Super Eraser to completing erase the data on hard disk. Only this way can ensure impossibility of retrieval from hard disk. With advanced data erasure algorithms, Super Eraser will kill selected data in a strict way and make it impossible to recover by any kind of data recovery method.
Step to wipe data with DoYourData Super Eraser
Step 1: Install and launch Super Eraser on your computer.
Download and install DoYourData Super Eraser on your Windows computer or Mac computer, then run it on your computer if you want to permanently erase data or wipe hard drive.
Step 2: Select the files or folders you want to wipe, start erasing.
Add files/folders to any hard drive or storage device to the erasure list. It can help you permanently erase data from any computer, digital camera, USB flash drive, memory card, etc.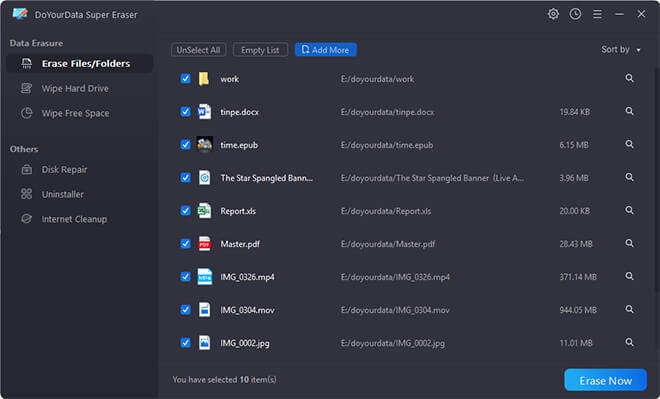 Step 3: Completely wipe the selected data.
Click on Erase Now button, this disk wiper will help you permanently erase selected files/folders. It also can help you wipe hard drive or erase free disk space.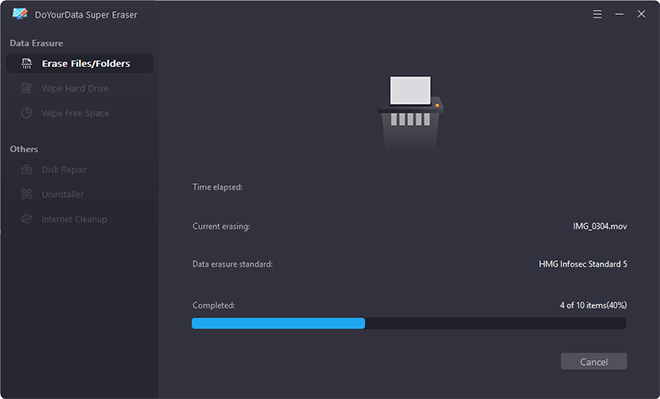 After permanent disk wipe, the data is completely lost and unrecoverable. Now you can resell your hard disk, or share your computer with others. It is safe now, nobody can recover your personal data even with a sophisticated data recovery tool. Your hard disk is as new as it on the day you bought it.
We also want you know that the data must be permanently lost after permanent disk wipe DoYourData Super Eraser. There is no way to get it back after permanent disk wipe. So please make sure you have backed up the data, make sure that you really want to wipe the data on your hard disk because it is irreversible process.