When you resell your computer to other people, you'd better destroy sensitive data on the hard drive. Otherwise you are at risk of privacy leaks. It is strongly recommended to destroy your personal or private data when you resell or recycle your computer. Not many of us know that how to destroy hard drive data completely and permanently. You can't destroy hard drive data by deletion, format because data recovery software or service can easily recover deleted or formatted data from your hard drive. The most securely solution is using a eraser tool to permanently erase, destroy and overwrite the data, making it be lost forever.
Super Eraser: Destroy Hard Drive Data in Safe Way
Super Eraser offered by DoYourData is the most powerful data erasure software. When you want to destroy your data on hard drive, it will permanently erase, destroy and overwrite. When you have erased the data by using Super Eraser, the erased data can't be recovered by any data recovery software or data recovery service. Even the data recovery expert can't recover it.
You don't want to wipe the entire hard disk drive when you only want to erase one or a few files. Super Eraser supports to selectively destroy data on hard drive. Follow the steps below to destroy hard drive data as you want:
Step 1: Download, install and launch Super Eraser on your hard drive.
Step 2: Chooser the files or folders you want to destroy, then clicking "Erase Now".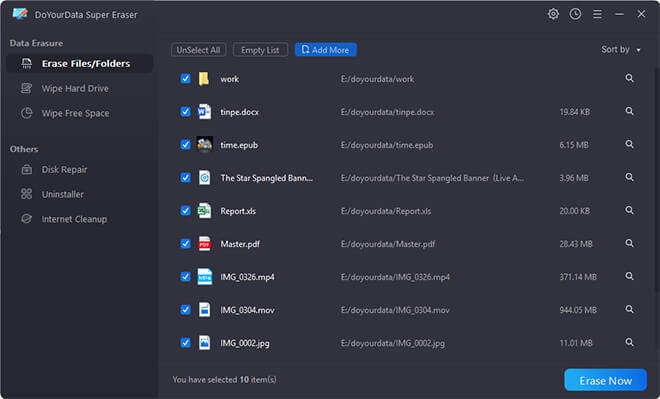 Step 3: Permanently destroy data on your hard drive.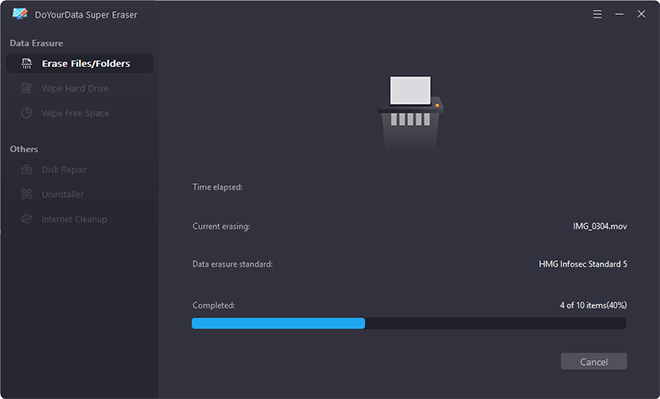 Please note that when the process gets completed, you will lose the selected data permanently. So before start erasing, please think carefully if you really want to destroy the data. It supports to destroy data on both Windows hard drive and Mac hard drive, as well as destroy data on storage media like SD card, USB drive, CF card, digital camera etc.
We know how dangerous it can be when our personal or business data gets out. Destroying files or folders that you don't want to share with other people is a wise decision before you resell your computer. You can back up the data to your personal hard disk drive before you destroy the data. Super Eraser will permanently destroy the selected data with no chance of recovery. It means the data you selected on your hard drive is lost forever. That's the safe way to protect your personal and vital business information.