Summary:
Before you sell your Windows 10 PC, you'd better permanently erase all your sensitive data to prevent potential data recovery. Follow this guide, you can securely and easily erase data in Windows PC before you sell it. Now just read on and find this solution for you.
Erase data from your Windows 10 PC is something simple and every day, but ask yourself what would happen if you need to sell it to pay for some emergency debt or simply have the opportunity to replace it with a better one, but you must complete with the money obtained from being able to sell the one you already have, it is precisely at this time that we tend to realize how important it is to have a good program to erase data securely at hand.
Permanently erase all data before selling Windows 10 PC
Having this in consideration at the time of permanently deleting data from your Windows 10 PC is vital for a good transition in the sale, so you do not erase the data carefully, the new owner of your old Windows 10 computer could find some personal files that nobody else is supposed to see or have, either by carelessness or because it reused the parts of your machine such as your hard drive and use an online program to recover data that may have before formatting it out of curiosity, is something you must always prevent.
However, the concern you may have does not end there because the doubt grows more when the buyer tells us that the Windows 10 installed in our machine will go as a ring to the finger, which is why looking for a program that erases the data efficiently in our partition with Windows 10 is vital. DoYourData Super Eraser has great compatibility with Windows and Mac operating systems alike, leaving no doubt that the data on your partition with Windows 10 will be erased perfectly, just download and install it to see immediate results and without affecting any feature in your operating system, just explore the three methods that we will tell you in this article.
Method 1: Delete files and folders permanently on your Windows 10 partition.
Start by running our DoYourData Super Eraser previously installed on our Windows 10 PC, then select in the option to delete files and folders permanently, all those directories containing our information and we want to delete from our hard drive, then press the "Erase Now" button and the process begins. Once completed we can see that all selected files/folders have been permanently erased.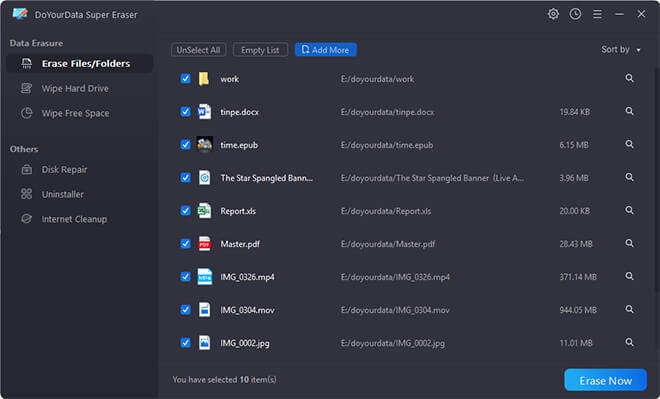 Method 2: Wipe hard drive on Windows 10 PC.
This method can help you wipe entire hard drive partition on Windows PC. All data information on the selected hard drive partition will be permanently erased.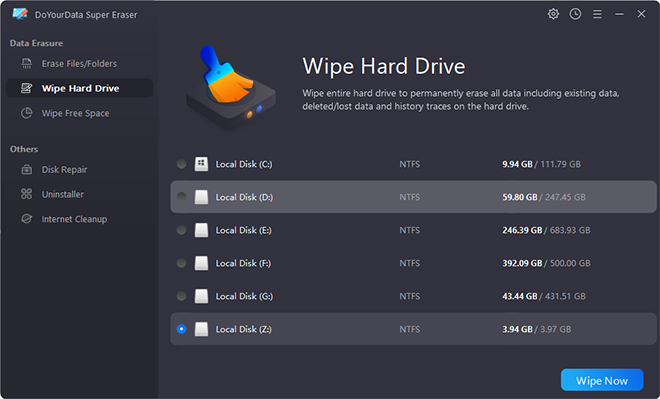 Method 3: Clean the free space of your hard disk in Windows 10.
This mode only erases already deleted/lost data on Windows 10 PC. It will erase free disk space of the Windows 10 hard drive and permanently erase the previously deleted/lost data. It will not affect the existing data on the hard drive.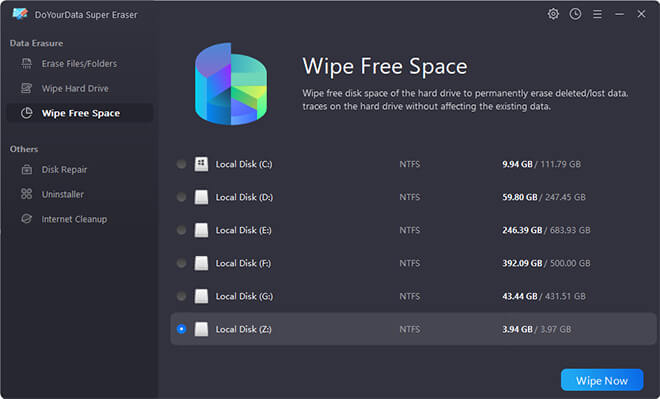 In order to prevent data recovery on Windows 10 PC, you can use DoYourData Super Eraser to permanently erase your data before you sell your Windows 10 PC. Once the data is erased by this data erasure software, no data recovery software can recover the erased data.