Summary:
If you want to permanently delete a file on SD card to prevent data recovery, you can download DoYourData Super Eraser. This file shredding software can help you securely and permanently shred files on SD card, beyond the scope of data recovery.
Imagine that you have to permanently deleted some files from your SD card, because a friend urgently needs it or it is simply very obsolete and you want to change it, either for one reason or the other you have to get rid of it and do not want the data you have stored to be seen by someone else, this is always the concern of the majority, and this is why we are always looking for alternative methods of erasure, which give us that decisive backing.
Steps to permanently delete your files from an SD card
Permanently removing files from an SD should not be complicated, we must always take into account that anyone with a recovery program downloaded from the Internet could investigate them, even after deleting them completely, many offer options such as strong deletion or formatting the unit aggressively so as not to have to delete the files one by one, or simply tell us to restore the factory unit, many of us in extreme cases to physically destroy the SD for fear that nothing works, so it is better in our opinion and as we show you today, we must entrust this task to the best.
DoYourData Super Eraser has the best deletion methods that will give you the confidence you need, when you replace or give away that SD card that you will no longer use, just download and install it on your PC or laptop and follow one by one the simple steps that we will give you below.
Method 1: Delete files from an SD card permanently.
This method can help you permanently delete existing files or folders on the SD card. Just add or select the files/folders from SD card, then click on "Erase Now" button to permanently shred the selected files/folders on SD card.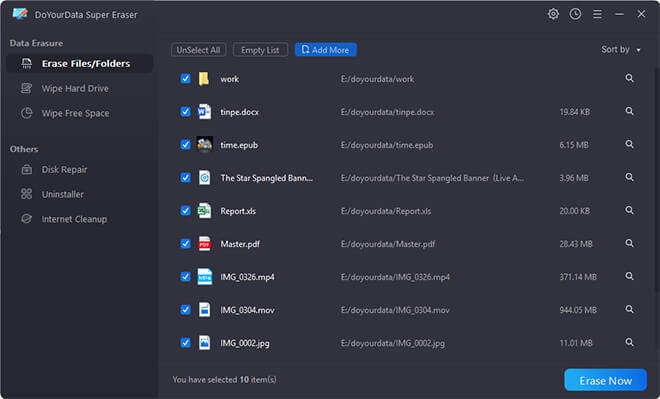 Method 2: Wipe SD card to permanently delete all data information.
In this option we will have the ability to completely wipe our SD card. All data information on the SD card will permanently erased, leaving no trace for data recovery.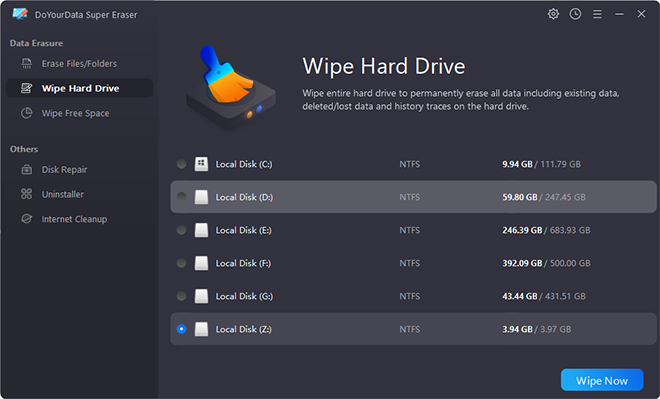 Method 3: Delete already deleted data on SD card permanently.
Unused space can generally contribute to data storage in the form of temporary files that we deleted. This method will permanently erase the already deleted/formatted data on the SD card.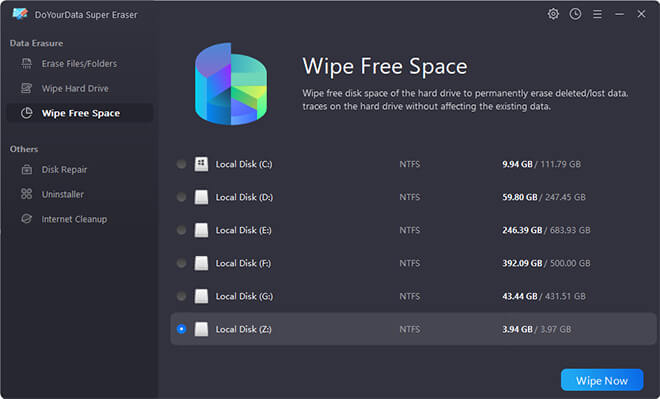 Actually, if you want to permanently delete a file on SD card, just try method. Add the file to the erasure list, then shred it permanently. DoYourData Super Eraser offers military level deletion algorithms to help in permanently deleting files/folders. Just download and install it on your computer.