Quick Navigation:
It isn't very pleasant when you're a Mac user and can't open data stored on an NTFS drive. By default, Macs can only read NTFS-formatted drives but can read and write to HFS+ and APFS formats. When trying to transfer data between a Mac and a PC, this can cause complications.
iBoysoft NTFS for Mac is coming to save the day. Accessing and sharing files between Mac and PC users is simplified with this software's ability to read and write to NTFS-formatted devices. This article will examine iBoysoft NTFS for Mac and discuss its benefits, drawbacks, and other options.
What is iBoysoft NTFS for Mac?
iBoysoft NTFS for Mac is a user-friendly NTFS for Mac solution designed to assist Mac users in gaining complete read and write access to their NTFS drives without hassle on any Mac model. Now that you have complete read/write access to the NTFS volume, you can do whatever you like with it. You can mount, unmount, erase, and repair NTFS disks, open and erase non-NTFS disks to NTFS, and manage all disks associated with your Mac with the disk management utility included.
Microsoft NTFS for Mac by iBoysoft can function smoothly in the background without interfering with other Mac activities because of its sophisticated algorithms and smart caching technology. The auto-mount feature is included right into iBoysoft NTFS for Mac, one of its best features. After starting and customizing the program to your preferences, your involvement will be limited to the initial setup process. Once an NTFS drive is found, the program will mount it in read-write mode immediately.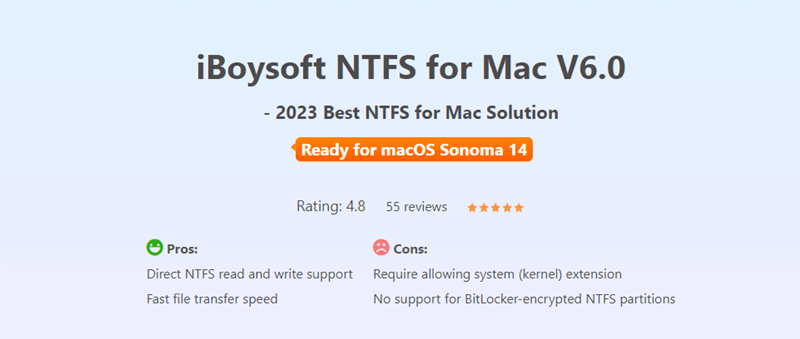 Price:
After the 7-day trial period, you may buy a license for $19.95 per year or $49.95 for a lifetime subscription to iBoysoft NTFS for Mac. They let you test it out risk-free for 30 days by offering a refund if you aren't satisfied.
Basics:
Mac OS X 10.14 Mojave, 10.15 Catalina, macOS 11 Big Sur, macOS 12 Monterey, macOS Ventura and macOS Sonoma are all supported by iBoysoft NTFS for Mac. It works with any Mac, regardless of whether it has a 32-bit or 64-bit operating system.
Features:
Allow Mac to read and write to a Windows NTFS drive
Scheduled auto-mounting of NTFS volumes
Easily mount and unmount NTFS drives
Check for and fix NTFS drive file system issues
Reformat HFS, HFS+, FAT32, and exFAT to NTFS and clean up NTFS disks
Apple's M1/M2/M3 CPU is based on the ARM architecture. It is incompatible with any Intel-based software and programs unless you use Rosetta 2 to translate Intel x86_64 instructions to the ARM64 instruction set.
How to use iBoysoft NTFS for Mac?
iBoysoft NTFS for Mac is a simple program to use. Here are the first things you should do:
You may get iBoysoft NTFS for Mac from its official website, where you can install it.
Get the Mac to read the NTFS drive.
Launch Finder and navigate to the location of the drive that you need access to.
You can now read and write data to the drive without any restrictions.
That's how easy it is! No further setups or settings need to be adjusted at this time.
Open: All files on your NTFS drive will be visible in the Finder window. Any form of writing can then be performed.
Unmount: A single mouse click can prevent access to mounted volumes.
First Aid: Verify if the disk has any NTFS file system issues. In the case of malfunction, the program might attempt to fix the problem.
Erase: Deleting everything on the NTFS drive and reformatting it as APFS, HFS+ (Mac OS Extended), FAT, or exFAT can solve your problems.
The same is true if you choose a volume formatted in a system other than NTFS from the list on the left. The NTFS menu will now have a new Format selection.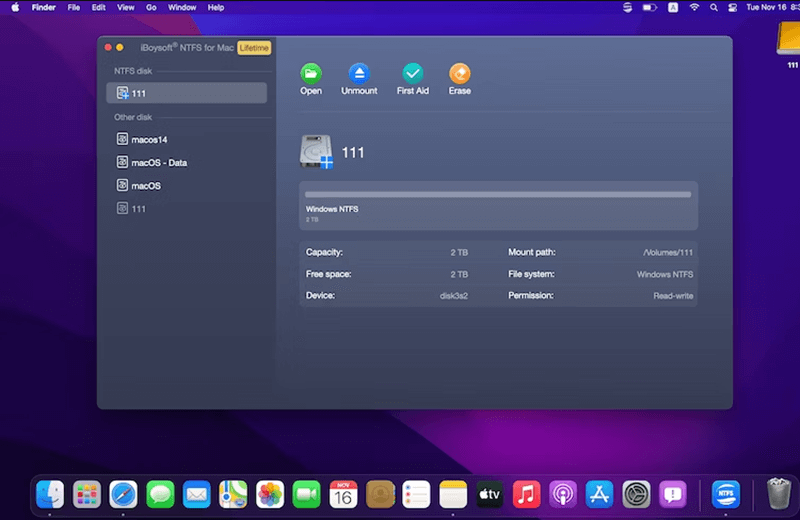 Pros:
All NTFS file operations are fully supported.
Capable of analyzing and fixing NTFS disks.
Boot Camp NTFS disk read/write support.
There is an option to uninstall, and no traces are left.
Compatibility with Apple's M1 Mac and macOS 12.
Cons:
There is no free trial period.
You can secretly record your screen for 10 seconds.
Every time I start my computer, a pop-up window appears.
May not working on macOS Sonoma.
Best iBoysoft NTFS for Mac alternative
DoYourData NTFS for Mac is a great iBoysoft NTFS for Mac alternative which supports to enable full NTFS read-write on Mac. Just download and install it on your Mac, open this tool on your Mac.
Select the NTFS disk and click Enable Writable to grant full read-write access to NTFS drives on Mac.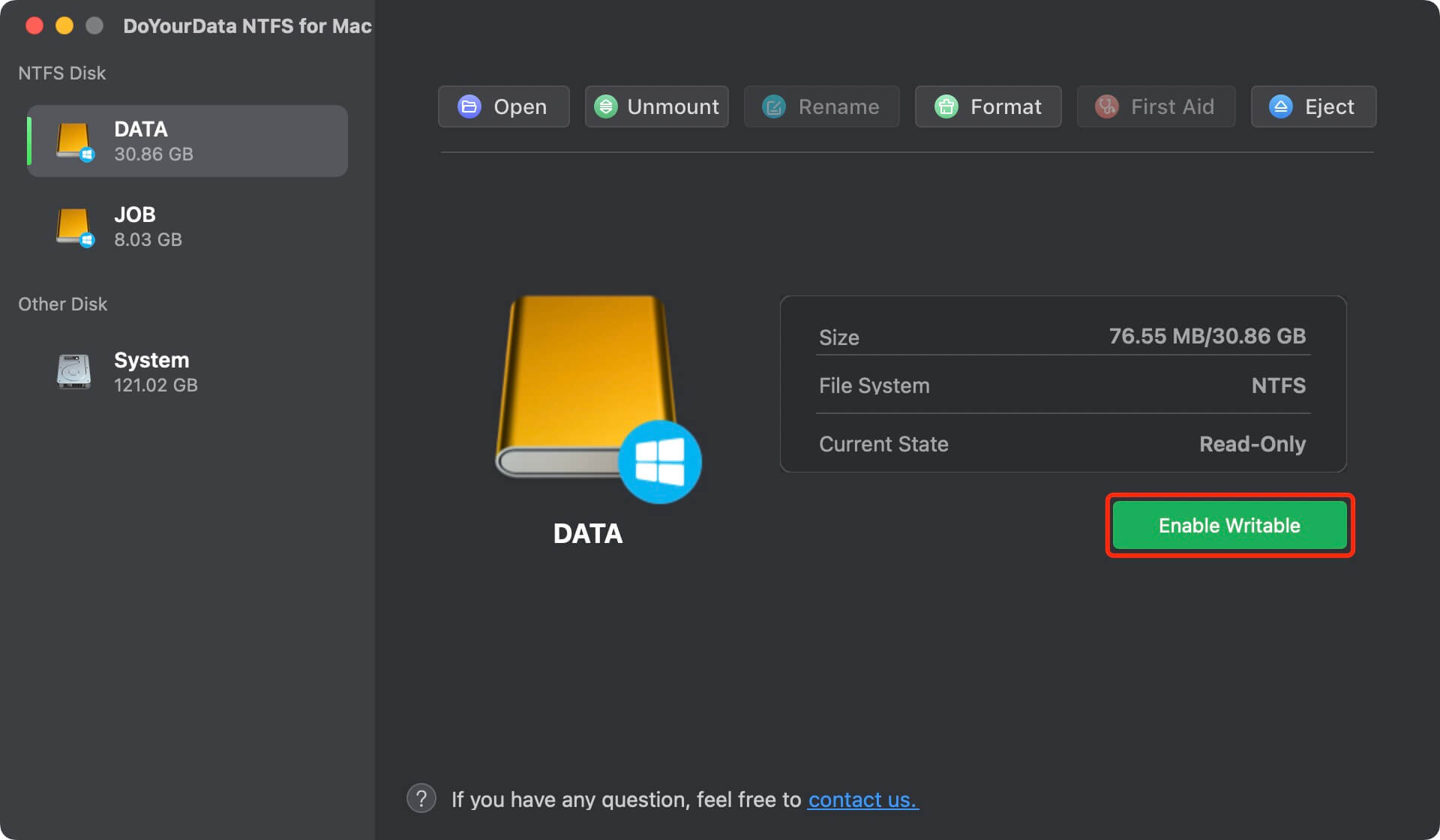 This tool also can help you open a drive, erase a drive, run First Aid on a drive or format a drive, eject an external drive in safe mode.
Conclusion:
Mac users can now access Windows NTFS drives on their macOS computers thanks to iBoysoft NTFS Mac. iBoysoft NTFS for Mac, on the other hand, only enables rapid reading and writing on NTFS volumes. It is a reliable and speedy program that enables users to modify the disk in macOS, just as they would in Windows. This utility, iBoysoft NTFS for Mac, does all of its work in the background, so the user does not need to do anything to use it.