>
How to Mac
> Top 3 Free Uninstaller for macOS Catalina (macOS 10.15)
Top 3 Free Uninstaller for macOS Catalina (macOS 10.15)
by Henry Lee, 2019-06-28
How to delete an application in macOS Catalina 10.15? How to uninstall third-party software and remove all associated files under macOS Catalina? Don't worry. The easy and secure way to uninstall applications after upgrading to is macOS Catalina uninstaller. Here, we would like to introduce 3 uninstallers for macOS Catalina. You can download one of the them to help you easily and quickly uninstall applications in macOS Catalina and remove all leftovers.
Top 3 Free Uninstaller for macOS Catalina
AppUninser is one of the best uninstalling software for all Mac operating systems. It is fully compatible with macOS Catalina. This macOS Catalina uninstaller can help you uninstall applications from your Mac one by one or in batches. It also can help you remove useless language files to save more disk space on your Mac. You can download this macOS Catalina uninstaller for free trial.
AppUninser is pretty simple to use. You just need to select the useless applications and remove them by clicking on "Uninstall" button. All the selected applications and associated files will be removed from your Mac. It also can help you remove useless plugins, Widgets, etc. It is the best free uninstaller for macOS Catalina.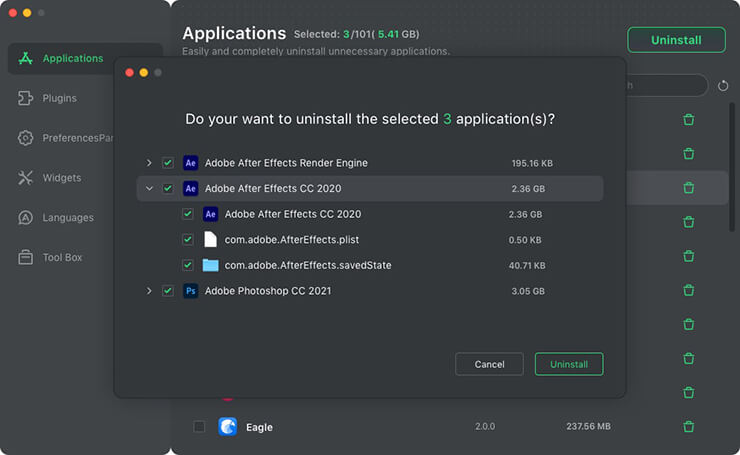 MacClean360 is an all-in-one cleaning software for macOS Catalina. It offers uninstaller to help in uninstalling unwanted applications under macOS Catalina and remove all leftovers including app junk, logs, caches, register files, cookies, etc. It also offers other tools such as junk cleaner, duplicate file cleaner, old file cleaner, file shredder, etc.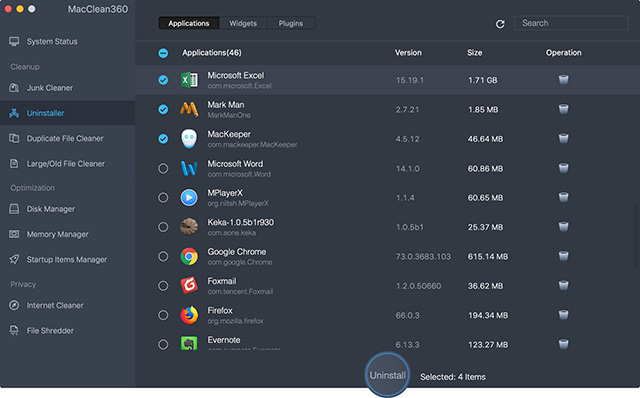 AweUninser for macOS Catalina is another uninstaller for macOS Catalina. It can help you quickly and easily remove useless apps, software from Mac and delete all leftovers.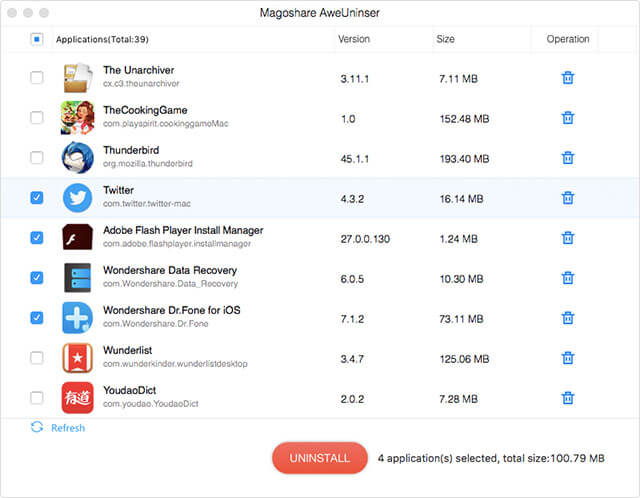 Installing excessive applications in macOS Catalina will take great deal of disk space and slow down the Mac. Just use the free macOS Catalina uninstaller to help you uninstall useless or old applications and remove all leftovers.