>
Mac Data Wipe
> How to Securely Shred Mac Files?
How to Securely Shred Mac Files?
by Shirly Chen, 2016-06-21
Properly Shred Mac Files
When you delete a file on your Mac, and empty the trash bin, is the file permanently lost? You may think you will never see the file again until the data recovery software recover it. Yes, Mac data recovery software can easily recover the deleted files, even you have formatted or erased the entire hard drive. The deleted or formatted data can be recovered because that the data has not been damaged, it is just hidden on your Mac. You or other people can easily recover it with free data recovery tool. If you want to say good bye to your Mac files forever, you have to completely shred it and overwrite the disk space of the files to make data recovery impossible.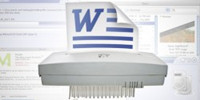 Do you know how to shred Mac files?
It is very important to shred some files that contain your private or business information before you resell, discard or just give your Mac to other person. You don't want to become the next victim of cyber crime, right? We don't want to introduce a complex method to shred your Mac files because not everyone can understand professional information. We only want to introduce a tool – Super Eraser for Mac that can help you easily and securely shred Mac files.
Shred all kinds of files on Mac including photos, documents, videos, audio files, emails, archives, etc.
Shred files on Mac hard drive or storage media such as USB drive, digital camera, external hard disk, SD/Memory card.
Shred both existing files and deleted files on Mac.
Shred the virus-infected files on Mac.
The Steps to Shred Mac Files with Super Eraser
Now you can follow these easy steps to securely shred files or folders on Mac or other device.
Step 1: Download Super Eraser for Mac and install it on your Mac.
Step 2: Run Super Eraser for Mac and choose the right mode to shred your Mac files.
Mode 1 is shred Mac files and folders. If you want to shred some specific files or folders, just select them and click on "Erase Now" to securely shred the Mac files or folders.
Mode 2 "Wipe partition/device" is designed to shred all the existing files, deleted files and all traces on your Mac hard drive or storage media. It will shred all the Mac data and empty the selected hard drive or storage media.
Mode 3 "Wipe unused space" can keep your existing data safe and only shred the deleted/lost data to make it permanently lost from your Mac.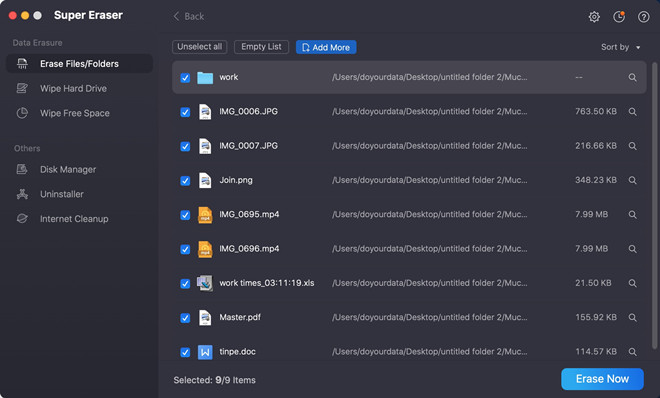 No matter what the mode you will choose, the shredded data will be lost forever. After shred Mac files with Super Eraser for Mac, the shredded files can't be recovered by any data recovery software or data recovery service. It means they disappeared forever. Now as you've see, it is very easy to shred Mac files with Super Eraser for Mac, just download it now.