Despite the ever-increasing dependability of storage technologies, digital data loss is still a typical occurrence. Human mistakes, software defects (such as computer viruses), power failures, and hardware problems are all common reasons for lost files. Fortunately, data stored on a digital medium can nearly always be recovered. The following article defines data recovery and discusses the most frequent data loss issues as well as solutions.

Data recovery explained
The process of recovering data that has been lost, unintentionally erased, damaged, or rendered unreachable is known as data recovery. Data recovery is the process of recovering information from a storage device that cannot be accessible by ordinary ways owing to previous deletion or damage to the digital medium.
Various ways are utilized to recover the missing files, but only if their content is present someplace inside the storage. For example, data recovery does not cover circumstances in which a file was never written to persistent storage, such as documents that were generated but could not be saved to the hard disk drive due to a power outage. Furthermore, none of the available restoration methods can deal with scenarios of permanent erasure, which occurs when another piece of data fills its storage space.
Data recovery in computing is the process of recovering deleted, unavailable, stolen, corrupted, damaged, or distorted data from secondary storage, removable media, or files when the information stored in them cannot be retrieved normally. Data is often recovered from storage media such as foreign or domestic hard disk drives (HDDs), solid-state drives (SSDs), Usbs, magnetic media, CDs, DVDs, RAID devices, and other electronic devices. Physical damage to storage systems or conceptual corruption to the file system to stop it from being installed by the host operating system may need recovery (OS).
How does data recovery work?
Depending on the conditions of the security breaches, the data recovery software used to build the restoration, and the backup target media, the data recovery method differs. Many desktop and laptop backup software systems, for example, allow users to recover lost files directly, but restoring a damaged database from a tape backup is a more involved procedure that necessitates IT assistance. Data recovery services may also be used to recover files that were not backed up and were mistakenly wiped from an user's file system, but which are still scattered around the hard disk.
Since a document and the knowledge about that item are kept in separate locations, data recovery is feasible. A file allocation table, for example, is used by the Windows operating system to keep track of which files exist on the hard drive and where they are stored. The allocation table functions similarly to the table of contents of a book, while the actual files on the hard drive function similarly to the pages of the book.
It's generally simply the file allocation table that has to be retrieved when data needs to be recovered. The file that has to be retrieved might still be in perfect form on the hard disk. It is possible to restore a file if it still exists and is not corrupted or encrypted.
There are alternative options for retrieving the file if it is damaged, lost, or encrypted. Even if the file is physically destroyed, it may be rebuilt. Many programs, such as Microsoft Office, use standard headers at the start of files to identify them as belonging to that program. Some programs can be used to manually reassemble the file headers, allowing at least a portion of the file to be recovered.
Most data recovery systems use many technologies, so businesses aren't only relying on tape to retrieve data. It takes time to recover essential programs and data from tape, and you may need to access your data right away after a disaster. Transporting cassettes comes with its own set of dangers.
Data recovery techniques
By sending user workloads to the backup server, instant recovery, also known as recovery in place, aims to remove the recovery window. Users work off the backup virtual machine (VM), and the recovery process begins in the background. A snapshot is produced to keep the backup in pristine condition, and all user write activities are diverted to that snapshot. Users are unaware that the recovery is occurring, and once it is completed, the user workload is diverted back to the original VM.
One method to avoid the time-consuming and expensive process of data recovery is to minimize data loss altogether. Data loss prevention (DLP) devices are available in two versions: stand-alone and connected. They assist firms discover and halt data breaches.
Without the assistance of a professional, the information that remains on an undamaged storage device may typically be retrieved using data specialist software. It's vital to remember, though, that once data has been wiped, it can't be recovered. As a result, nothing should be written to the storage until the final file has been recovered from it.
The majority of data recovery tools use metadata analysis methods, raw recovery based on known file content, or a mix of the two approaches.
Data recovery software - easy tools to get lost data back
Data Recovery Software are tools which are able to securely and completely recover deleted, formatted or lost files. In most of data loss situations, data recovery software can be used for recovering lost data.
Top Data Recovery Software:
#2 Recuva
#3 EaseUS Data Recovery Wizard
#4 Stellar Data Recovery
#5 DiskDrill
#6 Magoshare Data Recovery
#7 TogetherShare Data Recovery
#8 Donemax Data Recovery
#9 iTop Data Recovery
#10 Recoverit
How does data recovery software works? Here, we will show you the steps to recover lost data with a data recovery software tool.
Step 1. Download a data recovery tool - such as Do Your Data Recovery and install it on your computer.
Do Your Data Recovery
Recover lost data from local disk or external device.
Recover deleted, formatted, inaccessible or lost data.
Recover lost data from damaged device.
Step 2. Open Do Your Data Recovery on your computer, it shows all hard drives. Just select the hard drive where you delete or lose your files to start data recovery.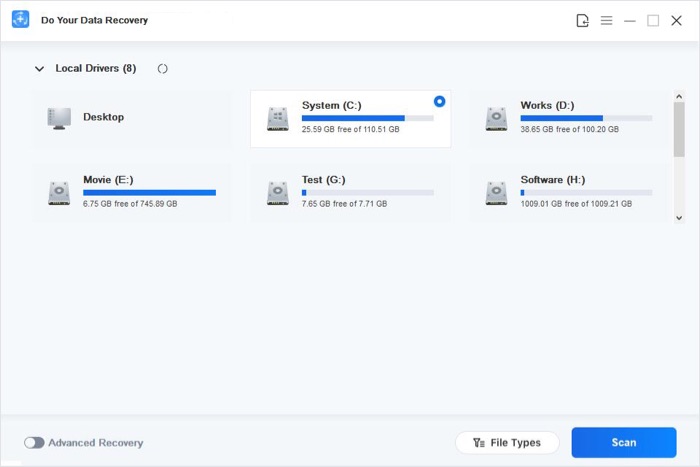 Step 3. Click on Scan button then this data recovery software will scan the hard drive and find recoverable files.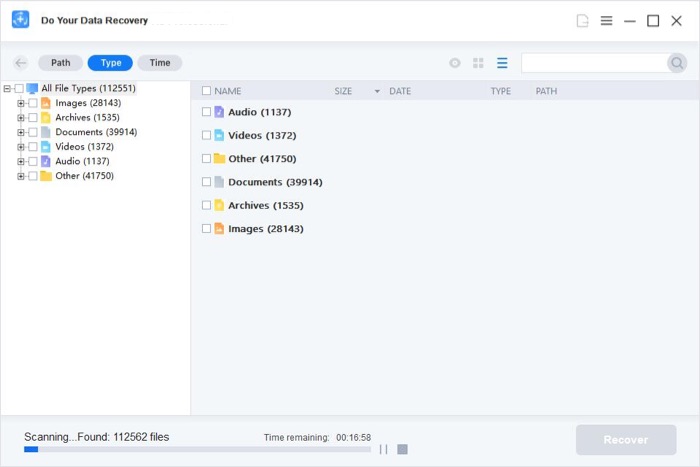 Step 4. After scanning, you can preview all recoverable files. Then select the wanted files and save them. If you can't find the files you've lost, just try advanced recovery mode to find more lost files.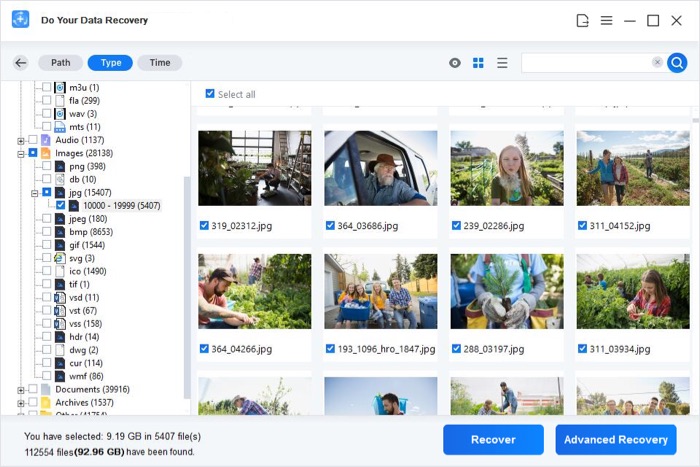 Data Recovery can help you find your lost files in most cases. However, in some cases, you may want to permanently erase your files so that they can't be recovered. For example, before you sell your old PC, you'd better permanently erase all sensitive data to prevent potential data recovery. At this time, you need data erasure tool to help you permanently erase your data and make data recovery be impossible.
DoYourData Products
Permanently delete data from any device or disk to prevent data recovery.
Free Trial