It's practically inconceivable that you haven't heard about FAT32 if you've ever used a Windows PC or a storage device like a USB memory stick or an SD card. It is one of the most widely used file systems on all types of storage media. Continue reading to learn more about its history, purpose, and applications. We'll speak about FAT32 in this article:
Quick Navigation:
What exactly is FAT32?
FAT32 is a file system for storage systems, and directories are methods for arranging data on devices like hard drives, SSDs, memory sticks, and microSD cards. FAT32 stands for File Allocation Table 32, and the number 32 refers to the fact that FAT32 employs 32 bits of data to identify data clusters on storage devices.
(Table of File Allocation32) The FAT32 file system is a 32-bit variant of the FAT file system. The FAT32 file system, which was used on Windows PCs before the more powerful NTFS file system, is extensively used for USB drives, flash memory cards, and external hard drives because of its cross-platform compatibility.
In simple words, FAT32 is a disk configuration or filing system for storing and organizing files on a hard drive. The disk drive is divided into accessible chunks called sectors, and a "File Allocation Table," or FAT, is generated at the beginning of the drive to allow the host computer to locate each piece of information in the file. The "32" in the name refers to the number of bits used by the file system to hold these addresses, and it was included primarily to distinguish it from its predecessor, FAT16. Microsoft created the FAT32 file system format.
There are a variety of disk formats or file systems to select from, ranging from XFS on Macs to NTFS on Windows PCs, but FAT32 is unusual in that it is the only format that can be reliably read by both PCs and Macs. You may utilize any recordings straight into your Digital Audio Workstation (DAW) without having to translate or duplicate them if you choose FAT32 as the format for the BlackBox recorder. This can save a lot of studio time.
When and by whom was FAT32 created?
FAT32 is a file system that was initially presented to the world by Microsoft in 1996 when it was utilized in MS-DOS 7.1 and Windows 95 OSR2. After FAT16 and FAT, FAT32 is the next in line. The first version of the FAT file system was created and implemented in 1977.
Since the 1980s and up to the year 2000, FAT and its descendants, including FAT32, were the most common file systems for DOS (Disk Operating System) and Windows computers. FAT32 began to lose favor in 2001 when Microsoft released Windows XP, which by default used NTFS rather than FAT32.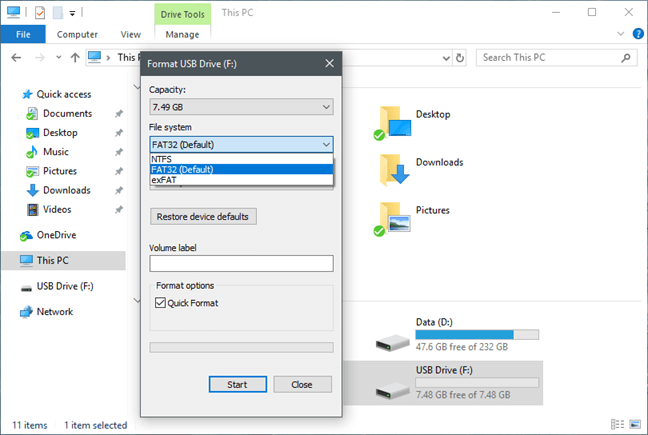 FAT32 is still one of the most widely used file systems in the world today since it is used to format a wide range of storage media.
The advantages of adopting FAT32
FAT32 had certain redeeming qualities; otherwise, it would not have lasted as long as it did. However, the following are the only significant benefits of adopting FAT32 today: It works with a wide range of devices, including smartphones, tablets, PCs, digital cameras, game consoles, and security cameras.
It's also backward compatible with practically all operating systems that have been released since 1995. Windows 95 OSR2, Windows 98, XP, Vista, Windows 7, 8, and 10 all support FAT32. It is also supported by Mac OS and Linux.
The disadvantages of utilizing FAT32
Using FAT32 on your disks has a number of major drawbacks:
FAT32 can only handle files with a size of fewer than 4 GB.
Only partitions with a maximum capacity of 8 TB operate with FAT32.
If you have a disk formatted with FAT32, there is no data protection in the event of a power outage.
There are no built-in file compression facilities in the FAT32 file system.
FAT32 was not meant to be secure, and it lacks built-in encryption capabilities. If you wish to encrypt data on a FAT32 disk, you'll need to utilize third-party software.
Individual files bigger than 4 GB cannot be stored on the FAT32 file system, however, they can be on the NTFS file system. In comparison to FAT32, the NTFS file system has a greater disk usage rate and can better manage disk space. NTFS is also quicker than FAT32 in terms of reading and writing rates.
Do you utilize the FAT32 file system?
It's quite improbable that you haven't come across a FAT32-formatted storage device at some point in your life. This cross-compatibility with devices from different manufacturers and operating systems is the basis for its popularity and extended existence. To be honest, this is the only reason you might want to stick to FAT32.
Before we close this tutorial, we'd want to hear whether you still use it, and if so, what sort of storage devices you use. Leave a comment below with your views and experiences using FAT32.
Learn more:
Recover deleted or lost data from FAT32 system >>
Permanently wipe data in FAT32 >>
DoYourData Products
Permanently delete data from any device or disk to prevent data recovery.
Free Trial