Does your Mac really need a firewall? Well, yes and no.
The security of the many online services we use and the devices on which we save our data is a key concern in this age of rapid digitalization. Most people who read this essay will also own a Mac. And you'd prefer to keep your Mac's work to yourself for the most part.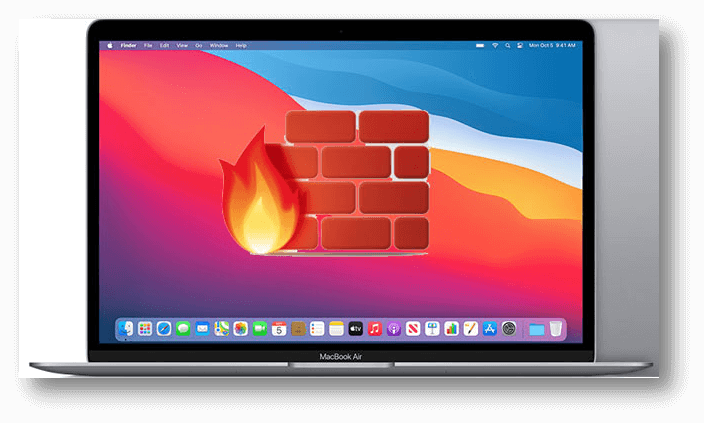 Turning down macOS's firewall makes it simpler to establish connections with other Apple devices, as your computer will likely be behind the firewall that is part of your router. Turn on the firewall if you routinely connect your laptop to unsecured wireless networks.
What does a Firewall do?
Understanding how a firewall protects a network is essential before deciding to use one. While some Windows users may view it as nothing more than a toggle for extra protection, that's not quite how it works.
The firewall does what all firewalls do: it prevents connections from the outside world from being made. Built-in Mac and Windows firewalls don't function in this fashion, although some firewalls do. You should explore elsewhere for a firewall that gives you control over which programs have Internet access.
Only when programs are actively listening for connections will they become problematic. Worms took advantage of the fact that Windows XP had numerous services open and waiting for network connections. A firewall was considered essential for the operating system back in the day.
Why enable macOS's firewall?
In macOS, the firewall is disabled by default. It is because Apple does not distribute any potentially malicious services that seek out connections from the wider internet.
However, most users (especially technical users like developers) eventually employ software or macOS features that can listen and respond to connections on public networks. We advise turning on the firewall since it will prevent malicious users from gaining access to your system through the internet.
The Mac Firewall: How to Activate or Disable It?
To turn on your Mac's firewall, do the following:
Go to the Apple menu.
To adjust your privacy settings, open Security & Privacy from the System Preferences menu.
Navigate to the Firewall sub-tab.
Select the lock symbol (in the lower-left corner).
The window will become accessible after you enter your username and password.
The Firewall Switch must be turned on.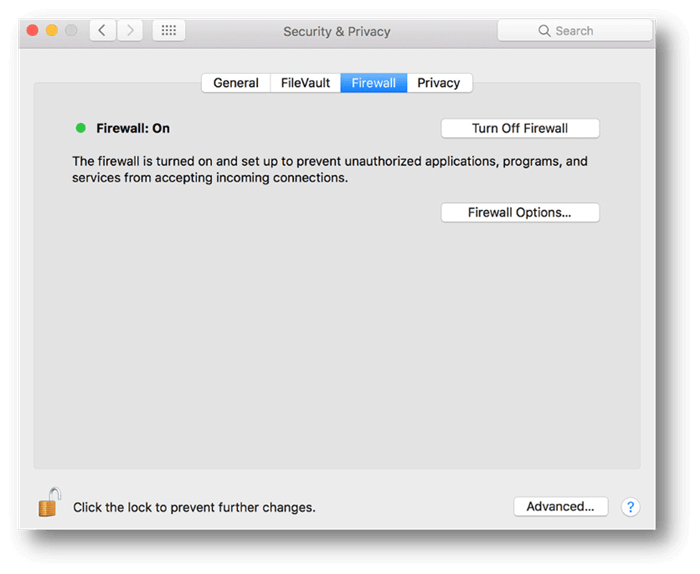 It will turn on the firewall on your Mac. Select the Advanced tab to make necessary adjustments to the firewall's settings.
The interface includes a toggle switch labeled "Turn Off Firewall" if you need to disable it. Simply clicking on it will accomplish the desired action.
Network Connections, Incoming vs. Outgoing:
A firewall's fundamental filtering function prevents data from entering or leaving the system via specific ports or protocols. Like an organization's email system, a computer may have more than one address for external communications. Different email addresses serve different purposes; some are for internal use only, while others (such as the company's support and contact addresses) are for the general public.
A desktop firewall can only open a subset of those ports to allow external systems to service apps listening on a specific port. Ports 80 (HTTP) and 443 (HTTPS) are the de facto standards for web traffic. Hence they are typically open on a web server.
Ports are opened or closed based mostly on the direction of traffic.
The term "inbound traffic" refers to data coming into the system. Firewalls often feature a DEFAULT DENY policy, which means that all incoming traffic is denied unless specifically allowed.
The term "outbound traffic" describes data transfers outside the computer. The default policy for this type of traffic is DEFAULT ALLOW, meaning the firewall blocks no traffic. As an illustration, a firewall policy may be set up to restrict SSH connections to a subset of IP addresses.
While a desktop firewall will come with predefined settings, these can be modified to fit the individual machine's and user's requirements.
Management of Firewall Policy Rules:
The default policies of a firewall are optimized for the vast majority of use scenarios but may not always be optimal. The security and convenience of a desktop firewall may depend on the user's ability to modify the default settings.
There are two primary ways an endpoint firewall's policy rules can be handled: either by a centralized administration or locally on the device itself. In the former scenario, administrators can lock down firewall policies so that only authorized personnel can make changes per company standards for data protection.
Conclusion:
We do not advise buying one of the many Mac-specific third-party firewall programs. The firewall on your Mac employs the same Unix technologies that are the gold standard for protecting web servers. If you're paranoid and want a more robust firewall, brush up on your Unix knowledge and create some unique rules. Put the extra firewall software back where it came from!
DoYourData Products
Clone HDD, SSD, Mac OS, external disk, USB drive, and more under Mac OS.
Free Trial