Since so many websites and services need passwords, keeping track of them all may be a hassle. Password reuse is risky because if your account is breached on one site, hackers will have access to your email and password and may try them on other sites.
Because of this, you should use strong, unique passwords for every online service and application you use. The "keychain" on your Mac or iOS device is an encrypted file that holds your login credentials and other data.
All of your devices may share the same passwords thanks to iCloud syncing of this file. Here, we'll talk about how to access your Mac's Keychain.
What Is Keychain Access?
Most websites now need you to sign in with a username and password before you can see their content; when you check-in, your Mac will ask whether it can remember your username and password.
What happens to the password when you click "Save?" Since macOS has a "keychain" feature, the password may be safely stored there. The Keychain is the default password manager in macOS.
It saves your credentials, so you don't have to enter them again the next time you visit a site that requires them. The Keychain will save the passwords for you, relieving you of the burden of remembering them.
As a bonus, the macOS program Keychain Access displays all of your stored passwords. Users may manage keys, root certificates, and encrypted notes; see passwords saved by the system; and access and change the Keychain's contents.
If you use the keychain function, you won't have to try to remember all of your passwords. Therefore, you may make more secure passwords and use unique ones for each of your online accounts if you want. By doing so, it strengthens the protection of your Mac's data.
In Mac OS, How Do You Utilize Keychain Access?
Every macOS machine has a preinstalled program called Keychain Access. Passwords for accounts and networks, as well as certificates for using applications, are kept here. If you've stored passwords and forgotten them, here is the place to look.
Here's what you prerequisite to do to get access to Keychain Access on your PC:
Get to the Applications folder.
Navigate to the Utilities folder.
Open Keychain Access.
You'll mostly encounter four types of keychains:
Login: Your account's login keychain holds sensitive information such as passwords, certificates, etc.
iCloud: Your keychain data is automatically updated and stored in the cloud.
System: System passwords are kept in the System keychain.
System Roots: These are the locations where system certificates are kept.
This is the general layout for Keychain Access: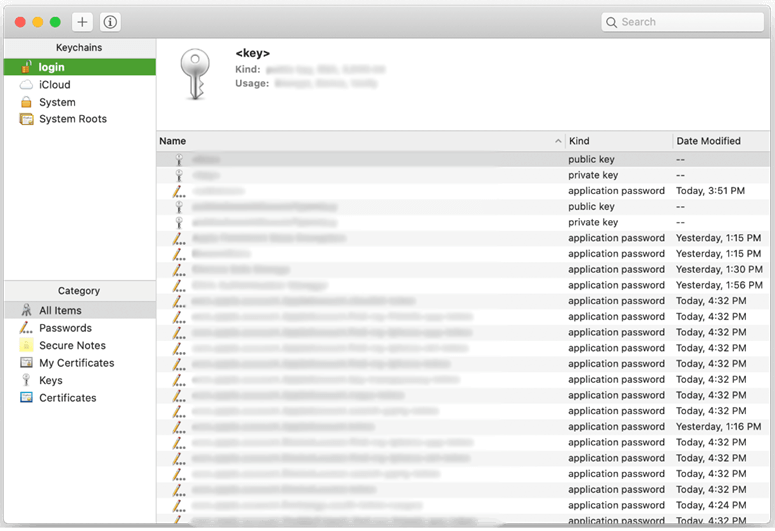 Take note that until you've updated the password for your Keychain in Keychain Access or if you've changed the password for your macOS user account while the Keychain is locked, your 'login' keychain password will be the same as your login password.
What Are The Capabilities Of Keychain Access?
Keychain Access allows you to examine the data associated with a stored item, handle saved passwords, generate secure notes, and modify keychain settings.
Pick the object you want to examine in your Keychain, then control-click it and select Get Info from the menu that appears.
To remove an item from your Keychain, simply control-click on it and select "Delete item name>."
To add a keychain item, go to the top menu bar and choose File, then New Password Item, New Secure Note Item, or New Keychain from the menu.
"Login" to your Keychain here: Use the Control-click menu to choose Unlock keychain > login if you're using a default login.
If Your Mac Continues Prompting You For The Password To Your Keychain
The keychain configurations that are stored in the Keychain Access app are to blame for such a problem. Your Keychain will be automatically locked after a period of inactivity on your computer, at which point you will be prompted to enter your keychain password.
After that, you'll have the option to extend the period of time before the keychain locks. Control-click the login button on the left sidebar, then choose Change Settings for Keychain "login," after which you will be asked to enter the password for your Keychain and select the amount of time.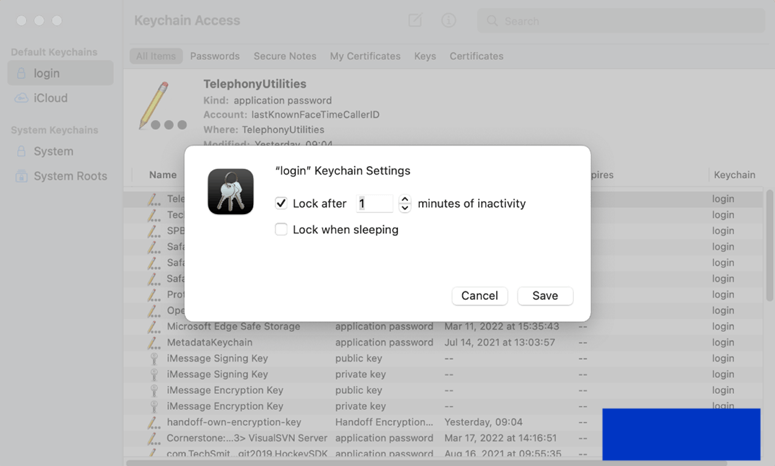 Conclusion
Keychain Access, a feature included in recent versions of macOS, streamlines the process of signing in to your multiple online accounts.
Due to the fact that the password for your default keychains is tied to your Mac user account, changing the user password is the only method to alter the password for your keychains. However, special keychains should be set up for more complex password management.
DoYourData Products
Clone HDD, SSD, Mac OS, external disk, USB drive, and more under Mac OS.
Free Trial