The M2 MacBook Pro from Apple has followed the M1-based model for over a year and a half. While the new gadget looks identical to the old one, it really has some significant internal improvements that may make the purchase beneficial for certain users but not others. This article will go through several technical details, including specifications and layout.
Key updates to the MacBook Pro in 2022
The best new features for the 2022 MacBook Pro are:
Apple's new M2 processor, which is used in the 13-inch MacBook Pro 2022, has an 8-core central processing unit (CPU) and a 10-core graphics processing unit (GPU).
Leaked benchmarks for the new MacBook Pro M2 indicate that it offers 12 percent better single-core performance and 21 percent better multi-core performance than the previous generation.
You can still count on the same pair of USB-C connections, but now they will also allow fast charging.
In reality, the next MacBook Pro will likely look quite similar to the previous model equipped with an M1 chip but will use an M2 processor instead. The 13-inch MacBook Pro 2022 retains its predecessor's Touch Bar, speaker grilles, and rounded rectangular body. However, Apple says that the updated internals and active cooling technologies result in improved performance.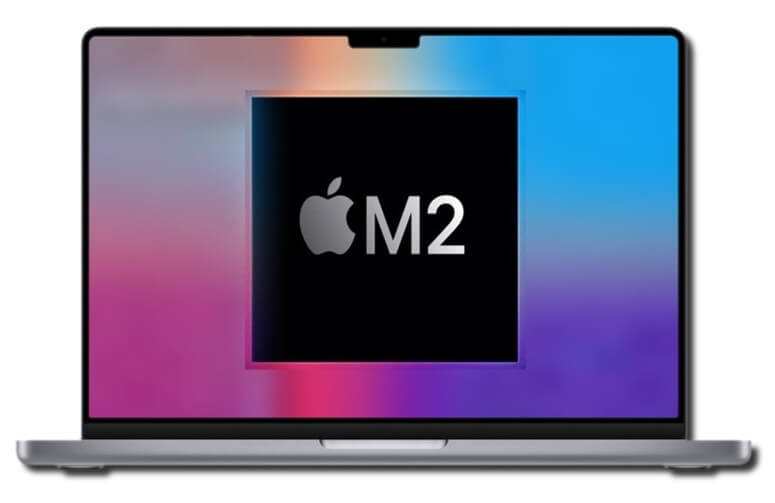 Display
The display size of 13.3 inches, resolution of 2560x1601, pixel density of 227 PPI, and brightness of 500 nits. No notch results in a more streamlined design, but the device still sports thicker than average bezels.
Design
The design of the M2 MacBook Pro is identical to that of the previous generation 13-inch MacBook Pro with M1. New MacBook Pros are distinguished by the return of the Touch Bar, which was previously only available on MacBook Pro models.
The new M2 MacBook Air's active cooling system is another notable difference, especially when dealing with power-intensive tasks. This is one of the few advantages the Mac Pro has over the MacBook Air, and it might be the deciding factor for some buyers.
Dimensions and Colours
The 13-inch screen MacBook Pro is offered in two colors: silver and space gray. It's the same thickness and weight as the previous 13-inch model, at 1.56 cm and 3 pounds, respectively. According to recently published benchmark testing, the M2 MacBook Air thoroughly dominates the M1 model.
There have been leaks on Geekbench of benchmark testing for the forthcoming MacBook Air with the updated M2 chip.
Ports, Charging, and Battery Life
The M2 MacBook Pro has two Thunderbolt/USB 4 ports that may be used for charging as well as transferring data at the full speeds of Thunderbolt 3 (up to 40 Gb/s), USB 4 (40Gb/s), and USB 3.1 Gen 2 (10 Gb/s). The MBP can drive a single external monitor at 6K resolution and 60 frames per second.
This device utilizes the 67W USB-C Power Adapter for charging. You can watch movies on the Apple TV app for up to 20 hours on a full charge, or you may surf the web for up to 17 hours. A 3.5mm headphone connector is also included in the M2 MacBook Pro.
Processor
The Apple M2 silicon processor is now standard in the 13-inch MacBook Pro. This includes a 10-core graphics processing unit, up to 100GB/s of memory bandwidth, and an 8-core central processing unit with four performance and four efficiency cores.
According to Apple, the M2 is around 18% quicker than the M1. Compared to the previous generation,8 processing RAW photographs in programs like Affinity Photo is over 40 percent quicker and may be as much as 3.4 times faster for customers moving from a device lacking Apple hardware.
Unified Memory
The M1 and the M2 may be outfitted with either 8 or 16 GB of unified memory; however, the M2 also has a 24 GB option for maximum memory configuration. Workflows that need a lot of memory and processing power, such as those involving significant assets, are ideal for the M2 chip.
The M2's 100GB/s memory bandwidth is a significant improvement over the M1's 68.25GB/s, enabling the newest MacBook Pro to access more memory at a faster pace.
Storage
The M2 MacBook Pro may be purchased with either 256GB, 512GB, 1TB, or 2TB of SSD storage.
Conclusion
The M2 MacBook Pro provides minor improvements over its predecessor, the model from the previous generation, and maintains most of its predecessor's characteristics. The improvements made to the 13-inch MacBook Pro will be beneficial to certain video and audio workflows.
As well as anyone who requires more than 16GB of memory or a wider memory bandwidth; however, regular users are not likely to notice any significant differences as a result of these improvements.
Software for M2 MacBook Pro:
DoYourData Products
Clone HDD, SSD, Mac OS, external disk, USB drive, and more under Mac OS.
Free Trial