Apple's T2-series security chip is an improved version of the T1 chip. It is the second iteration in the T-series.  Since its creation, it has improved the security and efficiency of your device and ensured that your data is safe. MacBooks have a T2 security chip, which is covered in this article.
Quick Navigation:
What exactly is the T2 chip from Apple?
The T2 chip is the second generation of Apple's bespoke security hardware for Mac devices. It is only accomplished to make your Mac's data more secure. For safe boot, storage encryption, and Touch ID, Apple's T2 chip serves as a coprocessor.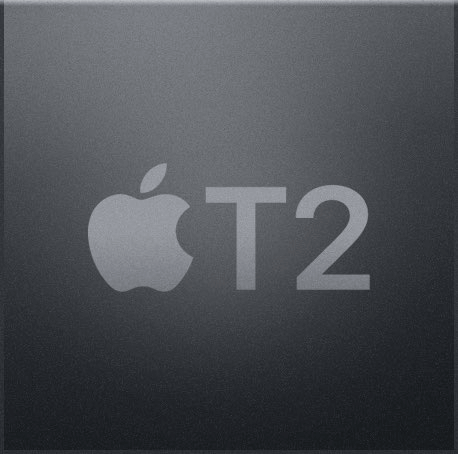 In addition, it takes over and combines some of the work that was previously done by the CPU in order to improve the performance of the Mac. This includes the SSD controller, the System Management controller, the audio controller, and the picture signal processor.
In what ways can a T2 chip make you more secure
The T2 chip has four primary means of enhancing security for the MacBook Air and MacBook Pro models.
Boot Into Safe Mode
Things like firmware, macOS kernel, and kernel extensions may all be cryptographically confirmed by Apple as trustworthy, thanks to T2's cryptographic verification capabilities. This ensures that malicious programs cannot be injected into the boot process and take control of the Mac.
However, there are two pitfalls to be aware of. If you're running Windows on a Mac, you'll need a special bootloader certified by Microsoft to function with Apple's Boot Camp technology, which is supported by Secure Boot. For example, you can't use Boot Camp to boot Linux.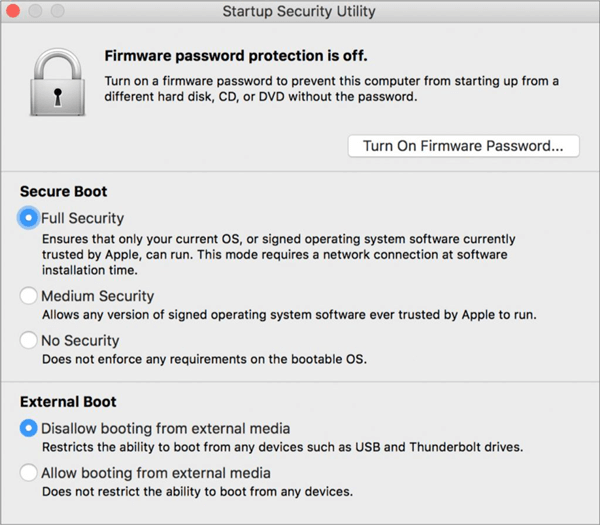 You can't boot from an external device at all if you have Secure Boot enabled in its default settings. Internal drive issues might be difficult to diagnose because of this. The Startup Security Utility in macOS Recovery is available on Macs with T2 processors for configuring these options (boot while holding down Command-R).
You may use it to enable booting from an external disk in order to troubleshoot, and you can use it to dial down security in order to install an earlier version of macOS or install macOS when there is no accessible Internet connection.
Data Encryption
On-the-fly data encryption and decryption are possible since the T2 comprises both a crypto engine and an SSD controller. As with FileVault, a password is required at the time of installation. The T2's security does not apply to Macs with internal or external hard drives, but they may still be protected using FileVault.
The T2's ability to encrypt all of the data on your MacBook Pro is a huge benefit; as long as your password isn't guessed, you don't have to worry about losing your data. To put it another way, if you lose your password, you won't be able to restore any of your data.
The T2 chip is also responsible for what occurs if a password attempt is unsuccessful. The first fourteen attempts may be made without any delays, and then the next fifteen to thirty attempts can be made with progressively longer waits (1 hour between tries for the last three).
Once the T2 chip has had 220 tries to decrypt data, it will no longer process any requests to do so, making the data unrecoverable. Simply put, make a copy of your data.
Touch ID
The T2 chip controls the Touch Bar's Touch ID fingerprint sensor, allowing you to sign in to your MacBook Air/MacBook Pro without typing your password. It's still necessary to enter a password: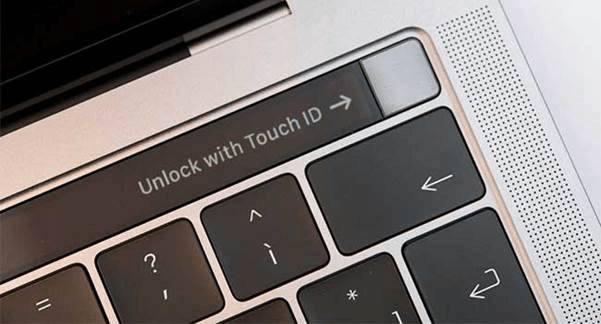 If the Mac is turned on or restarted.
There's a 48-hour time limit if you've not yet unlocked it.
If you haven't used your fingerprint in the past 4 hours.
If the fingerprint scan fails five times.
Mic Drop
To be clear, this isn't a feature of T2 models, but it is a feature of all models equipped with T2 chips, which disables the microphone when the lid is closed. This stops any program from activating the microphone and listening in on your conversations.
When the lid is closed, the FaceTime HD camera's field of vision is totally obscured; thus, there is no need for a disconnect. That's all there is to it. Booting from an external disk or running another operating system with the T2 chip installed isn't easy, but the added security is worth the trade-offs.
Conclusion
In terms of security and performance, the T2 Security chip from Apple has a lot to offer. There are a variety of methods to compromise your device, and we covered the security chip in great detail in this post. It is the future, and practically all MacBooks have it pre-installed.
DoYourData Products
Clone HDD, SSD, Mac OS, external disk, USB drive, and more under Mac OS.
Free Trial