The most recent version of the macOS operating system, known as macOS Ventura, was unveiled at WWDC 2022. A substantial upgrade called macOS Ventura revamps several programs, provides new functionality across the board, and offers a new multitasking experience.
Mac users now have a brand-new method for concentrating on a job while keeping other programs open and available thanks to Stage Manager. Stage Manager places your primary program front and center on the desktop while hiding your other apps for easy access when necessary. You may organize your desktop to best suit your workflow by grouping related apps and windows. Mission Control and Spaces both interface with Stage Manager.
Because it enables you to use your iPhone as a webcam for your Mac, the new Continuity Camera feature eliminates the need for a subpar built-in Mac camera. Using a pedestal, the iPhone may be placed atop the Mac and is made to connect instantly. If you need to demonstrate anything, you may utilize the Desk View feature, which makes use of the Ultra Wide lens, as well as Center Stage and Studio Light, an effect that lights up your face while darkening the background.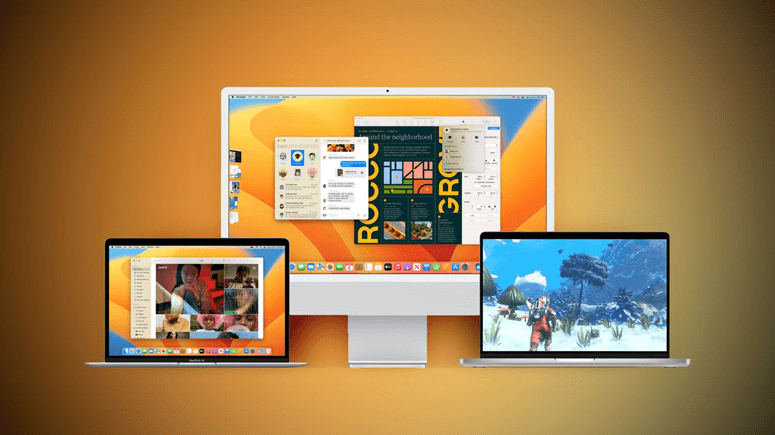 Apple wants to make Safari safer by using Passkeys, a new type of credential that takes the place of passwords. Passkeys are much more secure than passwords since they remain on the device and are never stored on a web server. Passkeys are simple to use, with sign-ins verified by Touch ID or Face ID. They also sync between devices using iCloud Keychain and may be used with iPhone authentication on non-Apple devices.
With enhanced navigation and Quick Look capabilities, Spotlight now allows users to quickly preview files. The Photos app allows users to search for photos by location, subjects, subjects, sceneries, and objects. Spotlight enables activities like creating a document and launching a shortcut, and it can even locate Live Text in photos.
In macOS Ventura, Live Text works with both picture and video material, and a useful new Visual Look Up function lets you drag and drop the subject of a shot from one program into another. Visual Look Up can now identify more types of landmarks, including animals, birds, insects, and sculptures.
For better enjoyment of family images, there is a new iCloud Shared Photo Library that enables up to six family members to share a photo library that is different from their personal libraries. Every Shared Photo Library user has the ability to add, edit, remove, or favorite shared images and videos, and Photos provides intelligent sharing suggestions for pertinent photo moments that members of the family have taken part in.
Currently, macOS Ventura is available for testing to registered developers, and a public beta is scheduled to release in July. Before being made available to the general public later this autumn, most likely in September or October, macOS Ventura will undergo several months of beta testing.
Stage Director
Along with these view choices, Stage Manager is a new multitasking capability that joins Spaces and Mission Control. Stage Manager consolidates windows and programs into a single view, allowing you to swiftly switch between activities while maintaining attention on your primary activity.
Other windows are crushed off to the left and are offset from the app that is now open in the middle of the screen. To access desktop files and folders, click anywhere on the desktop. To switch between programs, select one of the icons on the left.
For particular jobs or projects, groups of applications may be coupled together, so if you want to do some editing, you might pair the Photos app with an app like Pixelmator.
Continuous-focus lens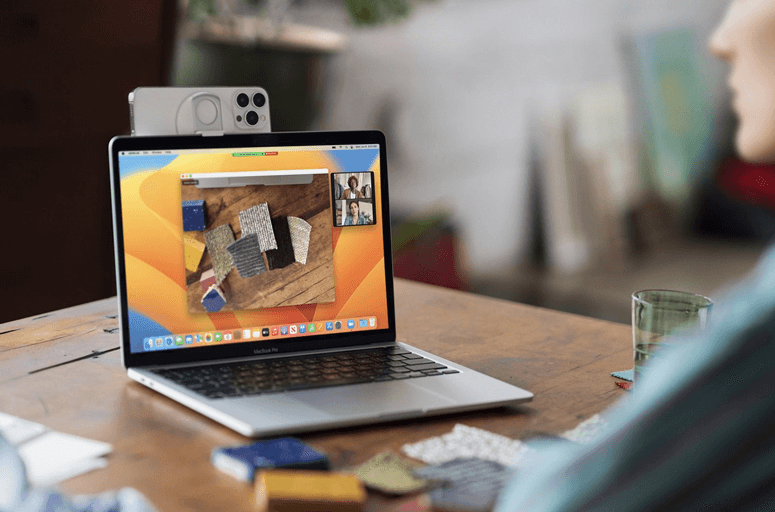 You may utilize an iPhone XR or later as a webcam for a Mac using Continuity Camera, utilizing the iPhone's better camera technology for crystal-clear video conversations. When the iPhone is brought close to the Mac, the camera on the device instantly activates. The iPhone may connect to the Mac wirelessly or via a connection.
The iPhone not only functions as a camera but also as the Mac's microphone and has several unique photography features.
Portrait Mode - Portrait mode blurs the background behind you and is available on any Mac with an iPhone attached.
The iPhone not only functions as a camera but also as the Mac's microphone and has several unique photography features.
Portrait Mode - Portrait mode blurs the background behind you and is available on any Mac with an iPhone attached.
When you walk around while on a call, Center Stage adjusts the framing using the iPhone's Ultra Wide camera to keep you in the center. Additionally, it helps keep everyone in the frame if there are several callers.
In place of exterior illumination, studio lighting softens the background and highlights the face. According to Apple, it's perfect for challenging lighting settings like scenes in front of windows that are backlit.
Software for macOS Ventura:
DoYourData Products
Clone HDD, SSD, Mac OS, external disk, USB drive, and more under Mac OS.
Free Trial