The MacBook Pro's High Power Mode was developed to improve performance even when faced with the most taxing tasks. Apple does not reveal all the details, even though the business claims it intends to do so.
One component of this entails boosting the speed of the fans to a greater degree to allow the internal components to cool down more quickly and become more efficient. It is always a good idea to ensure that your Mac OS is up to date before you get started, and it is also a good idea to ensure that your battery has a full charge.
High Power Mode can function regardless of whether it is powered by the device's internal battery or an external power adapter; however, it does so at the expense of faster battery depletion. High Power Mode can function regardless of whether an external power adapter powers it.
Because it permits the fans to operate at more rapid rates, switching to High Power Mode on the MacBook Pro improves the device's overall performance. Because of this, the system remains cooler, enabling it to perform better when processing data that requires significant resources, such as video processing.
Power Modes on Mac
Different situations call for different power settings. Therefore Mac provides three distinct options. To learn more about each one, read on down the list.
Automatic Mode
High Power Mode
Low Power Mode
Automatic Mode
The automatic mode on your Mac is a good option because it attempts to minimize both power consumption and performance loss. If you haven't manually adjusted the energy settings on your Mac, it will operate in Automatic mode by default if you haven't altered anything.
Enabling High Power Mode on Mac
If you have a MacBook and are on macOS Monterey, you will not be able to access the Low Power Mode option. If your gear can handle meeting these standards, you can move on to the next simple step:
STEP 1: Launch the Mac OS menu by clicking the Apple logo in the top left corner of the desktop.
STEP 2: Choose the System Preferences menu item.
STEP 3: Select the Battery icon in System Preferences.
STEP 4: You can choose between using the battery or the power adapter from the menu on the left. If you set this, you can modify how your MacBook Pro operates while it's connected to different power sources.
Changing the settings for battery power or both battery and AC power will be possible depending on which option you select. When using the power adapter, it is recommended to select High Power Mode solely to avoid draining the battery prematurely.
STEP 5: Find the area labeled "Energy mode," then click on the corresponding pull-down option. Here, if you have the proper MacBook Pro model, you should see options for Low Power, Automatic, and High Power. Click the "High Power" button to proceed.
STEP 6: After you click the button, your MacBook Pro will enter High Power Mode. You may always revert to the previous settings using the menu or clicking the option marked "Restore defaults" below.
Selecting the Battery symbol in the top-right corner of Mac OS will reveal whether or not your MacBook Pro is now operating in High Power Mode. In this menu, users of MacBook Pros with support for "High Power Mode" can toggle the feature on and off.
Enabling Low Power Mode on Mac
If you're on macOS Monterey or a later version, here's how to activate Low Power Mode: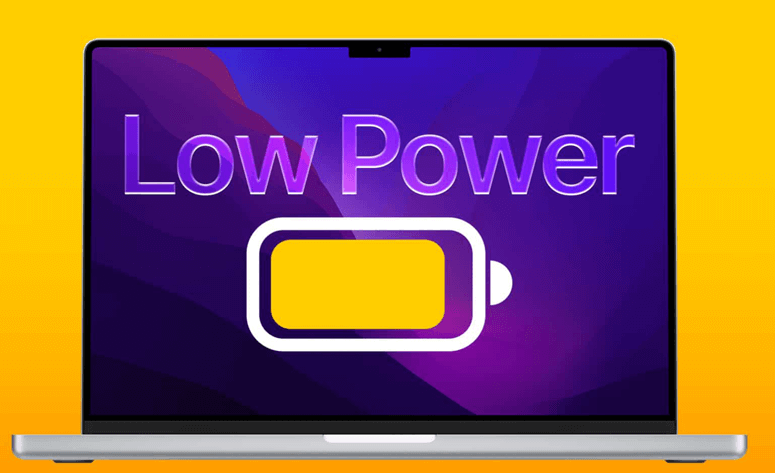 STEP 1: Access further settings by clicking the battery icon in the top bar of your macOS menu. Following the steps in the accompanying screenshot, select "Battery Preferences." To get to the same place, you can also go to System Preferences > Battery on your MacBook.
STEP 2: To activate "Low power mode," choose it from this menu's drop-down.
STEP 3: This low-power condition is indicated by a small dimming of your MacBook's screen. Low Power mode will be activated, and you will be notified the next time you click the battery icon.
By adjusting macOS settings, decreasing the CPU's clock speed, and dimming the display, the new Low Power mode can improve the battery life of your Mac beyond its official specifications. You should avoid using this feature if you expect to place a large demand on your MacBook's processing power.
Conclusion:
Apple provides several power modes to strike a better balance between your processing needs and the burden on your Mac. The MacBook Pro's performance is optimized under High Power Mode by allowing the fans to operate at faster speeds. Keeping the system at a more manageable temperature can better handle resource-intensive tasks like video processing.
DoYourData Products
Clone HDD, SSD, Mac OS, external disk, USB drive, and more under Mac OS.
Free Trial