When you get a new PC, it runs very fast because that there only a few programs without any junk files on your new PC. However, as time goes by, more and more programs, apps, and plug-ins are installed on your computer and they may produce Gigabytes of junk files on your computer. You don't need so many programs on your computer, do you? But if you uninstall the useless programs through control pane, most of the junk files will be left on your computer. So don't do that. Instead you can free download Windows uninstaller freeware to help you completely uninstall the programs and remove all leftovers.
Best Uninstaller Freeware for Windows
There are so many uninstallers on the market. Most of them are very old version which have complicated interface and difficult to download & install. If you have enough time and patience, you can try them one by one to find a best one to help you uninstall unwanted programs on your computer. Or, you just free download this best Windows uninstaller freeware – DoYourData Uninstaller Free. It can help you easily and quickly uninstall programs from your computer and remove all related files, leftovers. Free download it here:
Let's see how it works:
Step 1: Select the programs you want to uninstall.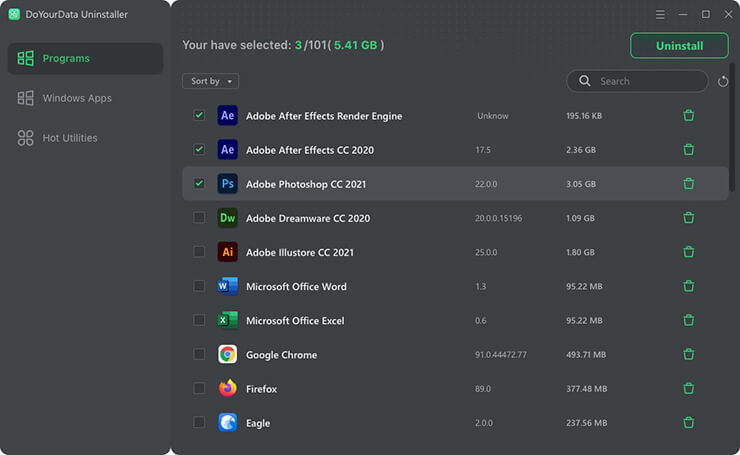 Step 2: Uninstall the selected programs from your computer.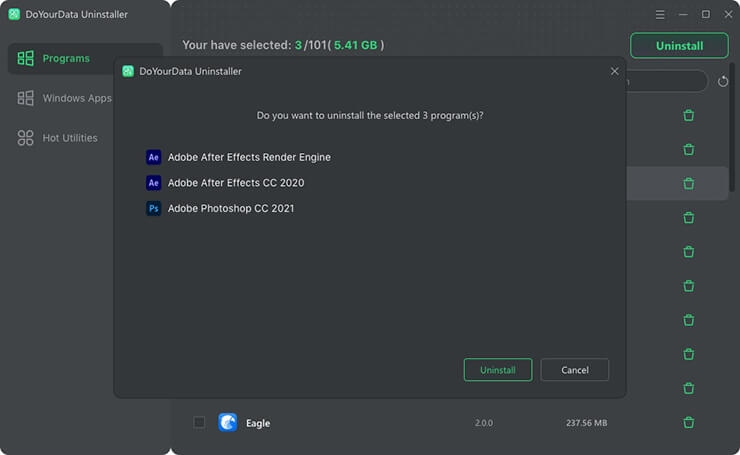 Step 3: Remove all the leftovers including caches, logs, junk files, registry, files etc.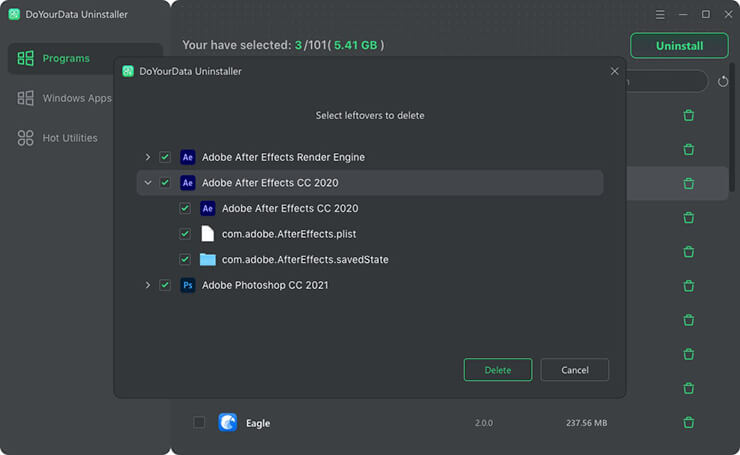 With this Windows uninstaller freeware, you can easily uninstall programs, apps or plug-ins from your computer. You don't need worry any leftover. It will help you remove all the things related selected programs from your computer. It even can completely uninstall crashed or broken programs on your computers.
You can uninstall a single program or uninstall multi programs with only 1 click. It also will tell you the disk space size you have saved by uninstalling unwanted programs.
Compared with other uninstallers, DoYourData Uninstaller Free has many advantages, such as ease of use, clean interface, higher speed of uninstalling, etc. It is 100% safe and clean freeware. It also supports to permanently erase the leftovers with built-in data erasure feature. If you are looking for a reliable Windows uninstaller, DoYourData Uninstaller Free is a good option. Just free download it here.
"DoYourData Uninstaller Free is the best PC uninstaller I've ever used. It is very easy to download, install. With it, I can easily uninstall programs in batches from my old computer. It helps me save more than 6GB disk space by installing stubborn programs…thanks a lot."