>
Erase Data
> Top 5 File Shredders for Permanently Erasing Data
Top 5 File Shredders for Permanently Erasing Data
by Shirly Chen, 2016-12-06
Do you think your sensitive data is permanently lost after you delete it and emptying the recycle or have formatted the entire hard drive? If you use a data recovery software to scan your hard drive, you will find that your deleted or formatted data is not lost, can easily be recovered. So how to permanently erase sensitive data or wipe hard drive? You need professional data erasure tool. Here, we have selected best 5 file shredders for you to shred/destroy data from your hard drive or any storage media device.
Top 5 File Shredders: Permanently Erase Digital Information
1. DoYourData Super Eraser
If you want to a safe, powerful and easy-to-use data erasure tool, DoYourData Super Eraser is the best one for you. With certified data erasure methods, it will permanently erase selected data or selected hard drive and overwrite the disk space to 100% prevent the erased data from being recovered by data recovery software or data recovery service. It means your data is lost forever.
This powerful file shredder is very easy to use. It offers three modes for you to erase data under various situations. It allows you selectively erase files folders. And it also can help you wipe entire hard drive or device to destroy all existing and history data. If you don't want to erase your existing files, it also allows you to only erase deleted/lost data on your hard drive (erase recycle bin). It is compatible with both Windows operating and macOS/Mac OS X.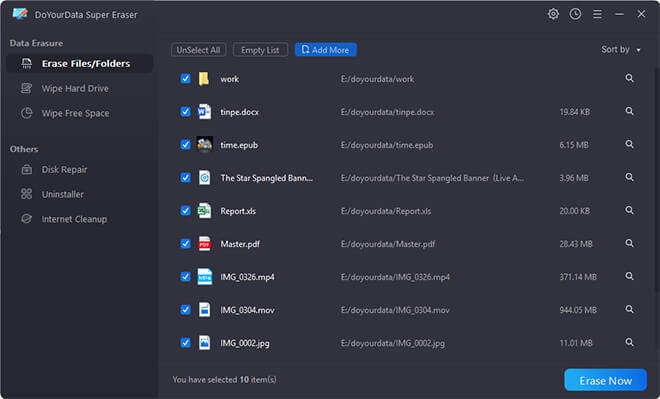 2. Stellar File Wipe
This is another powerful file shredder. If you want to destroy all data on your hard drive, this file shredder can help you wipe entire hard drive, and it also can wipe USB hard drive, external hard drive, digital camera, SD card, etc. It also can help you wipe deleted/lost data on your hard drive only. It is pretty simple to use.
3. KillDisk
KillDisk is a qualified file shredder even though it is not easy to use. Like other file shredders, it allows you wipe entire hard drive to destroy all sensitive data. It only provides Windows/Linux version. If you want to erase data under Mac OS X, you can try other file shredders like Super Eraser.
4. Macintosh Optimizer Pro's
Macintosh Optimizer Pro's File Shredder secures your protection and information security, they comprehend, and consequently Mac Optimizer Pro offers military-review information shredder fueled by different overwrite innovation to guarantee your delicate, private or undesirable information; once erased, will never be reestablished by any current innovation. Inhale simple!
5. File Shredder
Forever shred documents and envelopes from your framework to keep data secure and unimaginable for anybody to recover. Discretionary Shredding Methods.
The best 5 file shredders above can help you permanently erase data under different situations. No matter which one you will download for data erasure, please back up your important files before erasing your data/hard drive. All the 5 shredders have the ability to permanently shred/destroy your data.