Permanently Erase Files from Data Storage Devices
The deleted, formatted or lost data can be recovered by data recovery software. To avoid data recovery, you need file eraser. DoYourData File Eraser can help you securely and permanently erase targeted files/folders, no chance for data recovery. You can permanently erase data from:

PC/Laptop

SSD/HDD

USB Drive

Memory Card

Digital Camera

Other Storage Media
Why Choose DoYourData File Eraser?
Safe & Efficient File Shredder
Erase Any File
Support to permanently erase any type of files including documents, emails, photos, archives, folders, videos, audio, voice memos, etc.
No Chance for Data Recovery
This file eraser offers government & military data erasure standards, including HMG Infosec Standard 5, Baseline; DOD 5220.22-M; U.S. Army AR380-19; Peter Gutmann's algorithm. No chance for data recovery.
Safe File Eraser
Once your files/folders are erased by File Eraser, no data recovery method can recover the erased files/folders – they are lost forever. And no damage to your computer, system or device.
Erase Files
Permanently erase unlimited files and folders from hard drive and storage media device.
Erase Entire Hard Drive
Erase a hard drive or device to permanently erase all data on the hard drive or device.
Erase Free Space
Wipe free disk space to erase already deleted/lost data on the hard drive.
Privacy Cleaner & Uninstaller
Clean up internet browsers' cookies, passwords, junks, caches, etc. And uninstall unwanted programs on PC.
Full Erasure Report
Check the report of file erasure, data erasure.
License & Support
Lifetime license code.
Free lifetime updates.
Free lifetime tech support.
Note: You can erase 20 files/folders for free with the trial version.
File Eraser User Guide

Step 1: Run DoYourData File Eraser.
Run DoYourData File Eraser on your computer.

Step 2: Choose files/folders for shredding.
Choose or add the files/folders to the erasure list.
Step 3: Permanently erase the selected files/folders.
Click on "Erase Now" button to permanently erase the selcted files/folders.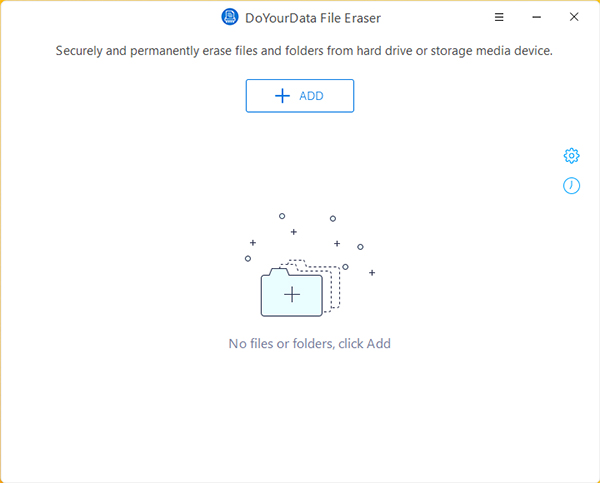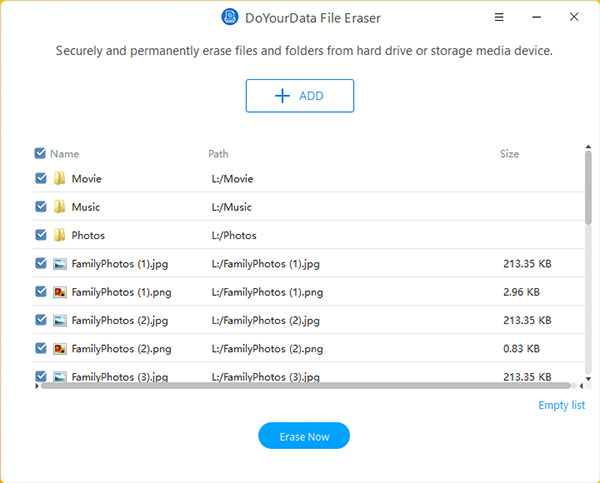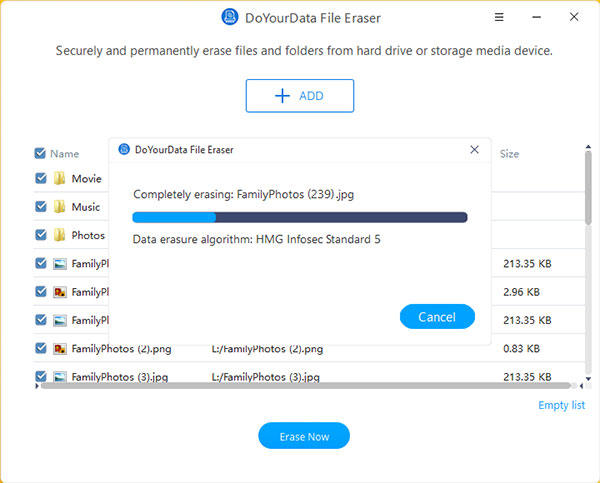 Trusted by Top Tech Sites and Millions of Users

"DoYourData File Eraser offers secure and reliable file erasure solution for you to permanently erase files and folders from computer hard drive, external hard drive..."

"It lets you permanently and securely erase files/folders from SSD/HDD, USB flash drive, memory card, digital camera and other storage media to avoid data recovery..."

"Good program for shredding files. It also can shred a folder on computer. Easy and quick."
Tech Specification
Data Erasure Algorithms
HMG Infosec Standard 5 (1 Overwriting round)
Peter Gutmann's algorithm 2 (2 Overwriting rounds)
U.S. Army AR380-19 (3 Overwriting rounds)
DoD 5220.22-M ECE (7 Overwriting rounds)
Peter Gutmann's algorithm 35 (35 Overwriting rounds)
Operating System
Windows 11/10/8.1/8/7/Vista/XP
Windows Server 2019/2016/2012/2008/2003
File Types
Photos, Videos, Audio Files, Archives, Emails, Documents, Folders, and other file types.
Devices
PC, laptop, desktop, HDD, SSD, USB flash drive, memory card, RAID, Server, video/music player, digital camera, and more.
Disk Space
At least 50MB.

DoYourData File Eraser
Powerful and easy–to-use file shredder for Windows OS
100% safe and clean
30-Days money back guarantee
Free lifetime updates
High Data Recovery Rate