Quick Navigation:
Are you the owner of a digital gadget such as a computer, portable drive, or smartphone? If yes, then chances are that you have stored some important data on it. You should be aware that you can lose your precious data because of some damage either physical or involving a digital mishap.
Although your lost data can be recovered from a computer or portable storage whether it was deleted or formatted, there are still some factors to keep in mind which can render it near impossible to recover your data.
The first thing to do if you have formatted or deleted your data is to stop using that device. However, if you have tried to replace the deleted data, also called overwriting, then you may not be able to recover your deleted data.
In case of physical damage, if the damage reaches the storing part of the device, then again you are pretty much empty-handed as your data is probably irretrievable.
Therefore, it is important to know the steps that you should take to make your deleted data recoverable. Moreover, it is probably better to seek professional help as data can be permanently deleted in case something goes south during personal experimentation.
Let us look at the 5 best data recovery companies that can help you recover your lost data.
To our dear readers, we want them to know that the companies and software we are going to mention are chosen based on popularity, search results, and reviews. We cannot guarantee that certain software or company will be 100% efficient in the retrieval of your data. Please perform further research if you have some doubts regarding any of these companies or software.
5 Best Data Recovery Companies in 2022
So here is a cured list of recovery companies and software:
Starting with Ontrack, it promises to offer data recovery to its users. It offers its services both for individuals and businesses. You can either ask them to recover your data by calling their number (given on the website) and by filling out a 3-step evaluation form, or you can download the recovery software from their website.
Through their evaluation form, you can either send them your affected device or you can ask them to contact you first. Also on the evaluation form page, you can find different delivery options depending on the urgency of your request. However, some devices and deletion events are not eligible for free evaluation such as DVR devices, and formatted data. You can visit their website for more information.
Below are given some highlights of Ontrack:
Offering recovery services for different device types such as hard drive, laptop, mobile phone, SSD, and many others
Has recovery software for both Windows and Mac users
Different service levels depending upon the urgency of the request
90% success rate promised
Free evaluation and consultation (visit website for conditions)
More than 2300 reviews with a 4.6 average rating
Aiming to specifically help businesses, CBL provides data recovery solutions supporting multiple device types. It supports different international branded gadgets including Apple, Samsung, Dell, Toshiba, and more. As per the company's website, only in-house recovery services are offered as no option is available to download recovery software.
CBL specifies that it can recover data lost in different events such as physical damage i.e., bent tapes and files corrupted because of electrical or mechanical failure.
The company also offers two versions of services named Rush and Standard while Rush is the faster between these two while you only pay for what they recover. Further details can be checked by visiting their website.
You can get a free quote on their website about your problem and follow the delivery instructions to send your item. Also, you will need to check if your country/area is covered by their services.
Some highlights of CBL are given below:
Can recover data from SSDs, laptops, and tablets
4-step recovery process beginning with a free evaluation
24-hour emergency recovery services
90% recovery success with over 20 years of experience
Stellar offers data recovery in the form of both software and in-lab services. Lab services can be availed by both individuals and businesses. As for its recovery software, it can be downloaded free to recover up to 1 GB of lost or deleted data both on Windows and Mac. However, to retrieve heavier items, you may need to upgrade to its paid version.
Coming back to its lab services, Stellar can recover data from your SSDs, hard drives, computers, and physically damaged smartphones (both Android and iPhone).
On their website, you can click the Ask a Quote button to request a free quote by filling up a form. You can also check whether your country is supported for in-lab services with the help of the quote form. Some of its highlights are:
More than 40,000 recoveries done in Stellar labs each year
Claims free transportation of your product to their labs through DHL
Over 25 years of experience with more than 100 awards to their name
Average of 4.7 rating on Trustpilot with more than 2500 reviews
Another name in this list of the 5 best data recovery companies in 2022 is Secure Data Recovery. It also offers in-lab services that can recover data from different device types including hard drives, computers, SSDs, and more.
Secure Data also offers recovery software that supports file systems used by both Microsoft Windows and Mac OS. Moreover, you will have to pay some money if you want to recover files bigger than 256KB.
Visit their website to ask for a quote for your affected product.
In case you have lost your data, a comprehensive guide of dos and don'ts can be found on their website to successfully recover it. Below are some highlights of this company:
A 4-step data recovery process that involves free consultation and diagnostics
A 96% recovery success rate
No data, no recovery fee guaranteed
Average of 4.9 rating with over 600 reviews on their website
This is the final name on our list of data recovery companies/software that can help you recover your data. It, however, is limited to recovery software only as no in-lab services are offered by Piriform, the parent company.
Disk Drill can recover data from hard drives, USB drives, and other storage devices. As for SSDs, if conditions are met, then data recovery might be possible (refer to the website for more info).
This software has a free version that can recover 500 MBs of data. To unlock unlimited data recovery, you will have to buy the paid version/s. Below are some highlights of Disk Drill:
Recover different supported file types such as videos, audios, documents, and more
Can recover data from PC, Mac, iPhone, and Android (with some limitations)
You can preview lost files before starting the recovery process
So, this was our list of the 5 best data recovery companies. I hope our readers can find a good solution to their recovery problems after reading it.
Quickly Recover Lost Data with Data Recovery Tool
The quickest way to recover lost data is to use data recovery software - such as Do Your Data Recovery. This software can help Windows users, Mac users and iPhone users quickly recover lost data.
Do Your Data Recovery
Recover deleted, formatted, inaccessible and lost data.
Recover lost data from HDD, SSD, memory card, USB flash drive, digital camera, etc.
Follow the steps below to quickly recover lost data:
Step 1. Open Do Your Data Recovery, then select the location where you delete or lose your files.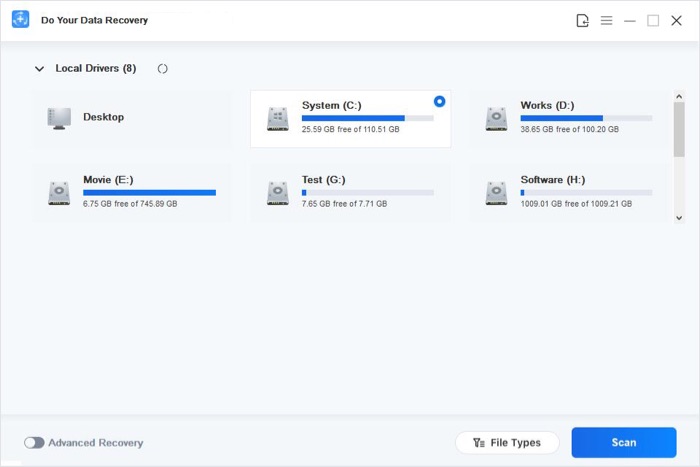 Step 2. Click on Scan button. If the quick scan can't find all lost files, just try advanced recovery mode.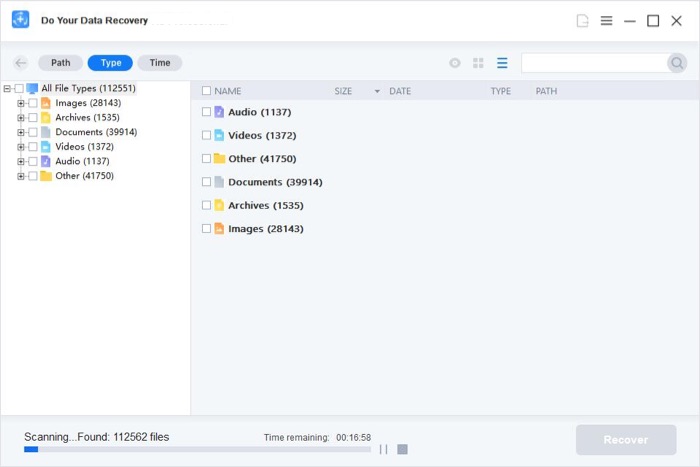 Step 3. Once the scan is completed, you can preview all recoverable files. Then select the wanted files and save them.