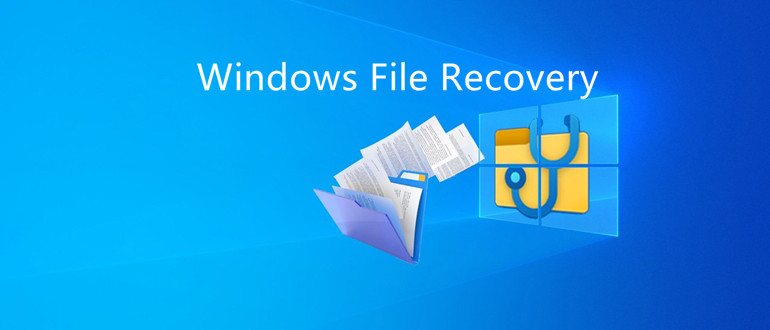 Quick Navigation:
One of the best and most versatile operating systems launched into technology is the Windows OS. Apart from it being relatively user-friendly, it is easily accessible, allows numerous external applications like games to run on it, also, it also supports other manufacturers such as Microsoft.
If you are looking for the above qualities, Windows is probably the best choice for you. However, a flaw to the operating system is the tendency for file damage due to minimal security and invasion by viruses. This shouldn't dissuade you from using this system because Windows has covered that issue of security with their wonderful creation known as the Windows File Recovery.
#1 What is Windows File Recovery?
We can agree that the major purpose of having any computer whether handy or generously sized e.g. Personal Computer is to save our files. Files are important to everyone as we refer to them to perform various tasks daily.
Files are susceptible to damage either by a virus, system malfunction, emergency shutdown, or even through the owner's mistake.
Windows File Recovery is therefore a software designed to override damages done to file or file loss by helping you retrieve it back on your PC. These files range from your videos to documents, pictures, and also to your audio. I mean, even if you had permanently deleted your files from your recycle bin, you can still get them back.
Awesome, right!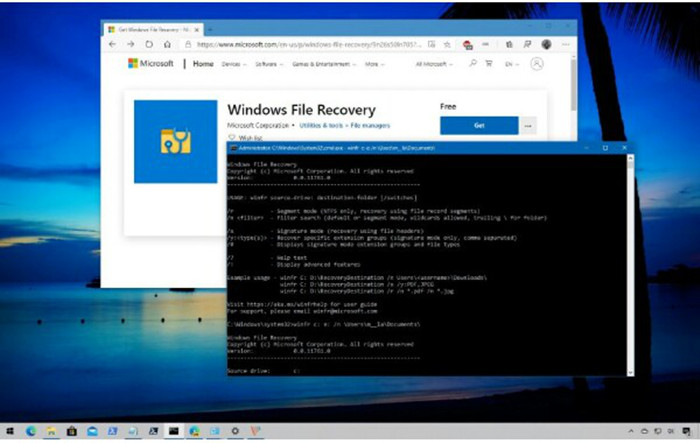 DID YOU KNOW THAT WINDOWS RECOVERY SOFTWARE:
Does not only recover from your PC but also corrupted or lost files in your hard drives, Camera, SD card, and flash drive.
Supports a generous number of file types to ensure to a large extent that you don't lose your files at all cost. These can be in formats such as FAT, exFAT, ReFS, and NTFS.
Can easily be downloaded on your online app store and this is also for free!
Is packed with not just one, but three recovery modes which give you the ability to scan far and wide.
#2 How to use Windows File Recovery?
To know how this app works, you have to download it on your system. This is very easy as you can slide into your online Microsoft Store, fill it in the search bar as "Windows File Recovery" and boom, you can download it by clicking on the "GET" option.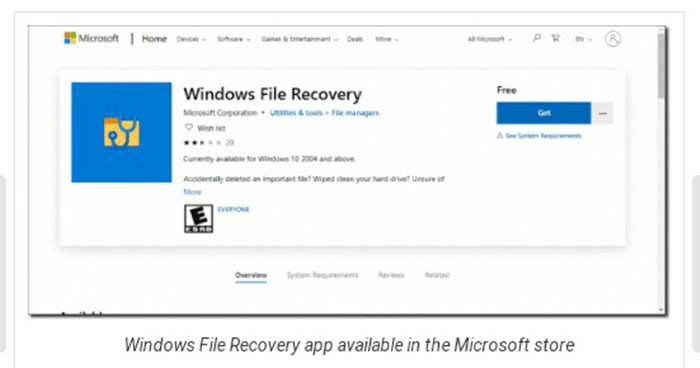 Windows File Recovery operates on three major modes which are dependent on the extent of file loss and damage. These are The Default Mode, The Segment Mode, and the Signature mode.
The Default Mode:
This is also known as the standard mode. It is mostly used for mild categories of file loss in which you still have your file drive or files which were deleted recently. The winfr. uses the Master File Table effectively to retrieve your file back.
The Segment Mode:
This is for a more aggravated situation than for long deleted files or formatted drives. In this case, your winfr does not consult the Master File Table to recover files. It uses segmented portions of the file to retrieve it. It can take more time due to the complexity of the file loss.
The Signature Mode:
In this case, only your external devices such as your SD cards, your flash drives, USB for you FAT, exFAT, etc., files.
Before deciding to choose this software, you need to be aware of two things.
1. This software has been designed to run along with any desktop operation on Windows 10 2004 specifically.
2. It is not graphical in the least bit, so, it requires sole command from the user to operate. This can dampen your willingness to get the app but with the proper guidance below, you should easily work on the app:
STEPS TO FOLLOW FOR EFFICIENT USAGE OF YOUR WINDOWS FILE RECOVERY SOFTWARE
Identify the file you lost. This can be in various forms, for example, it can be your pictures or document from work.
Create an empty folder where the software can cut your lost file to.
If you have the app displayed readily on your desktop, right-click and open. If you don't, install it from your Microsoft store as mentioned earlier.
Once the app has been opened, scan the list of options till you reach the one dubbed "Windows PowerShell(Admin)". This is where your main task is located.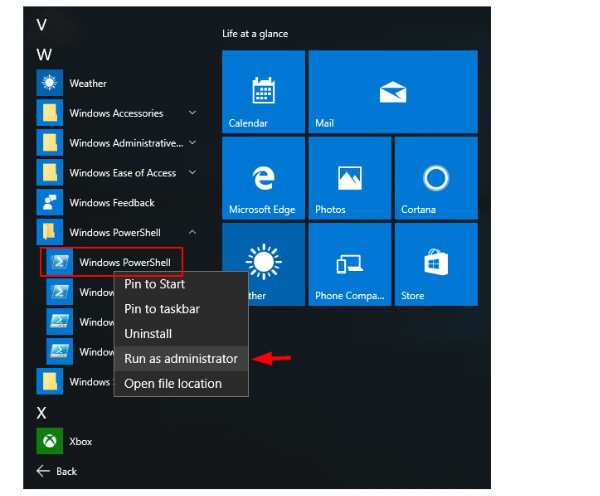 Right-click again on the aforementioned option and once the tab opens, ensure to insert the command "winfr" into the interface.
After the command, press the enter key to fully allow your software to start its actions.
An understanding of the mode appropriate should be employed as the method of file loss will determine each mode.
To recover files using the fastest mode which is the default mode;
a) Ensure your file is NTFS type.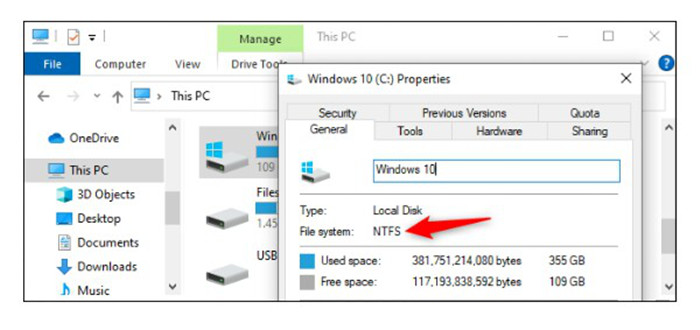 b) Insert the recovery command alongside the destination of your choice. Your location and destination must be different. If you keep recovering to the same drive, you may end up corrupting the file and changing the details which can lead to a permanent file loss in the long run. For example, winfr A: Z: /n *.docx which source drive is A, destination is Z and Docx is the file type.
c) Press ENTER.
d) Once the process has been carried out, you can open your libraries and search for the file there.
For your segmented mode recovery;
a) This is similar to the default mode except Master File Table is not relevant here.
b) Follow the procedure for default but add the command /r before the /n.
c) For example, winfr A: z: /r /n *.docx. This is because the file is initially lost from the drive and information such as date, file name & size, file type, etc., are used instead to locate the file.
Lastly, for signature mode;
a) This makes use of file types essentially which belong to extensive groups such as your JPEG, MPEG, MP3, ZIP.
b) It is a perfect choice for your external devices.
c) Here, commands x/ and y/is used.
d) After opening your Windows File Recovery, enter command winfr/#.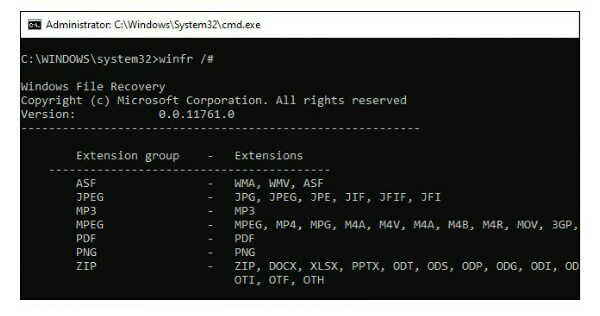 e) This will automatically bring out a list of extension groups and file types. You can scan this for your required file format.
f) Then for recovery, enter winfr A: Z: x/ y/: file type e.g JPEG.
g) You will need to verify your command therefore, input 'Y" and allow your software to process the data.
This shows that really, you don't have to worry about your files getting damaged or lost since you can easily retrieve them even after getting corrupted!
#3 Easy to use Windows file recovery software.
Windows File Recovery feature can help you recover lost data on Windows 11, 10, but it is not easy-to-use, right? Don't worry. Here is an easy-to-use and powerful Windows file recovery software. This software can help you easily and securely recover deleted, formatted and lost files on Windows 11, 10, 8.8.1, 7, Vista, XP, 2000 and Windows Server.
It not only can recover lost files on Windows hard drive, but it also can help you recover lost data from external hard drive, memory card, USB flash drive, digital camera, RAID, Server, etc.
Now, follow these simple steps to easily recover lost data:
Step 1. Download and install this Windows file recovery software - Do Your Data Recovery on your computer. Then open it to start data recovery.
Step 2. Do Your Data Recovery will list all hard drives and devices on your computer. Just select the hard drive where you lose your data.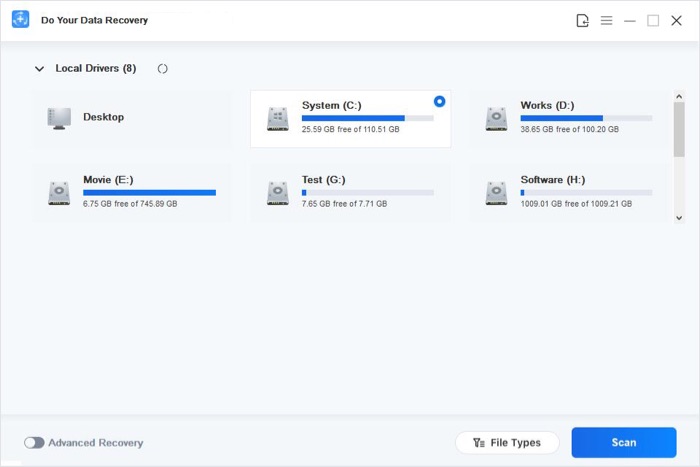 Step 3. Just click on Scan button. Do Your Data Recovery will scan the hard drive and find lost data.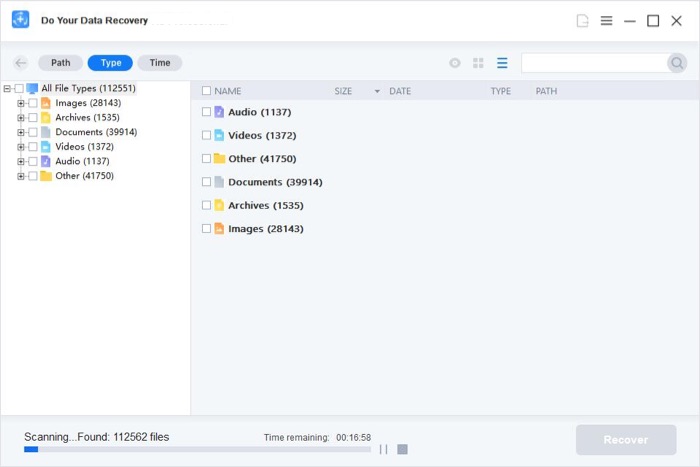 Step 4. Once the scan is completed, you can preview all recoverable files. Then select the wanted files and save them.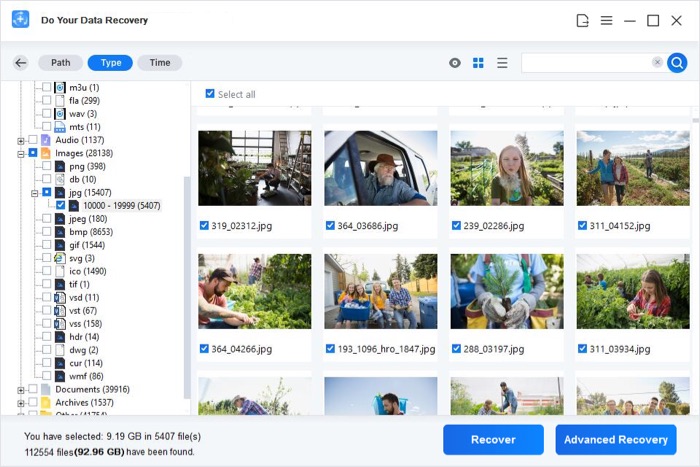 Windows file recovery FAQs
Yes, just try Do Your Data Recovery and use advanced recovery mode to scan the hard drive where you delete the files, it will find all deleted/lost files.
Yes, Windows file recovery software is able to completely recover deleted or formatted data.
Yes, you can try Windows file recovery software to scan the SSD and find every recoverable file.