Quick Navigation:
In older computers, storage is provided by an IDE hard drive, often known as a Parallel ATA (PATA) hard drive. From the early 1980s until the mid-2000s, IDE drives were the standard in personal computers until they were gradually phased out in favor of Serial ATA (SATA) drives.
Although IDE hard drives have fallen out of favor in newer PCs, several companies still include them in their products. Aside from a somewhat slow data transfer rate, IDE hard drives are sufficient for most common computer tasks. The upgrade from an IDE hard drive to a SATA HDD/SSD is strongly encouraged for those who value high loading times for video games.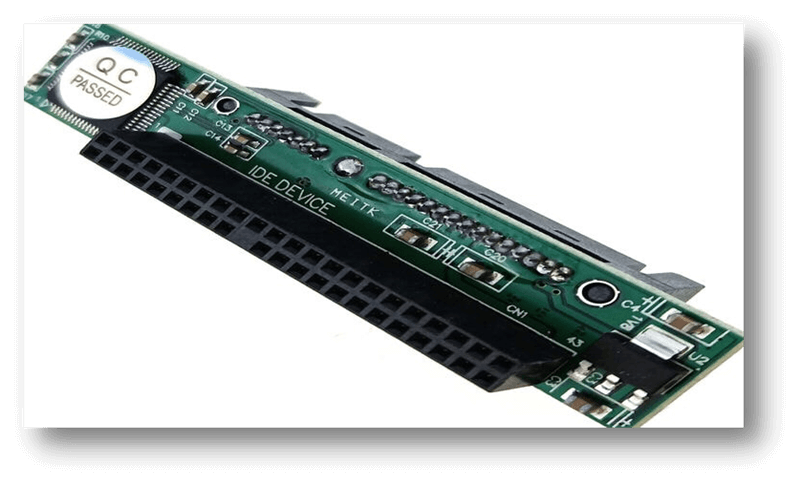 By following these steps, you may make the most of the advantages of today's storage technology and ensure a smooth data transfer. Okay, so let's begin!
Why clone IDE to SATA?
When connecting storage devices to a computer's system bus, there are two main options: IDE and SATA. IDE to SATA cloning can be done for the following reasons:
Upgrade to a newer, more reliable hard disk. The hard disk may still be IDE if your PC is very old. SATA, on the other hand, is used by virtually all new hard drives and SSDs. In this scenario, cloning from IDE to SATA is required.
Accelerate your reading and writing abilities. Compared to SATA's highest transfer rate of 6GB/s, IDE's tops at 133MB/s. You can get a better performance boost by cloning your IDE hard drive to a SATA one.
Clone an IDE disk to a SATA one, and you can upgrade your storage space without reinstalling Windows. The original IDE disk's operating system, programs, and user files clone to the new SATA disk. Disk cloning is far more efficient than starting from scratch.
Prepare IDE hard drive for SATA cloning:
You should get the following ready before you begin cloning an IDE hard disk to a SATA one:
1. Verify that your motherboard supports SATA. If it does, you'll need a SATA cable and power cord to hook up the disk; otherwise, you'll need to invest in an IDE-to-SATA converter.
2. Purchase a SATA hard disk drive or solid-state drive. A SATA solid-state drive (SSD) is suggested to experience even better speed.
3. Look for a trustworthy hard drive duplicator.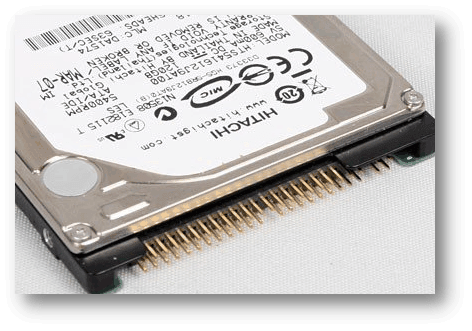 How to clone IDE to SATA SSD?
Just remember that the cloning operation will overwrite the destination SATA SSD. You should back up your files in advance if there is any crucial information. Follow these steps to clone an IDE hard disk to a SATA one using DoYourClone:
DoYourClone - Best Disk Cloning Software
Clone IDE to SATA HDD/SSD.
Clone HDD, SSD and external storage device.
1. First, ensure your computer recognizes the target SATA SSD when you plug it into a port.
2. To begin, launch DoYourClone. Select Disk Clone. Choose the IDE hard drive from the list of source disks and select the SATA SSD as the destination disk. Click Next.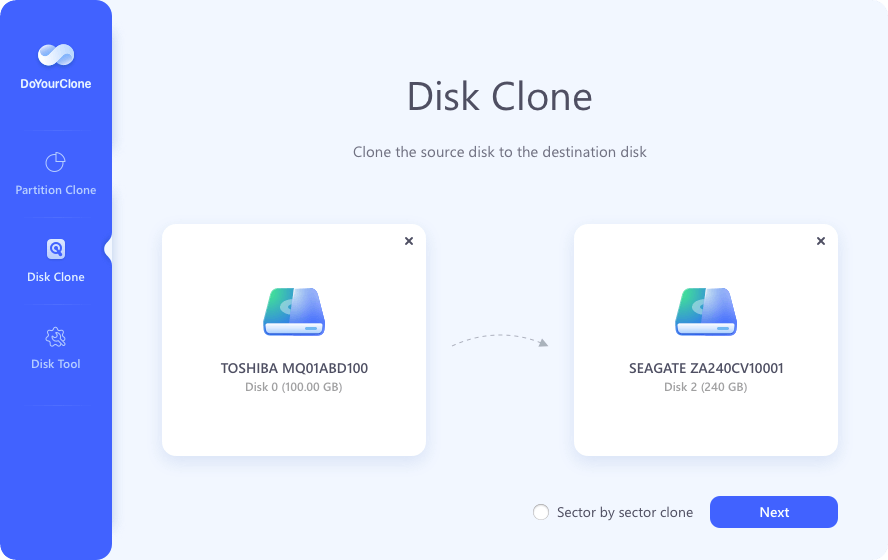 3. Preview the clone layout, tick "Check this option if the destination is SSD," then click Clone button.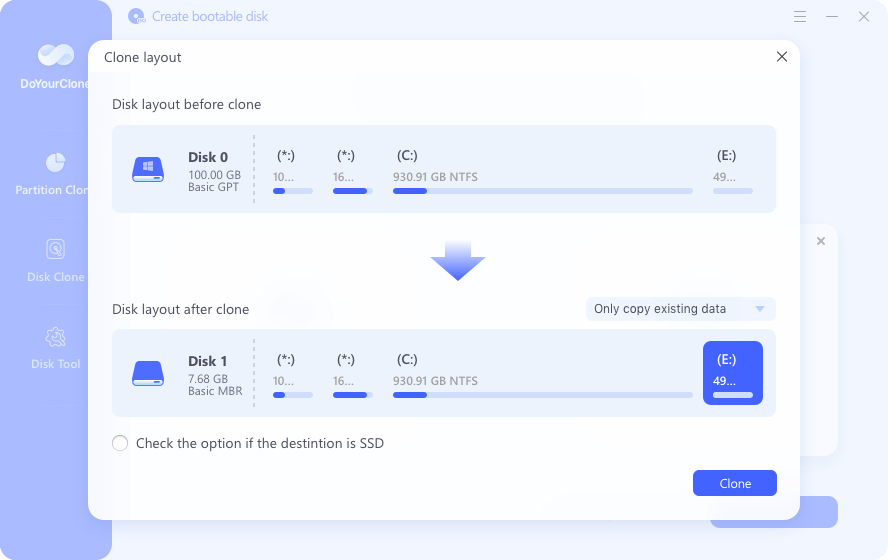 Set BIOS SATA Hard Drive to IDE Mode:
After cloning an IDE to a SATA hard disk, you must alter many BIOS settings to avoid booting issues. To accomplish this, do as instructed below.
Join your computer to the SATA hard drive.
To access the BIOS, restart the computer and press F12 or Delete when the manufacturer's logo appears.
To switch to IDE mode, select Configure SATA from the Main menu.
Make sure to save your changes before exiting BIOS. After the reboot, continue with the cloning process.
Boot from the SATA Hard Drive:
You must change the boot order in the computer's BIOS to boot from the cloned SATA hard drive.
To access the Boot menu in BIOS, press F2.
Set up your SATA hard drive as the primary boot device. Close the BIOS after saving. When you turn on your computer, Windows will load from your installed SATA drive.
Conclusion:
This article contains comprehensive instructions for transitioning from an IDE to a SATA hard drive. It's tricky, but you can do it independently using our listed steps. Converting from an IDE to a SATA hard disk is a breeze with DoYourClone. When you clone IDE disks with DoYourClone, you won't have to worry about drive sizes or boot failure. In addition to its clone functionality, DoYourClone can also serve as a professional backup and disk management software. If the system fails to boot, you can make a bootable disk to get it going again.