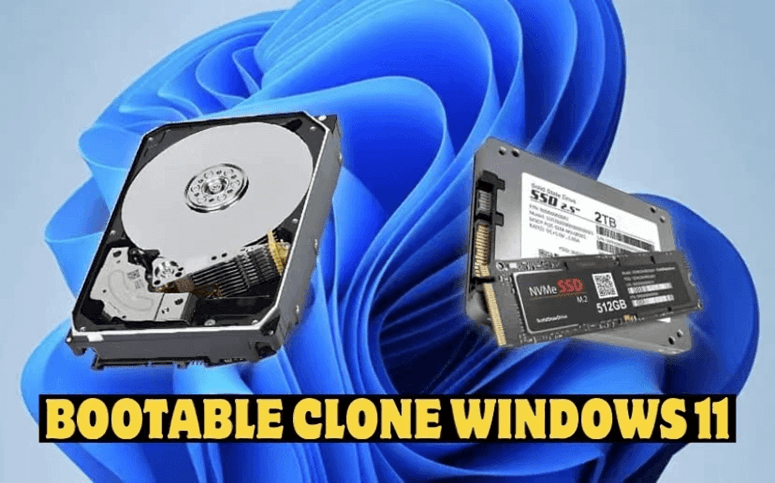 Windows 11 has been officially launched for some time, and many qualified Windows 10 customers have upgraded to Windows 11 for unlimited. Following that, some people desire to locate a reputable Windows 11 cloning program to assist them in cloning disks on Windows 11. What is the benefit of cloning a hard drive? The following are some frequent reasons:
Upgrade Windows 11 hard drives or replace worn-out discs with fresh ones. Many customers, such as the users in the preceding example, wish to replace the original disc in order to improve computer performance. Cloning a hard disk allows you to simply transfer all of the data from the original to the new one.
Back up your data to avoid unanticipated calamities. Cloning a hard disk entails making a digital replica of all data on another hard drive. Through this backup, you may simply recover any lost data on the original drive.
Migrate the operating system to a new location without reinstalling it. For most users, moving the operating system involves reinstalling the operating system, system settings, and other required software. OS cloning, on the other hand, makes the work easier.
Best Windows 11 cloning software – secure boot
The greatest Windows 11 copying application is Secure Boot.
There is no program that can do disk cloning on the computer's own system. Only third-party apps may clone disks in Windows 11. Selecting a reliable cloning application that can aid you in transferring data or operating systems while also ensuring data integrity is crucial. It also ensures that the replacement hard disk can be securely booted.
For Windows 11 users, DoYourClone is the most trustworthy and complete cloning application available. It also works with operating systems other than Windows 11, such as Windows 10/8/7/XP/Vista. So, what can you accomplish with such a powerful piece of software? Here's the answer.
You may use it to clone numerous hard disks, including HDDs, SATA SSDs, NVMe M.2 SSDs, USB flash drives, and SD cards.
Cloning can be done in three ways: It allows you to clone disks, partitions, and systems depending on your requirements.
Hard drives of various sizes can be cloned: To clone a larger drive to a smaller drive, use the "Intelligent Clone" option. Only the used section will be cloned to another disk using this function. You may also use the "Sector-by-sector Clone" feature to create a 1:1 clone of the hard disk.
System disks can be cloned from MBR to MBR, GPT to GPT, MBR to MBR, or GPT to MBR.
How to Copy Windows 11 to an SSD and Make It Bootable
You must make certain preparations before copying Windows 11 to SSD. To produce a bootable clone on Windows 11, follow the comprehensive procedures below. Please keep in mind that the data on the destination location will be overwritten following the copying procedure. If you intend to clone Windows 11 on an old SSD and have sensitive data on it, please backup your files beforehand.
Install and Configure a New SSD in Windows 11.
Check that your computer is completely turned off.
To reveal the internal hardware and cables, unscrew and remove the side of the computer tower casing.
Internal Computer Hardware and Wiring Connect a power cord and a SATA connection to the SSD.
Connect the SSD.
Restart your computer after closing the case.
After Windows 11 starts, use Windows + R to open the Run dialog box, type diskmgmt.msc, and click OK to launch Disk Management.
Management of Open Disks.
Select Initialize Disk from the context menu when you right-click on the new SSD. Select the MBR or GPT partition style for your SSD.
How to Create a Windows 11 Bootable Disk with DoYourClone
Following the preparations, you may use DoYourClone to create a bootable clone on Windows 11.
DoYourClone - Best Disk Cloning Software
Clone HDD/SSD/USB flash drive/memory card on Windows 11.
Create bootable disk clone for Windows 11.
Two clone modes: partition clone and disk clone.
Connect the new SSD or hard drive to your PC before starting the process of cloning. Below are the few incredible steps to clone the Windows PC without any kind of boot issues.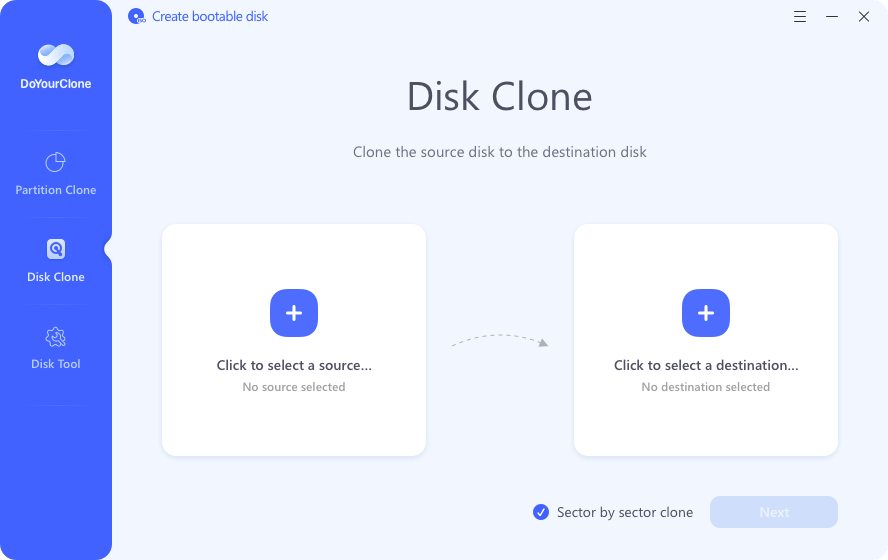 Step 1. Firstly, download, install & simply run "DoYourClone" on your computer. Click on the option "Disk Clone" mode and choose the specific source drive you want to clone or copy. To clone Windows OS, just select the disk where you install the OS on.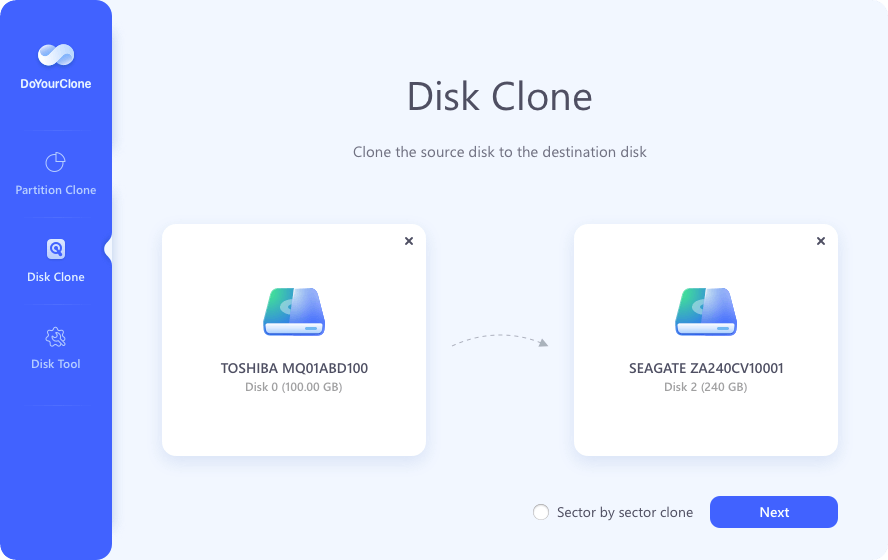 Step 3. Check & edit the layout of the disk. If your destination disk is probably an SSD drive, just remember to check the option if the destination is SSD.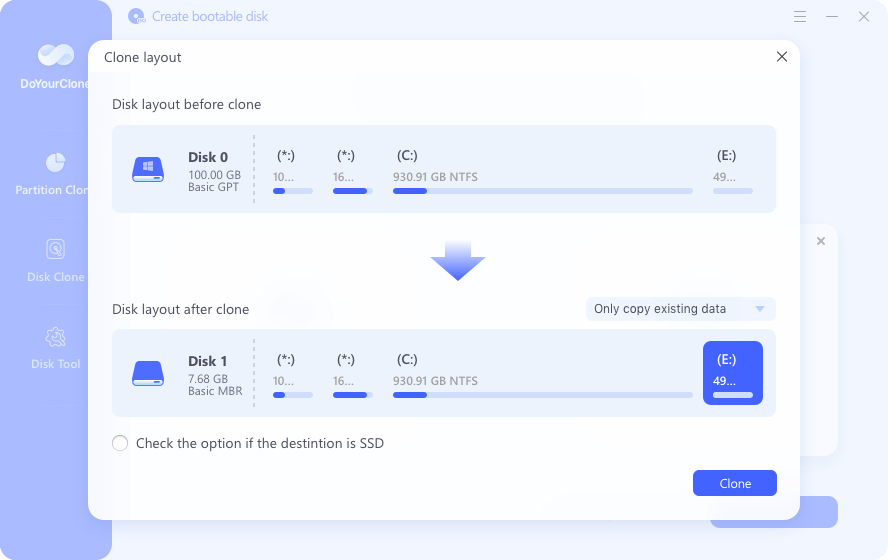 Step 4. Click on "Clone" to begin the cloning process of the hard drive.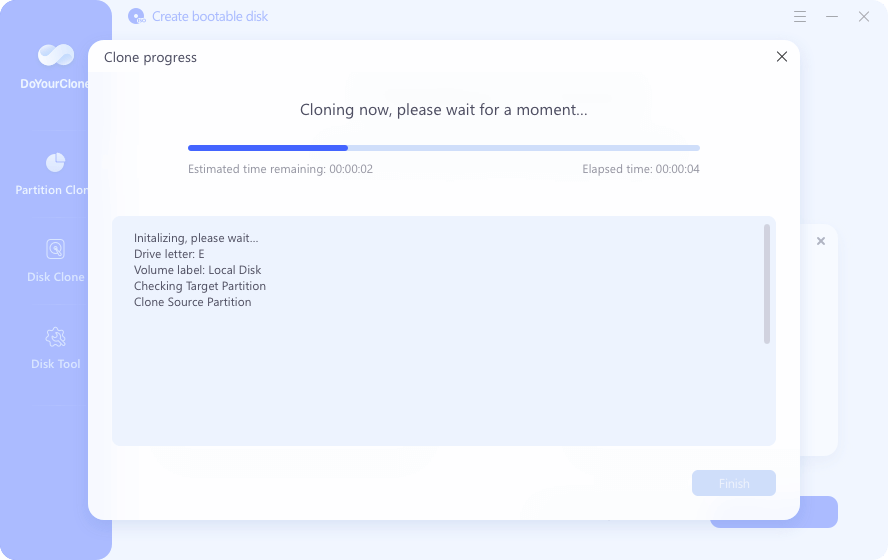 Summary
That's all there is to it for creating a bootable clone on Windows 11 without losing any data. You can effortlessly safeguard your system as well as your data with AOMEI Backupper Pro. You will never have to deal with system crashes or Windows 11 BSOD issues again. Because this program allows you to easily restore your Windows 11 machine to a previous date.
It's also the greatest replacement for Windows 11 File Sharing, which allows you to sync folders between several places. There are further features worth investigating; download the free trial edition to learn more.
Full guide: how to boot into Windows 11 with cloned disk.