Quick Navigation:
Are you thinking about upgrading from a Samsung HDD to an SSD? You'll need Samsung cloning software to move your files from your old drive to the new one, whether you're running out of space or want to give your computer a performance boost by switching to a faster drive. You can safely copy your data from an old hard drive or solid-state drive (SSD) to a new one using Samsung's approved SSD cloning software, but only if Samsung manufactures both drives. Let's look at what this program does, how to prepare for using it, and clone a Samsung drive.
About Samsung SSD:
Many people have switched to solid-state drives instead of HDDs for their Windows operating system because of the devices' rising popularity. Meanwhile, as prices dropped, some consumers opted to upgrade to bigger-capacity SSDs. Samsung's solid-state drives are popular. Samsung's solid-state drives (SSDs) are lauded for their cutting-edge technology, reliable operation, and exceptional performance. Various Samsung SSDs are available, including the 970 EVO Plus.
There could be issues if the customer decides to replace the Samsung SSD. If we utilize it directly to install the system, we'll have to reinstall the software on our current system, and transferring data to the new device will be a painful and time-consuming process in and of itself. Can I clone my current setup onto a new Samsung SSD while preserving all my settings and data? Here are the solutions.
What Is Samsung Data Migration Cloning Software?
Samsung offers a free SSD cloning utility called Samsung Data Migration (SDM). It will copy everything from your old or solid-state (SSD) hard drive to the new one.
This Samsung HDD cloning program can be used alone or installed alongside Samsung Magician via the Samsung SSD Integrated Installer. This software can manage, optimize, update, and clone Samsung Solid State Drives.
The Samsung SSD mirror software lets you make an exact copy of your original Samsung drive, while the Magician utility lets you optimize your SSD's performance.
The Samsung data migration copying program has a few prerequisites, though.
Samsung Data Migration Software Pros/Cons:
There are many great things about Samsung's cloning software. Its user-friendly interface, for instance, displays straight data to assist in cutting down on PC transfer time and saving space is possible after moving the OS to a smaller SSD.
The Samsung migration program may be a good option to back up your operating system on Samsung SSDs.
Here is a summary of the benefits and drawbacks to make the introduction clearer and simpler to read.
Benefits of Samsung's Migration Software:
Easy-to-use layout
Simple and simple setup
Zero cost to use at all
All Samsung SSD models are compatible with Windows operating systems
Constantly reliable operation
Effortless file sharing with only a click
Samsung's Migration Software's Drawbacks:
Cloned operating system parameters cannot be configured
Don't work for making copies of data
That is a Windows-only product
Data should only be copied to the Samsung SSD
How to Clone SSD/HDD with Samsung Migration Software?
The SDM tool and Samsung Magician are both easy to use. Whether you purchase the full Samsung Magician suite or only the SDM tool, the interface and copying process will be the same.
Here's how to clone your Samsung SSD or HDD to a new Samsung SSD using the Samsung SSD clone app:
1. Connect your new SSD to your computer and start the program you downloaded and installed.
2. Second, select Data Migration from the left-hand menu after the program has detected your system drive. If the new drive includes more than three partitions, the software will only allow you to choose three to transfer.
3. Select the SSD as the destination drive.
4. Fourth, when prompted that the software would erase the entire target disk and not clone any open files, click Start and select Yes.
Wait for the procedure to finish, and your computer will power down. After that, you can replace the disks with your new solid-state drive.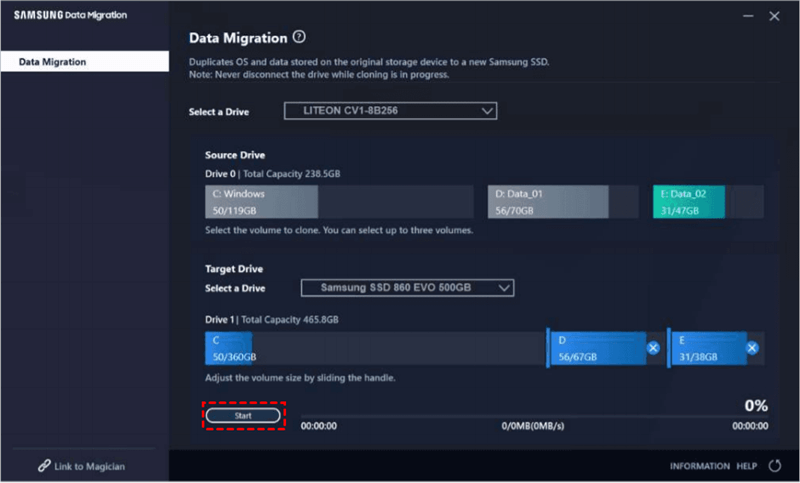 Best Samsung Disk Clone Alternative for Windows and Mac
Samsung Data Migration is only compatible with Samsung hard drive. If you want to clone other hard drive or clone a hard drive on Mac, just try an universal disk cloning program - DoYourClone. This software supports any computer or any hard drive including Seagate, Samsung, Western Digital, HP, Microsoft, Apple, Toshiba, G-drive, M.2 NVMe, SATA, etc.
DoYourClone - Best Disk Cloning Software
Clone hard drive on both Windows and Mac OS.
Clone HDD, SSD and external storage device.
Create normal clone or make bootable clone, create disk image, etc.
If you want to clone a hard drive using DoYourClone, you just need to select the source disk and the destination disk, then click on Clone button to quickly clone the source disk to the destination disk.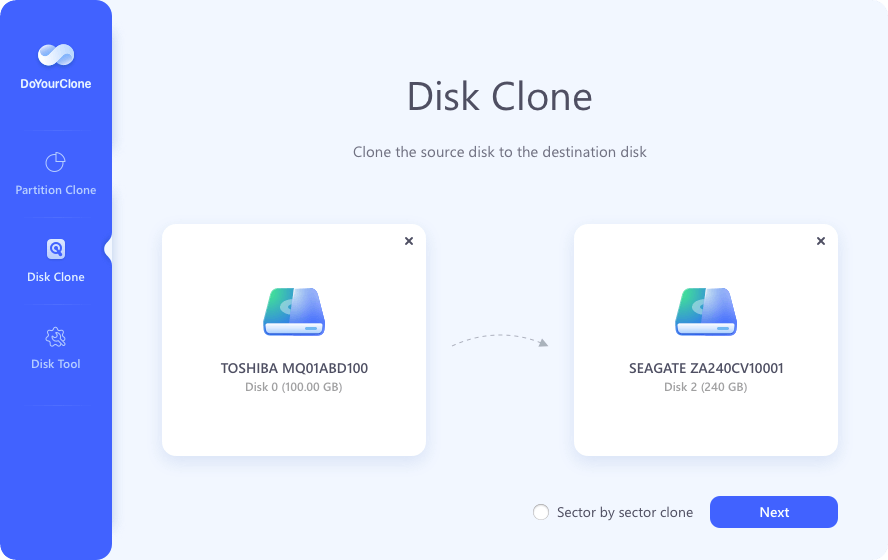 Conclusion:
Before you clone your Samsung SSD, ensure you have a backup of any data you don't want to lose. Verify that the target SSD has adequate storage space to accommodate the source disk's contents. If not, cloning will not work.
Cloning to an external Samsung SSD is possible for laptop users by connecting the new Samsung SSD using a USB hard drive enclosure. Once the cloning process is complete, the laptop can be removed and a new hard drive installed.
The boot order should be checked first if the cloned Samsung SSD was not recognized on startup. If so, it could be a problem with how the system boots (UEFI or BIOS). When cloning a GPT partition to an MBR disk, UEFI's boot menu option must be changed to Legacy.