Windows Server is widely used in business data management, workstations, enterprises etc. Usually, large amount of data that contains the very important business or private information is stored in the Windows Server system. If the data is leaked out, the consequences would be horrific. In this technology world, anyone can easily recover deleted or formatted data from any kind of device with the help or data recovery experts or data recovery programs. So before reselling, discarding, recycling the Windows Server device, you or your company should make sure that the data stored in the Windows Server has been completely and permanently destroyed and wiped.
As we know that, the operations of deletion, format or even damage the Server device physically can't make the data permanently lost. These operations only make the data hidden on the Windows server hard drive, the data recovery software can easily recover the data. To protect yourself, to protect your business, you should find the solution to securely and completely wipe Windows Server data.
Wipe Windows Server Data with Super Eraser
DoYourData Super Eraser is the most powerful data wipe software that is designed for permanently destroying and wiping data on hard drive. It not only destroys and erases the data, but also overwrites the disk space of the data with zero bits, leaving no chance of data recovery. It can completely wipe Windows Server data within easy steps. After wiping data with Super Eraser, any data recovery is impossible. It offers three data wipe modes to meet different needs.
Mode 1: Permanently erase selected files/folders.
This mode is very useful if you only want to wipe specific files or folders on the Windows Server hard drive. It is very easy to perform. Just select the files or folders you want to wipe, then click on "Erase Now" button. The selected files or folders will be permanently erased. You don't have to wipe the entire hard drive.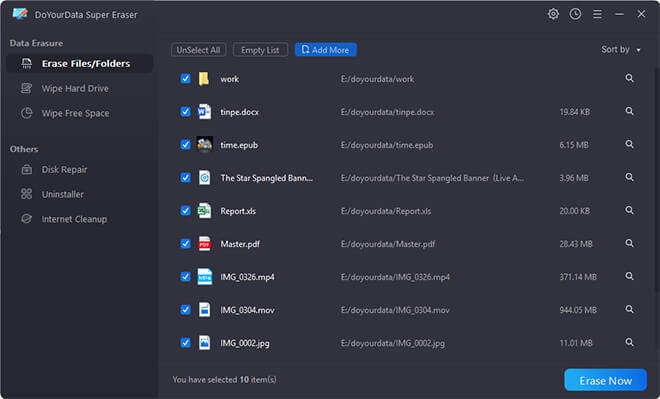 Mode 2: Securely and Completely Wipe Entire Windows Server Hard Drive.
Do you want to completely wipe the Windows Server data by only 1 click? This mode will help you. Just select the hard drive you want to wipe. Then click on "Wipe Now" button. It will permanently wipe all the existing and previously existing data on the selected hard drive. Also, data recovery is impossible after wipe.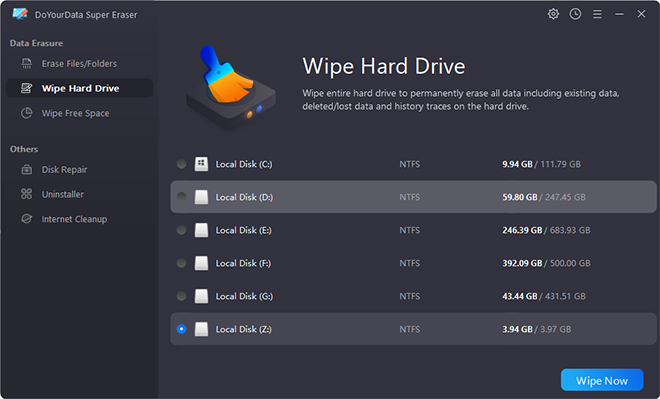 Mode 3: Wipe Free Disk Space of Windows Server.
You may worry about that somebody will recover your deleted or formatted data, and you don't want to lose the existing files. This mode will remove your worries. It only wipes the previously existing data and traces on the selected hard drive without wipe the existing data.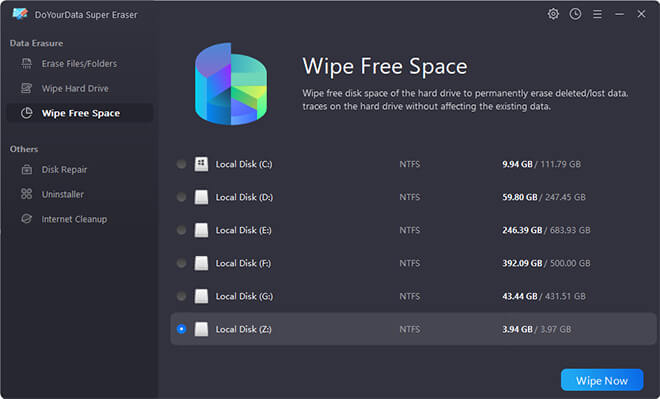 You can freely select the data wipe mode to completely wipe Windows server data. Super Eraser knows how to permanently wipe the data. You don't worry about if the data can be recovered. We guarantee that the data can never be recovered after being wiped by DoYourData Super Eraser. It means your data is lost FOREVER. It supports all Windows server versions including Windows Server 2003/2008/2012/2016/2019, etc.