Suppose you're planning to sell your laptop because you've upgraded to a newer model or are switching to a new operating system (Apple's new M2 chip sounds very exciting). In that case, you don't want to hand over your device to the first person to respond on Facebook Marketplace and call it a done deal.
While signing out of all your accounts and deleting your files may appear to be a clean slate on your end, you may still be handing over a large amount of your data to a stranger if they have any data recovery expertise. To protect yourself and your data, you should perform a factory reset on your laptop and you'd better wipe all data off using a data erasure program.
If you want to sell your laptop, what is the best way to protect your data and keep it from falling into the wrong hands? If this is one of the burning questions on your mind right now, you've come to the right place. This article will cover how to keep your data safe after you sell your laptop. Continue reading!
Backing up Your Laptop Files
The first thing you should do is back up the files you want to save on your laptop. Nothing is more frustrating than deleting everything on your device with reckless abandon, only to recall those priceless photos or important documents you only had stored on its drive. There are three simple ways to ensure the security of your data.
Create a system image:
A system image is a copy of all data on a drive volume that is ideal for recovering your system after a crash or transferring everything (including minor settings changes) to a new PC. This procedure may appear complicated, but it is quite simple. You only need an extra drive with enough space to save the system image.
Use OneDrive:
Microsoft's cloud-based storage solution is ideal for backing up photos, documents, and other files to a secure location before erasing your laptop. All Microsoft users get a free 5GB of storage, and paid plans are available if you require more space. You can easily configure favourite folders to sync automatically to the cloud.
Use an external hard drive:
If you'd rather have your files on a physical hard drive (or don't want to pay for cloud storage), you can save them on an external hard drive. This will take a little longer because you'll have to manually select the files you want to save and move them to your storage device.
Ensure Your Data Is Unrecoverable
If someone gained access to all data on your old laptop, they would have sensitive information about you or your business! This is why, before selling your device, you must secure your data. When formatting the hard drive, use multiple overwrite passes to ensure that every byte of storage space is erased. If you don't do this, anyone with basic computer skills can recover any data they want. Additionally, please ensure that the operating system has been completely removed so that the new owner cannot repurpose it for malicious purposes.
The best way to make all lost files on your laptop be unrecoverable is to use a data erasure program to erase your laptop's hard drive.
Deauthorize Your Laptop
Even if you find the best price for your old laptop and want to sell it quickly, don't give it away until all services have been deauthorized. Each online service has its procedure for deauthorizing devices, so check with each one before proceeding. This will not affect the number of devices you can use in the future to access personalized content, but it will ensure that no one else can access any of your data stored within those programs on the laptop you intend to sell.
Here are some pointers on how to deauthorize your laptop:
Take the hard drive out and keep it with you.
Before selling your laptop, reset or reinstall your operating system to its factory default settings. Ensure that all user accounts have been deleted!
Check the documentation for each cloud service to learn how to deauthorize devices from their online services. OneDrive, Google Drive, Box, Dropbox, and Facebook are among these services. Ensure that everyone has been successfully deauthorized. The last thing you want is for someone to gain access to any of these programs, steal your data, and use it against you for malicious purposes.
Before selling laptops, uninstall any unnecessary software.
It may appear that selling old laptops as part of your business improvement processes while keeping some software installed is a good idea. However, doing so may expose your data to unwelcome vulnerabilities.
Uninstalling them is the safest option because it protects your data. If you're not sure which programs to uninstall, remove them all! Removing software may affect the laptop's functionality, but this inconvenience is far preferable to having a stranger gain access to private information.
Format and Wipe Hard Drive
You must format the old laptop with the hard drive if you need to sell it. This ensures that every byte of data is unrecoverable, making selling your laptop safer. There are numerous programs available to assist you in formatting your hard drive. Make sure you conduct extensive research to find the best one for your needs.
Use a Disk-Wiping Program
As a last resort, use a disk-wiping program to erase all traces of your data from the hard drive. This is a comprehensive method that removes everything. However, it is the most time-consuming method, so you must be patient if you choose to use it.
Numerous free and paid programs are available; therefore, it is prudent to conduct thorough research and select the best one for your personal and business needs.
DoYourData Super Eraser is a safe, powerful and easy-to-use disk erasure program. It supports to securely and permanently erase data from a laptop without causing any physical damage. Once your data is erased by DoYourData Super Eraser, the data will be gone forever, can't be recovered by any data recovery software.
DoYourData Super Eraser
Securely and permanently shred files on any disk.
Wipe a hard drive to permanently erase all data from it.
Wipe deleted data to prevent deleted file recovery.
DoYourData Super Eraser offers certified data erasure standards including HMG Infosec Standard 5 (1 pass), Peter Gutmann's algorithm 2 (2 passes), U.S. Army AR380-19 (3 passes), DoD 5220.22-M ECE (7 passes), Peter Gutmann's algorithm 35 (35 passes). If you want to permanently erase data from a laptop, just download and try this software.
DoYourData Super Eraser offers three data erasure modes:
Mode 1. Erase Files - selectively and permanently shred files and folders. Just select the files from your laptop, then click on Erase Now button to permanently erase the selected files.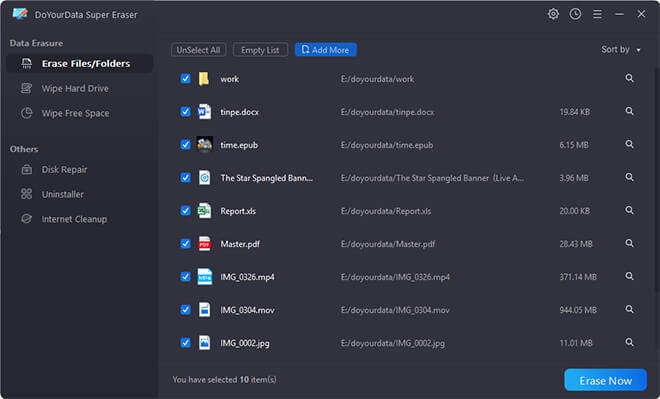 Mode 2. Wipe Hard Drive - select a hard drive, click on Wipe Now button to permanently wipe all data from it.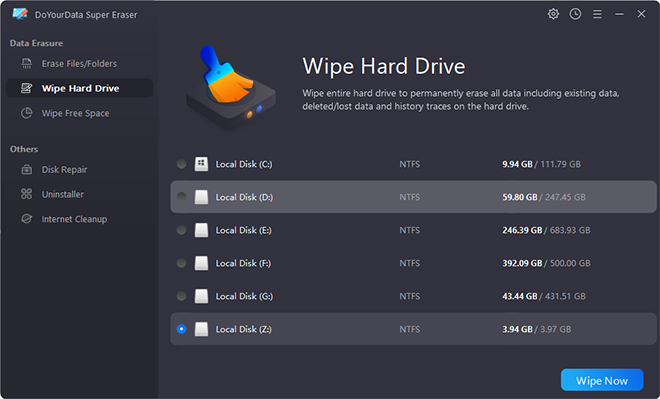 Mode 3. Wipe Free Space - erase free disk space of the hard drive to permanently erase deleted/lost data on the hard drive.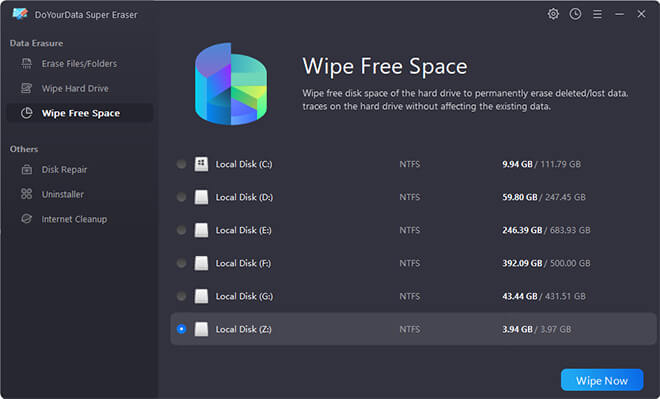 Reinstall the Operating System
After completely erasing the hard drive, you must reinstall the operating system from a known source. It may seem obvious, but install an original copy of your laptop's software. This ensures that no malicious codes or vulnerabilities could expose your data.
Remove Your Hard Drive and Keep it
If none of these options suit you, remove the hard drive before selling your laptop and keep it. This ensures maximum security because no one can recover your data if the hard drive is absent. Ensure it's kept safe and that only authorized personnel can access it.
Final Thoughts
You must complete all these steps before selling your laptop; otherwise, you may jeopardize your business or personal data! Someone else gaining access to your sensitive files is the last thing you want. As a result, whenever you want to sell your laptop, make sure you use this article as a guide.