A flash drive may seem like something out of a science-fiction story, is one of the world's most common and useful data storage devices.
Have doubts about the SanDisk Ultra Eco USB flash drive? Are you curious about how to format a SanDisk USB on various devices? The SanDisk Ultra Eco USB Flash Drive is described in detail below; please follow our guide to discover more.
What Is A SanDisk Ultra Eco USB Flash Drive?
The SanDisk Ultra Eco flash drive is built with over 70% recyclable plastic, such as that found in throwaway water bottles, as part of its eco-friendly construction. As a result, production-related emissions, water use, and energy consumption are reduced by more than half.
You may save more of what is important to you in less time thanks to transfer rates of up to 100MB/s3 and storage sizes of up to 512GB1.
Key Points
This drive eliminates the need to produce half as much carbon dioxide (CO2), fresh water, and energy since it is made from more than 70% recycled plastic (such as discarded water bottles).
Enjoy the speed and reliability of USB 3.2 Gen 1 read rates of up to 100MB/s3 while transferring huge files.
With storage options up to 512GB, you can save even more of your most prized documents, media, and more.
You may copy and save files without paying any kind of subscription fee or worrying about being online.
When purchasing this flash drive, you will be given the option to download RescuePRO® Deluxe, data recovery software that may be used to retrieve lost photos (download required).
Keep your files close at hand by clipping the drive onto your keychain with the included keyring loop.
How to Format A SanDisk USB Drive in Windows?
Without further software, you may be able to convert SanDisk Pendrive to fat32/ntfs/exfat using this SanDisk USB format tool. Follow these easy instructions.
First, connect your SanDisk Cruzer or ultra to a PC running Windows OS.
Launch Disk Management by doing the next action: Select "This Computer" from the pop-up menu -> Option "Manage" -> To access "Disk Management," choose it from the menu on the left.
In disk management, right-click your SanDisk Pendrive, and then pick option -> Format.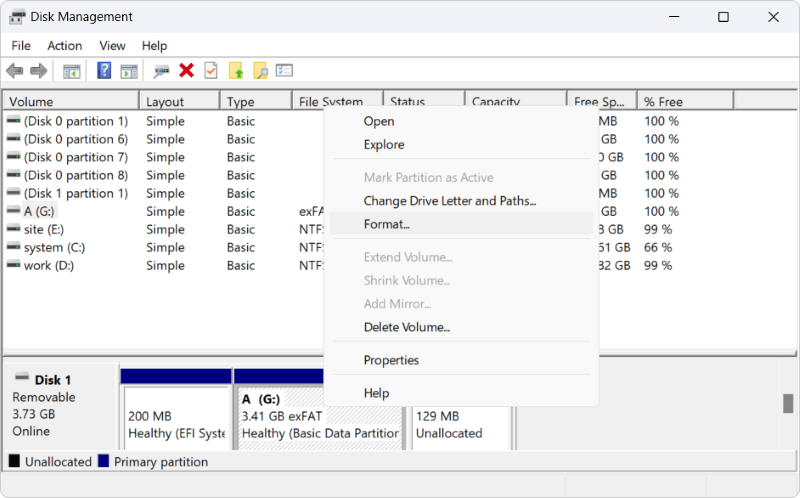 The next screen will walk you through selecting a file system for your SanDisk USB drive (fat32, ntfs, or exfat).
What to do if Disk Management won't format a SanDisk USB drive? Just go into disk management, delete the SanDisk, and create a new volume. You may create a new volume if you right-click the SanDisk in disk management.
How to Format A SanDisk USB Drive in Mac?
You can use Disk Utilities to format a SanDisk USB drive on a Mac for free, ensuring that the drive is compatible with both Windows and macOS computers.
In this context, "fat" refers to "fat32," therefore setting the format to "MS-DOS(FAT)" will allow you to format a SanDisk Pendrive.
Connect your device to a Mac and make a copy of your data for safekeeping.
Locate the Disk Utility application under the Applications menu, then choose Utility.
To see all devices, choose View from the menu.
When you've found the one you want to format or delete, choose it and hit the Erase button. (It's the same thing that "Format" is supposed to do.)
Choose a format for its files. (choose FAT if fat32 formatting is desired. Since Exfat is more effective than fat32, it is suggested that you use it instead.
Confirm Erase.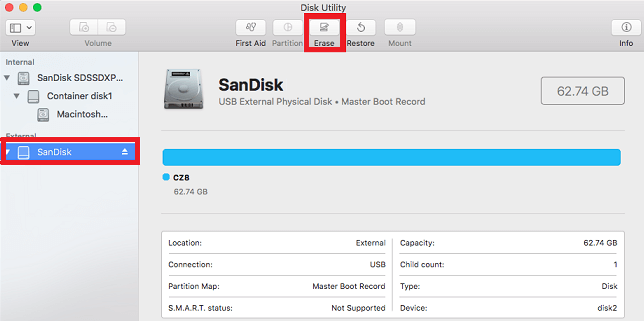 How to Format A SanDisk USB Drive on an Android Device?
Connect your SanDisk USB stick to your Android device via OTG connection, and then follow these instructions to format the drive.
Navigate to the device's settings.
Go to the option labeled "Storage."
The USB Format Menu will sometimes say, "Erase USB storage."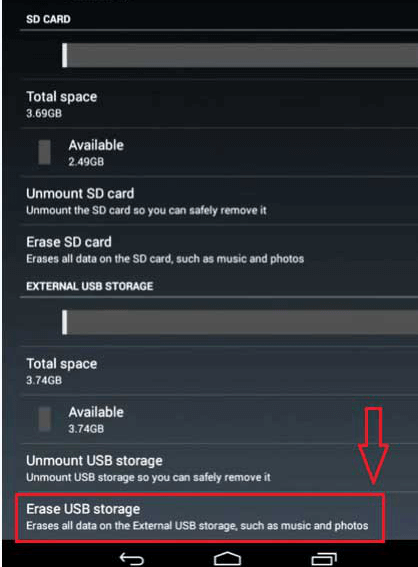 Choose a Format.
Choose Delete All.
You won't be able to pick between different file systems (fat32, fat, ntfs, or exfat) for your USB stick; it will be automatically formatted to one compatible with Android. SanDisk USB drives may be formatted with various file systems on Windows computers.
Related article:
Recover deleted/lost data from SanDisk Ultra Eco USB flash drive >>
Permanently wipe data from SanDisk Ultra Eco USB flash drive >>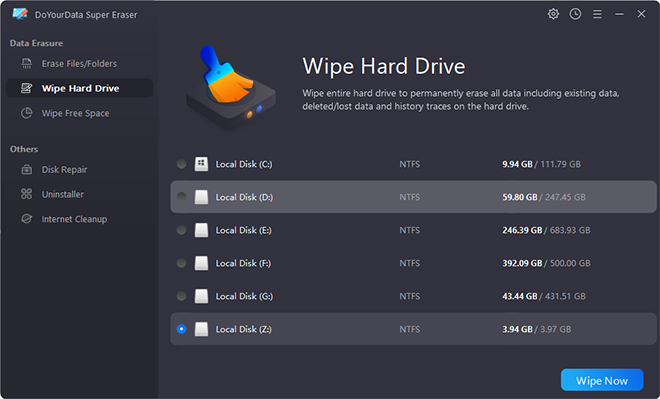 Conclusion
The information stored on a USB flash drive may be anything from simple text documents to complex multimedia files and software. A flash drive is a compact memory stick that stores digital data and may be read by connecting it to a computer or other device through the USB interface.
So, it may be used for everything from running an independent operating system to exchanging data and installing new apps. This SanDisk SDCZ96-128G-A46 Ultra Eco USB flash drive is perfect for storing and transporting your data.
The 128GB of storage space is great for storing huge multimedia files, and the keyring loop and small design make it easy to bring it anywhere.
DoYourData Super Eraser
Permanently erase data from SanDisk Ultra Eco USB flash drive.
Format and wipe SanDisk Ultra Eco USB flash drive.
Shred data from SanDisk Ultra Eco USB flash drive.