Why Need to Destroy & Wipe Data on Windows 10?
Most of the time, we don't need to permanently destroy the data. However, at some point, it is very important for us to shred and destroy the data. For instance, when we are going to donate a Windows 10 PC, we need to make sure all the sensitive data has been removed from the hard drive. Whether you delete the files + empty the recycle bin or format the hard drive, the data will be not lost permanently. Data recovery software can easily recover deleted/formatted/lost data from your hard drive. It means any person including the hacker has the chance to recover your data and get your private information.
Now millions of Windows users are using Windows 10 PCs. So Windows 10 data destroying solution is necessary, many people may need it. Windows 10 users should permanently wipe data in many scenarios, such as:
Completely wipe data on Windows 10 PC before they donate, giveaway, resell their Windows 10 computers.
Permanently destroy some sensitive files on Windows 10 PC.
Wipe data before or after upgrading to Windows 10.
Wipe deleted files on Windows 10 PC.
Permanently erase some files to avoid data leakage.
Wipe stubborn files, virus-infected files on Windows 10.
Windows 10 Data Wipe Solution
Actually, it is very easy to permanently wipe Windows 10 data if you can find the right data erasing software. DoYourData Super Eraser is an award-winning data erasing tool. It has been equipped with advanced data destroying technology that can permanently destroy and wipe data under Windows 10, 8, 7, Vista, XP, 2000, and Windows Server. A big advantage is that Super Eraser offers three data wiping modes for Windows 10 users to wipe data under different situations.
Mode 1: Selectively Erase Files on Windows 10
This mode is very useful when you are going to erase some sensitive files on your Windows 10 PC rather than wiping the entire hard drive. It is the most time-saving mode. It is very easy to perform. Just select the files or folders you want to destroy, then click on "Erase Now" button.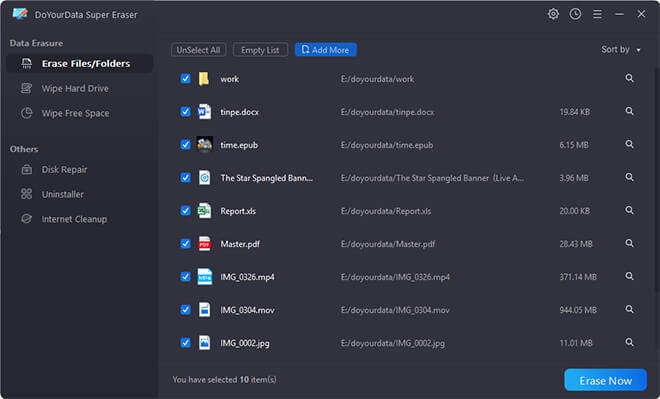 Mode 2: Wipe Windows 10 Hard Drive Partition
This mode can completely wipe the selected Windows hard drive partition. It will destroy & wipe all the existing data and history data (deleted files, traces) on the selected partition. It is recommended to use this mode when you are going to sell or donate your computer.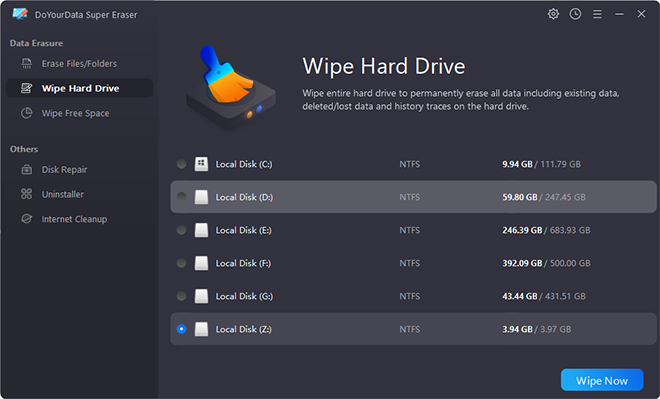 Mode 3: Erase Deleted/Lost Files on Windows 10 PC
As we said above, the deleted/formatted/lost files are lost forever. How to make them lost permanently. This mode can meet your needs. It will not wipe the existing data, instead, it only wipe the unused disk space to permanently erase the deleted/formatted/lost files and traces.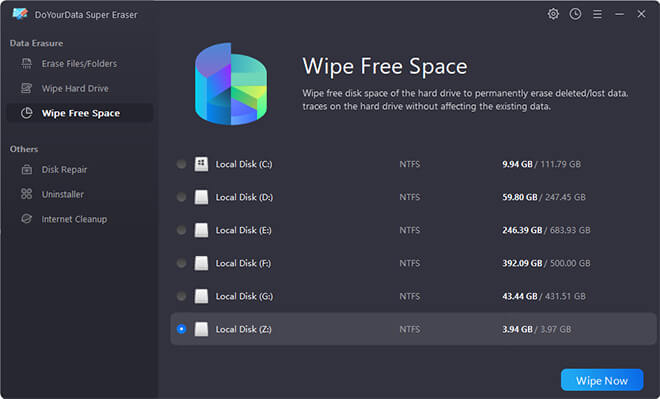 Data leakage, ID theft, privacy leaks are terrible problems for all of us. None of us would be willing to become a victim of data leakage. We all want to avoid data theft. When we are using a Windows PC or other Windows PC, Super Eraser can help us permanently wipe data when we want it to do that. It is easy, secure to wipe Windows 10 data with it.