One common question users often ask is if there is an easy way to permanently wipe database. The answer is yes. There are a lot of data erasure programs, which might help you deal with this issue. Through this guide, we will recommend using DoYourData Super Eraser, a powerful data erasure. If you need to free disk space or permanently delete all your files, this software could be your best alternative. Continue reading for more information about this program and the steps you have to follow to carry out your task successfully.
Steps to permanently wipe database
If you want to permanently wipe database, you should find a reliable data erasure program. It could be a little hard because there are a lot of programs targeted at deleting files in a permanent way. Some of them are easier to use and others offer limited tasks. Also, there are some very powerful data erasure programs, like DoYourData Super Eraser, which offers a series of advantages like for example:
DoYourData Super Eraser is compatible with Windows and Mac.
It is very easy to use.
It is useful for erasing particular files or folders.
You can wipe the entire hard drive.
It is possible to permanently erase already deleted files.
You may erase data from an external hard drive or any other removable device.
In case you need to sell or give your device away, you can consider using DoYourData Super Eraser. It is very simple and you only have to follow these steps:
Step 1: Download and install DoYourData Super Eraser.
The first thing you have to do is downloading and installing DoYourData Super Eraser on the computer. Then, run this software to permanently wipe database.
Step 2: Choose one mode to permanently erase files.
The second step consists in choosing one of the three modes offered by DoYourData Super Eraser.
Mode 1: Selectively shred database files.
This first option is useful for people who only need to permanently erase some particular files. Choose all the files you want to erase and then click on the Erase Now button.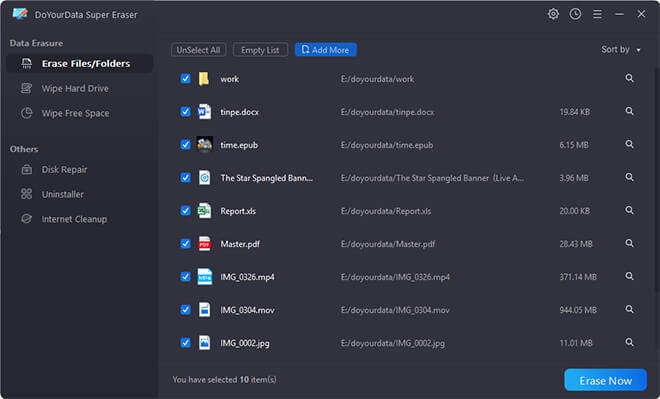 Mode 2: Wipe all database.
If you need to wipe the entire hard drive, you have to select this mode. After making your choice, click on the Wipe Now button. It will securely and permanently wipe all database on the hard drive.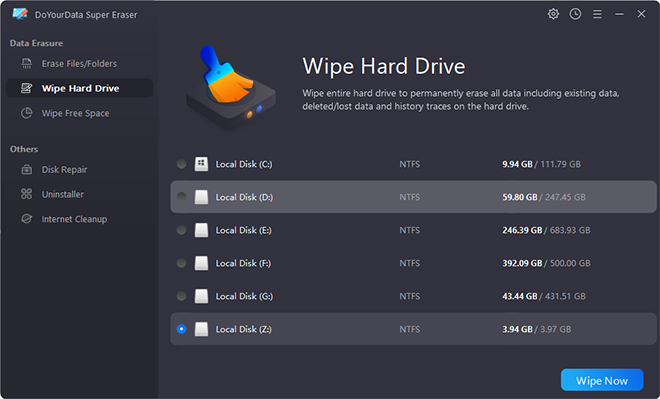 Mode 3: Wipe deleted data.
The last mode consists in wiping Free Space of the hard drive. DoYourData Super Eraser will erase all already deleted files without destroying the existing files. It could be useful if you only need to get free space on your drive, but if you are planning to sell your device, it is better to consider choosing the second mode and so protect your private information.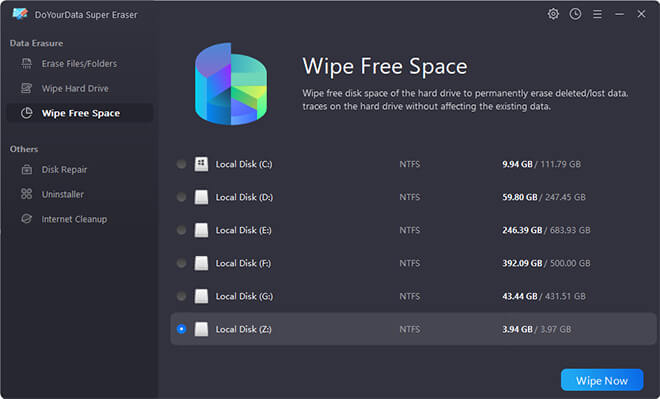 DoYourData Super Eraser is recommended by many users because it is very easy to use and offers diverse modes people can choose depending on their needs. As a general suggestion, it is good to make a data backup before wiping the entire hard drive, just in case.

Securely and permanently erase data from HDD, SSD, USB drive, memory card or other device, beyond the scope of data recovery.