Are you interested in deleting text files in a permanent way? If you need to do it, you may need a good data erasure tool. We know it could be kind of complicated making the best decision because there are a lot of programs targeted at erasing data from any device and that is why we will recommend using DoYourData Super Eraser, which is considered as a powerful software useful for permanently erasing data from different types of storage devices, including local hard drives, digital cameras, external hard drives, USB flash drives, memory cards, among others.
It is possible to erase text files or any other files permanently, though it seems to be very difficult. People may have different reasons when deciding to delete data from their computers, smartphones, or any other device. For example, they could be planning to get rid of their gadgets, sell or give them away, so it is better to make sure all this information has been permanently deleted.
Users often store a lot of files on their devices, such as: pictures, videos, audios, contacts, financial documents, notes, images, movies, text files, PDF files, among others. It could be personal information, business, bank accounts, projects, and more. The thing is that if somebody else buys the computer, you should make a data backup and then delete all that information in order to avoid a future data recovery.
DoYourData Super Eraser is a great data erasure program to permanently delete text files. Once the text files are deleted by DoYourData Super Eraser, the files will be lost forever, can't be recovered by any data recovery software.
Three modes to permanently delete text files
DoYourData Super Eraser is very easy-to-use. It offers three data erasure modes to help you securely and permanently delete text files.
Mode 1: Select text files you want to permanently delete.
This first mode allows you to select some particular files you need to delete permanently. Just add the selected text files to DoYourData Super Eraser program and click on the Erase Now button to erase these files in a permanent way.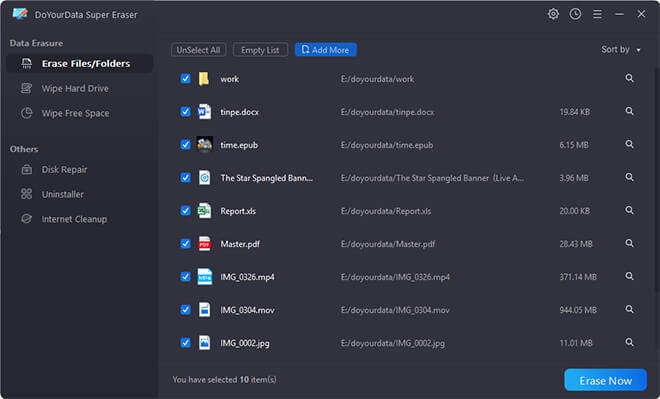 Mode 2: Permanently delete all data including all text files.
This mode helps you permanently delete all files from your hard drive. Just choose the hard drive and click on the Wipe Now button.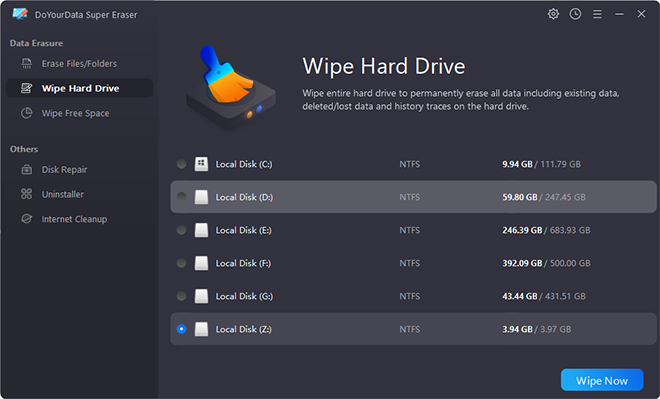 Mode 3: Wipe previously deleted files including deleted text files.
You can use this mode if you want to free space of your hard drive. DoYourData Super Eraser will wipe all already deleted files.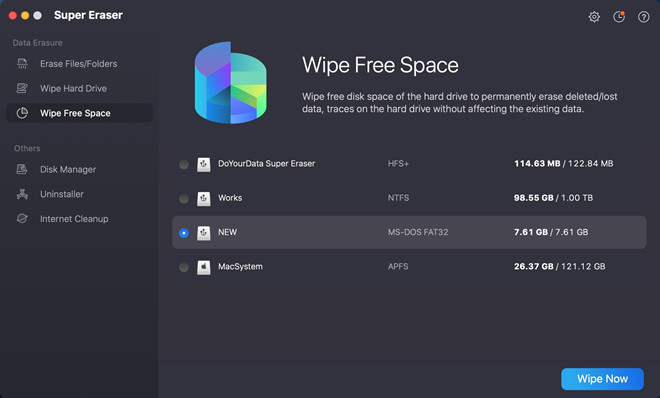 You can select a kind of deletion mode according to your needs; you could choose to permanently delete just a list of selected files, the whole hard drive, and even you can free space erasing already deleted data from your computer.
DoYourData Super Eraser is a powerful and reliable data erasure software, which can help you delete data in a permanent way from USB flash drive, HDD, SSD, digital camcorder, digital cameras, memory cards, etc. This program does not damage devices after carrying out data erasure. If you want to protect your files from being recovered by another user, using a good data erasure program may be your best choice.