When you are going to sell an old Windows XP computer, you should make sure that all your private data has been permanently erased from the hard drives. Data recovery software is so powerful that can easily recover the lost files you have deleted or formatted. Your data is at risk of being stolen by other people if you don't completely wipe it off your Windows XP hard drive. However, only a few people know how to wipe Windows XP hard drive to permanently destroy/erase data.
Most of the users think that the files stored in their Windows XP computers are lost forever after 'deleting + emptying recycle bin' or 'formatting the entire hard drive'. This ideal is completely wrong. You can't get the files lost permanently by deletion or formatting because data recovery software can easily recover deleted/formatted/lost data from Windows XP hard drive or other storage media device. To permanently wipe hard drive on Windows XP, you need special data erasure tool that can destroy, erase the data and overwrite the disk space.
Data Wipe Software for Windows XP
We permanently wipe Windows XP hard drive before we sell, donate or dispose our old Windows XP PC in case that our private data would fall into the wrong hands. Trust God, but don't forget lock the door. Nowadays, cyber crimes become more and more rampant. We should make sure our private or business has been permanently destroyed before give our device to other people or throw the device to trash bin.
In order wipe hard drive on Windows XP, you need powerful data wipe software – DoYourData Super Eraser. This software can help you completely wipe Windows XP hard drive and permanently erase all data in an easy and secure way. With advanced data erasure technology, DoYourData Super Eraser can 100% wipe all the data and leave no chance for data recovery. It means your data is lost forever after wiping your hard drive with this powerful Windows XP data wipe software.
Wipe Windows XP Hard Drive with DoYourData Super Eraser
DoYourData Super Eraser offers three ways to help you to wipe hard drive/ erase data under Windows XP.
1. Selectively erase files or folders.
This is the fast way to erase data from your Windows XP hard drive. You don't need to wipe the entire hard drive. Just select the files or folders you want to erase to the list and click on "Erase Now" button, the selected files or folders will be lost forever.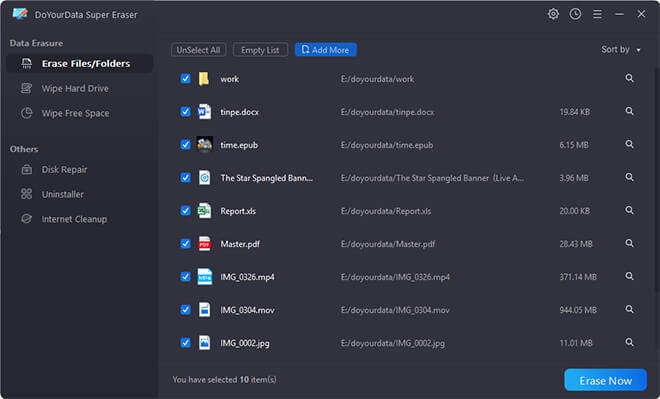 2. Wipe entire hard drive partition.
This option is designed for wiping entire hard drive partition to permanently erase all the data. It will destroy and erase all the existing files, deleted/formatted files on the selected Windows XP hard drive partition.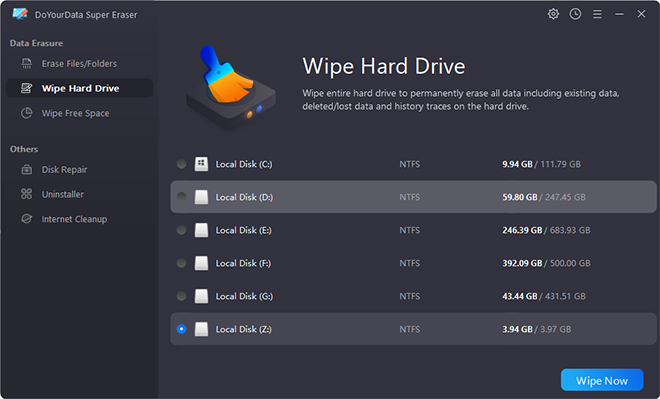 3. Wipe free disk space.
If you only want to erase the deleted/lost data on your Windows XP hard drive, this option suits you well. It only erases the deleted/lost data on the hard drive, will not affect the existing data.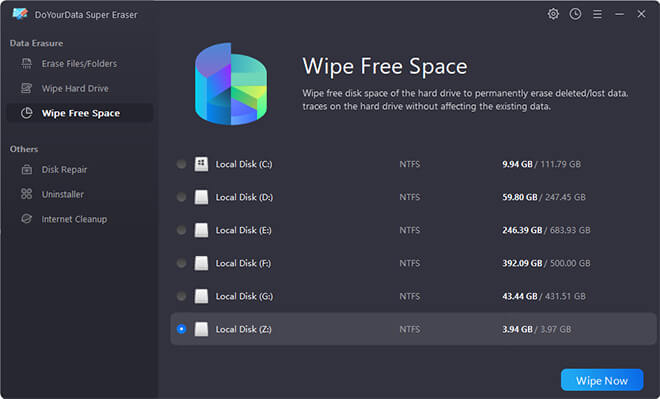 After wiping the hard drive, you will get a complete new computer! All your private data has been removed from your computer and can't be recovered. Now you can safely sell your Windows XP computer to anyone.

Securely and permanently erase data from HDD, SSD, USB drive, memory card or other device, beyond the scope of data recovery.