Why need to shred files for Windows Vista users?
A Windows Vista user may have more than 100GB files on the hard drives. In most cases, users don't have to shred files. However, in special cases, the files should be completely shredded. For example, when you are going to sell your old Windows Vista PC, you must make sure all your private data on your hard drive has been completely erased. You can't get the files permanently lost by deletion or format because that data recovery software can easily recover deleted/formatted or lost data from Windows Vista hard drive.
Permanently shred private files before you sell, donate, or give away your old Windows Vista PC.
Erase all data before you dispose, or throw away your Windows Vista PC.
Shred all sensitive data before you lend your Windows PC to other people.
Wipe your data before you log out from a public Windows Vista PC.
Get the data permanently lost before you destroy old Windows Vista hard disk.
Data erasure software for Windows Vista
As I said above, the deleted or formatted files can be easily recovered by data recovery software. It means the files are not lost forever. Then how to permanently shred files, erase data under Windows Vista? Don't worry. Data erasure software for Windows Vista can help you permanently shed files from your Windows Vista PC.
DoYourData Super Eraser is a powerful data erasure tool that can permanently shred files on any hard drive or storage media device. Of course, it supports to permanently shred files and erase data from a Windows Vista PC. DoYourData Super Eraser also can shred files from external device like USB flash drive, digital camera, SD/Memory card, portable hard drive, etc.
Moreover, DoYourData Super Eraser offers three data erasure modes to meet various data erasure needs under Windows Vista. First of all, it allows you to selectively shred files/folders on the Windows Vista hard drive. Secondly, it can wipe the entire hard drive on the Windows Vista PC to erase all the existing data and deleted/lost data. The last mode is "Wipe Free Space". This mode can erase the unused disk space to erase deleted/lost data without affecting the existing data on the Windows Vista PC.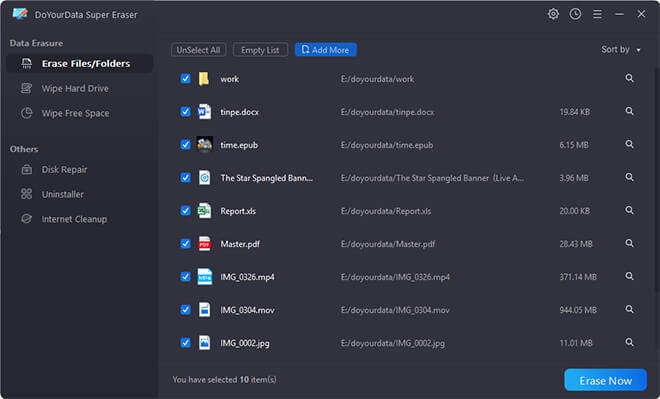 If you are going to shred files on an external hard drive, you should connect it with the Windows Vista PC and run DoYourData Super Eraser to erase the targeted files or folders.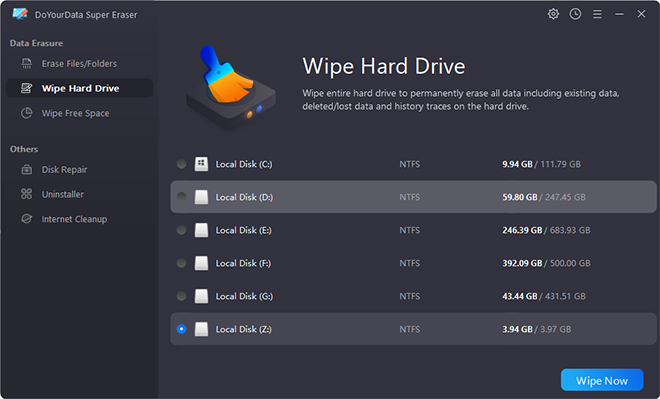 Since DoYourData Super Eraser has the full ability to permanently shed and erase the data, so you should back up your useful files to a secondary hard drive before erasing your files or wiping the hard drive on your Windows Vista PC. Once the data erasure process gets started, the selected data will be completely shredded and permanently erased. After erasure, the erased data is lost forever, can't be recovered by any data recovery software or method.
DoYourData Super Eraser can securely shred files and erase data from Windows Vista PC. It also can permanently erase data under other Windows operating systems like Windows 2000/7/8/8.1/10. It even can be installed on Mac computer for permanent data erasure. Go to DoYourData Super Eraser for Mac >>