Quick Navigation:
Insta360 Panoramic Video, or INSV for short, is a special video format created specifically for use with Insta360 cameras. Despite Insta360's impressive hardware, the INSV video files we capture, transport, or convert sometimes get faulty or destroyed for unknown reasons.
Due to its limited use, fixing a corrupt INSV file may be preferable. Here, I'll provide a tried-and-true method for repairing an INSV video file on Windows or Mac.
A Brief Overview of The INSV Video Format
Insta360 created the INSV video format to facilitate recording 360-degree videos with Insta360 cameras. Photographers and those who like extreme activities often utilize INSV files. To view, play, and modify this video, download Insta360 Studio 2019 for Windows or Mac.
Insta360 Studio allows users to convert their INSV videos to the more frequently used MP4 format. In addition, the INSV file format may be converted to the MP4 format and opened by the user.
Unfortunately, issues with the operating system, the files themselves, or the registry may prevent INSV video files from being opened. Look at these issues:
Insufficient space prevents identifying data from being preserved.
The system cannot play INSV videos because the appropriate software is either corrupted or missing.
The INSV video file was corrupted because of a production fault.
INSV video files often include malicious software and viruses.
Copies, transfers, decompresses, and compressions all cause corruption in INSV files.
Aside from the problem of corrupt films, other issues may be resolved by changing the media player, changing the video format to MP4, or installing third-party antivirus software.
Fixing Damaged INSV Videos on Mac and Windows
Unfortunately, people often convert INSV movies to other formats, which may lead to corruption. Besides those possibilities, there are additional ways INSV movies might be harmed when being recorded, transferred, or stored.
The good news is that with a dedicated program like Wondershare Repairit, INSV video files can be easily repaired on either Mac or Windows. Here's how to repair INSV video files with Wondershare Repairit on a Mac or Windows computer.
Launch Wondershare Repairit and Add The Damaged INSV File
When using Windows or Mac, installing Wondershare Repairit is the initial step toward fixing damaged INSV video files. Next, start the program and access the Video Repair menu item from the sidebar.
When you click the "Add" button, a new tab will open in your browser, allowing you to find and open the damaged INSV video file you want to use. Load the damaged INSV files, inspect their information on the interface, and then hit the "Repair" button to begin the restoration procedure.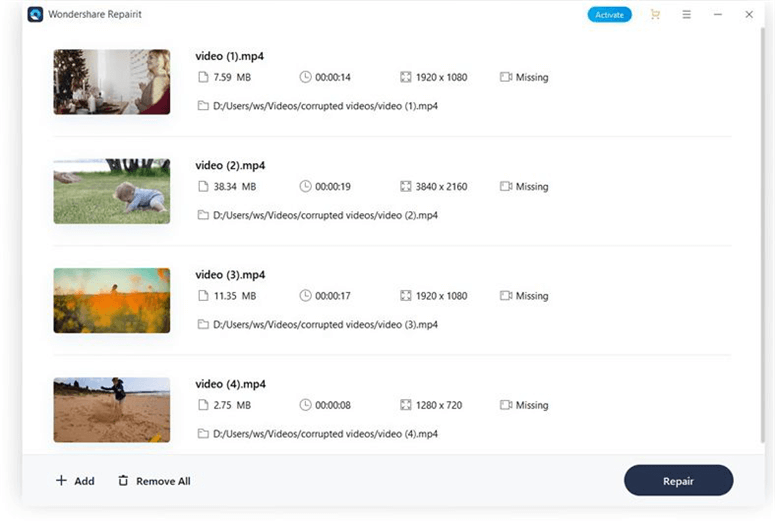 While you wait, Wondershare Repairit for Windows or Mac may fix your damaged INSV video file. When everything is done, it will show you the results on the screen. Repairit's native interface includes a "Preview" button and an "eye" symbol that lets you preview the results.
Check whether the fixed video still has problems by watching it here. However, if your INSV files were substantially damaged, the Quick Repair feature may not be able to restore them. The program will alert you here, and you may use the "Advanced Repair" option instead.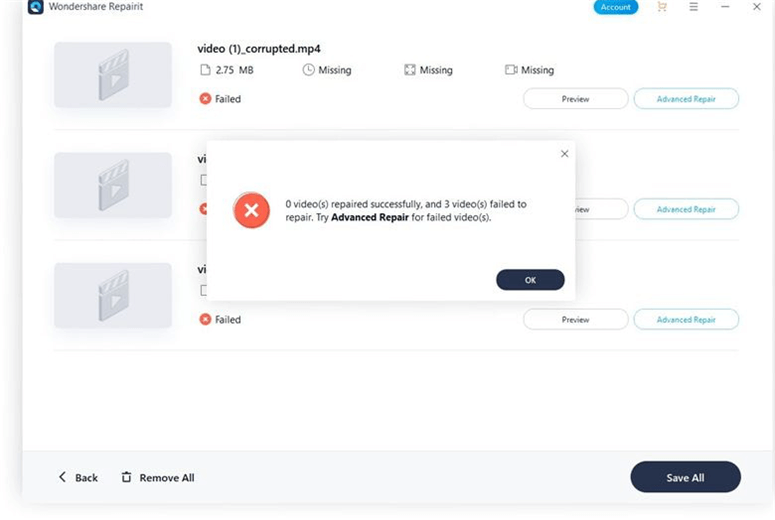 Please note that a sample video must be loaded before conducting the Advanced Repair. Similarly to the tainted video, the sample video should be an INSV file recorded using the same Insta360 camera.
After the sample INSV video has been loaded, the Advanced Repair procedure will take longer than the Quick Repair scan, so please be patient. You may check out the restored INSV video before it's finalized on Repairit, and you'll get a notification as soon as the procedure is done.
There you have it! If the damaged INSV video looks OK in the preview, you may save it by clicking the "Save" button. The updated INSV movie may be downloaded directly to your computer by clicking here, which will open a new tab in your browser.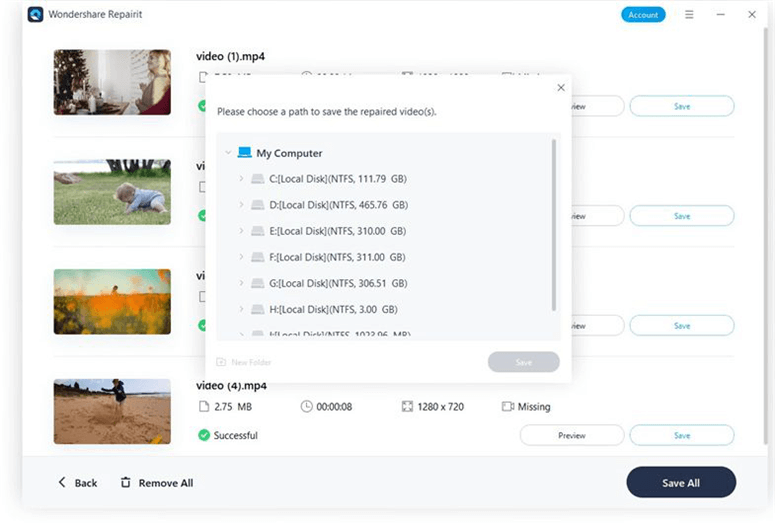 Recover Deleted or Lost INSV Files
If you lose important INSV files, just try a data recovery program to get it back. Do Your Data Recovery is able to scan your disk, USB flash drive, memory card, digital camera or other device to find deleted or lost INSV files.
Do Your Data Recovery
Recover deleted or lost INSV files.
Unformat hard drive and recover lost INSV files.
Recover overwritten or corrupted INSV files.
Step 1. Open Do Your Data Recovery, then select the hard drive where you delete or lose your INSV files.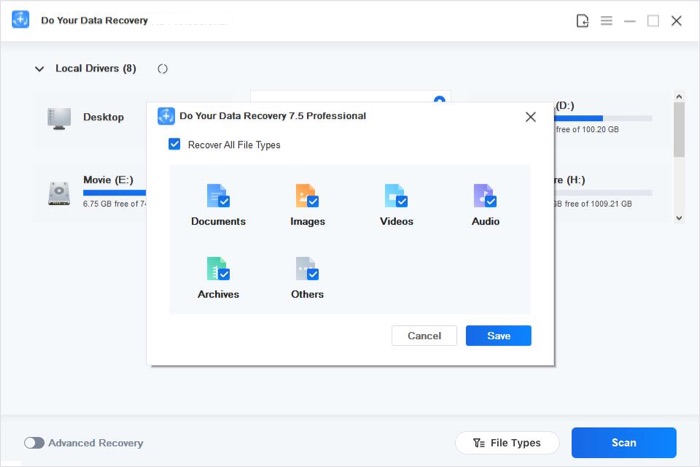 Step 2. Click on Scan button. Then it will scan the selected hard drive and find all recoverable files including lost INSV files.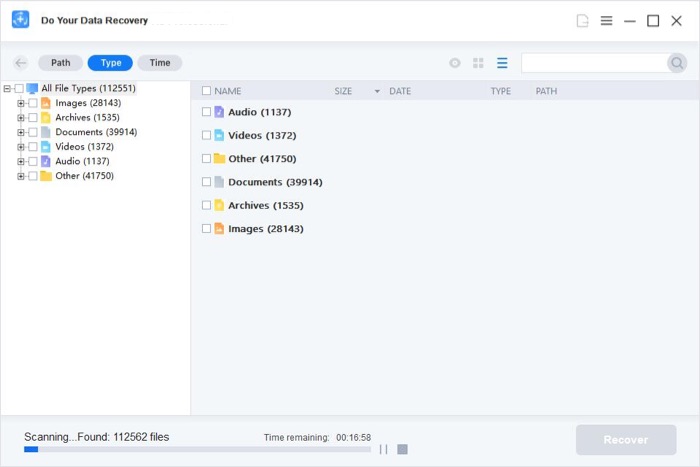 Step 3. Once the process gets finished, you can preview and recover the lost INSV files.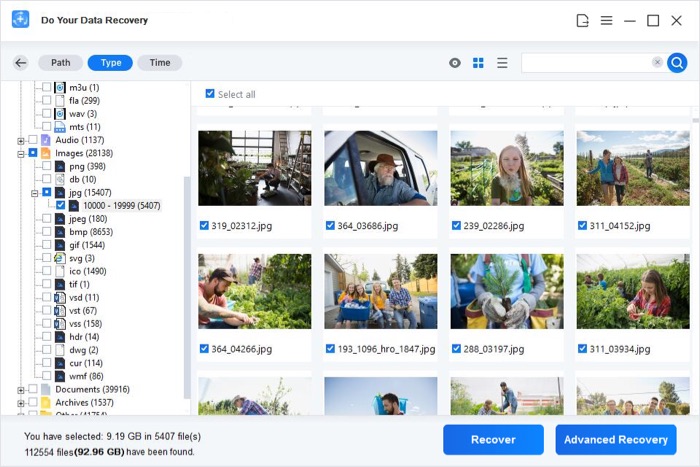 Conclusion
The panoramic video in an INSV file was captured with the Insta360 camera and stored in the INSV format. It saves footage shot with an Insta360 camera, which is capable of shooting 360-degree video and still photographs.
Videographers and others who like extreme activities are the most common users of INSV files. Keep a video fixing tool close since 360-degree recordings are particularly vulnerable to corruption.
Fixing damaged INSV videos on Windows or Mac is a breeze with the help of programs like Wondershare Repairit. Two specific mending modes allow the utility to restore corrupted or damaged movies in all typical situations quickly.