Best Mac OS 10.12 Sierra Data Recovery Solution
by Bryan, 2016-06-24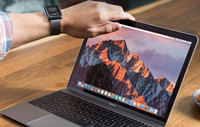 Have you ever worried about an accident like data loss? That's good. That means you are ready to learn the importance of data recovery software. So you are proud of your Mac OS Sierra. Don't get too happy early. Accidents do happen. Mac OS 10.12 Sierra data recovery solution can help you when it comes to retrieving lost documents. It's quite useful for bringing back your lost files regardless of data loss situation you may experience. Just like Windows operating system, there are many things that cause data loss. Here are some major causes of data loss in your Mac operating system:
Deletion
Format
macOS upgrade
Viruses
Bad sector
Corruption
Disk initialization
Choosing Mac OS 10.12 Sierra Data Recovery Software
There are many other reasons, in fact. You can increase the chance of retrieving your lost data if you use the right Mac OS 10.12 Sierra data recovery software. At least, you need to double check several things prior to using it. Compatibility is the most important aspect. It's no brainer. You need to check the technical specifications and the user manual. It's to find out if it's compatible with your MAC OS Sierra. Also, you need to check its multi-disk drive support. The best Mac OS 10.12 Sierra data recovery software supports all kinds of hard drives. These include Mac hard drive, USB drives, SATA, IDE, etc.
The next aspect is partition recovery. Good Mac OS 10.12 Sierra data recovery software is able to recover formatted or lost hard drive partition. Some applications can only retrieve lost files from existing partition. You don't want this kind of software, for sure. Next, make sure that it supports email recovery. It should work for Macintosh files and MS office. Not to mention you must pick software that's able to recover all types of files. Finally, make sure whether it offers a demo version or not. The reliable software comes with a free trial. You can test and check whether it's worth your money or not.
Do Your Data Recovery for Mac Professional gives you a good chance to recover lost files under Mac OS 10.12 Sierra. This Mac OS 10.12 Sierra data recovery software works perfectly on your Mac computer. As a precaution, always backup your important files for use. Stop the use of your Mac right away prior to recovering the lost files. Any overwritten files are impossible to retrieve, after all. In the case of any damaged storage device, don't take the risk. You are likely to cause more harm than good. In such case, you should call in an experienced technician. He helps you determine whether your files and hard drive are recoverable or not. Overall, be safe with your Mac OS Sierra.
Here are the three steps to complete Mac OS 10.12 Sierra:
Step 1: Select the file types you want to recover.
Step 2: Choose the hard drive to scan.
Step 3: Preview and recover your files.