You've probably heard the word firmware several times throughout your life. To you, it appears to be software, but what exactly is it and what does it do?
Firmware may be found in almost any device, including a computer, a USB flash drive, your phone, and even a traffic light. Reading about firmware, the distinctions between it and software, and how it serves a computer may help you better comprehend the gadgets around you.
Quick Navigation:
What exactly is firmware?
Firmware is a type of software that is integrated in hardware and provides low-level commands that allow a machine to interface with other equipment or execute fundamental functions. Even the most basic gadget will not work without firmware.
Firmware, like software, must be executed by a microprocessor or a microcontroller, but it is written to a piece of hardware rather than software kept on a hard disk drive. It is midway between software and hardware, hence the name.
Firmware was first saved on ROM/ PROM, a non-volatile chip, to avoid being erased or tampered with. However, firmware stored in ROM/PROM cannot be upgraded but must be replaced. As a result, many shifted to EPROM, which was later followed by cheaper and easier-to-write flash memory chips.
Firmware has numerous formats depending on the hardware in which it is installed. It may be found on personal computers, consumer items such as iPods and mobile phones, autos, and so on.
Applications of Firmware
Here are some applications of firmware:
In Computers:
BIOS (Basic Input/Output System) on earlier IBM-compatible personal computers.
The UEFI firmware (Unified Extensible Firmware Interface) used in Intel-based Macs and many modern personal computers.
Firmware on hard disk drives, such as solid-state drives and hard disk drives.
In the category of home appliances and personal-use products:
The channel list, as well as the audio and light controls on televisions.
Scheduling and control systems in washing machines.
In Routers and Firewalls
LibreWRT, a free software router distribution based on the Linux-libre kernel m0n0wall, a FreeBSD integrated firewall distribution.
Firmware vs. Software
Software involves a systematic approach that may be seen, modified, and dealt with by people. Operating systems, software applications, spreadsheets, and other helpful programs are some instances.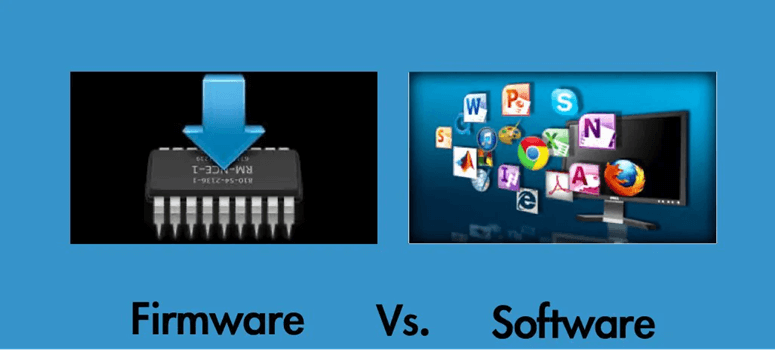 Software is meant to be upgraded more frequently and discarded with less impact. It is frequently huge and consumes a lot of storage capacity. To make a gadget operate, firmware is stored on it. It is not intended to interact with users. Firmware is updated infrequently and is smaller since it lacks graphics and interface data.
Unlike software, firmware loss or deletion frequently results in the device losing all functionality. This is also why it is retained on components that are electrically separated from the rest of the system.
What are Firmware Updates?
As previously stated, the objective of each firmware update is to alter the existing program in some way. However, what each firmware update does depends on the circumstances and the individual firmware version.
For example, a firmware upgrade to a media player may provide more codec compatibility, allowing it to make songs in new formats. If you've been wishing to copy music to your media player but the structure the audio files are currently kept in isn't recognized by your device, you could consider installing this sort of firmware.
Before executing a firmware update, you may generally look through a list of the changes included in the firmware to decide whether or not to upgrade.
How to Download and Install Firmware Updates
Because no two devices are the identical, it is hard to provide a blanket solution for how to install firmware on all of them. Some firmware upgrades are applied wirelessly and appear to be standard software updates. Others may entail transferring the firmware to a removable disk and manually putting it onto the device.
For example, you may be able to upgrade the firmware on a game console simply by approving any software update notifications. It's improbable that the gadget is set up in such a manner that you have to actively download and update the firmware. That would make it difficult for the typical user to complete upgrades, especially if the gadget required frequent updates.
Apple devices such as iPhones and iPads, as well as Android phones and tablets, receive firmware upgrades on a regular basis. These gadgets allow you to download and install firmware directly from the device, eliminating the need to do it manually. Firmware updates for mobile devices are typically acquired wirelessly, in which case they may be referred to as firmware-over-the-air (FOTA) upgrades.
Some devices, such as most routers, have a specific component in the administrative panel that allows you to deploy a firmware update. This is usually a part with an Open or Browse button that allows you to pick firmware that you've downloaded. Before you begin, review the device's user manual to ensure that the actions you're performing are accurate and that you've read all of the cautions.
DoYourData Products
Permanently delete data from any device or disk to prevent data recovery.
Free Trial