If you're considering purchasing a new MacBook, you might want to look at the memory and storage limits for models like the MacBook Air (8GB RAM, 256GB SSD storage) and MacBook Pro (8GB RAM, 512 SSD storage).
Or that you've read or heard about people talking about memory and storage but you question whether they shouldn't be the same thing. The fact is that although they may seem similar, a computer specialist won't concur. If you are unfamiliar with technical jargon, that is very OK. You may choose them when purchasing a Mac by understanding their differences and using the information on this page.
Quick Navigation:
What on a Mac is Memory?
There are two forms of memory: volatile RAM (random-access memory) and non-volatile ROM. Memory is also known as primary storage, main memory, or physical memory (read-only memory). RAM is often meant when Mac's memory is mentioned.
RAM, in contrast to virtual memory, is a physical hardware device that stores temporary data. It is made up of memory chips that are installed in modules and inserted into memory slots on the motherboard. Your MacBook may continue to beep three times if the memory is broken or loose. Users should have immediate access to files and apps thanks to memory.
To check your Mac's RAM, click on Apple > About this Mac and make sure Overview is checked.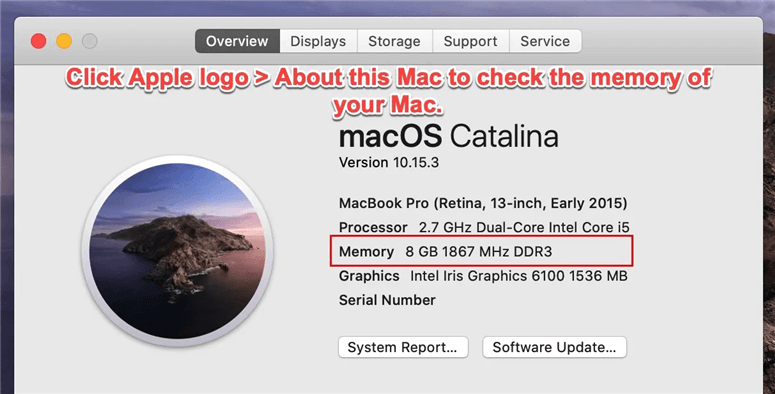 What does Mac's storage mean?
Your hard drive's storage is where data, including films and photographs, are kept indefinitely for access in the future.
When you go ahead and purchase a MacBook, you will probably see something along the lines of "512GB SSD storage," with SSD denoting the kind of your Mac's hard drive and 512GB denoting its size.
Because space is set aside to catalog the information on the disk after reformat and to replace damaged sectors, the actual capacity of an SSD is typically lower than what is promised.
As a result of their speed and stress resilience, SSDs have supplanted traditional Mac hard drives.
How to check your storage is provided below: To get the information, select Apple Menu > About This Mac, then click Storage.

Difference between memory and storage on Mac
On a Mac, memory, and storage differ from one another.
On a Mac, there are two main kinds of data storage devices: memory and storage. For storage to connect with the CPU, an interface is required, such as the widely used SATA. However, because memory interacts with the CPU directly, it is both more costly and quicker than storage. Memory has a considerably lesser capacity than storage because of this as well. Storage is non-volatile, where data is kept when the machine is powered off, whereas recollection is unstable, where info vanishes.
If memory were a mechanic's desk, the tools would be there for them to use right away and would be taken away after the job was over. In such an example, storage would be the closet in which the tools are kept.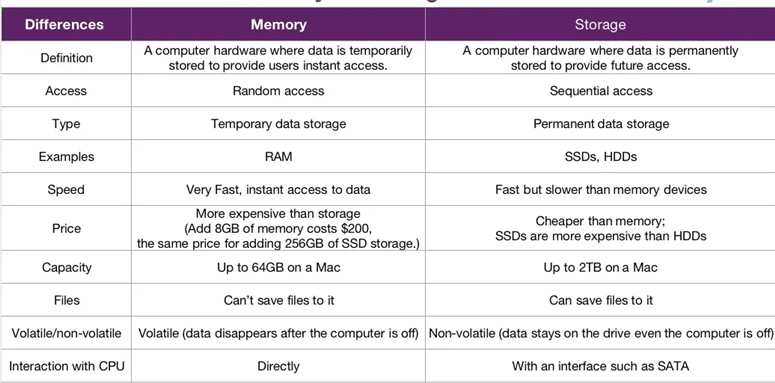 How much memory does a MacBook require?
The size of the Macintosh RAM is important because it affects how quickly you can access data and how many tasks your Mac can accomplish at once. Therefore, you must regularly clear up RAM on your Mac.
However, there is a limit to computer memory. Keep in mind that the maximum memory varies depending on the model and the year it was produced. The 16-inch MacBook Pro can hold up to 64GB of RAM, compared to 16GB for the most recent MacBook Air, 13-inch MacBook Pro, and Mac mini.
You might be curious about the ideal memory size. The biggest memory size you can buy is often the optimal memory size.
How much storage space and RAM does a MacBook require?
A MacBook's memory and storage are two pieces of crucial equipment that have a big impact on how fast your machine runs.
Over time, more memory and storage will be needed since operating systems and applications are constantly updated.
Furthermore, because memory and storage are soldered to the motherboard in newer MacBooks, Apple regrettably does not offer upgrades for them. You might still be able to upgrade if you are still using an older MacBook model.
As a result, take care to plan ahead and arrange the RAM and storage to the best of your ability.
How much space does a MacBook need to have?
Your Mac may soon run out of storage, function slowly, or even freeze if your storage device is insufficiently large. In 2021, your MacBook has at least 256GB of default storage, which is sufficient for daily use. A 256GB SSD can hold 107,500 images with a 2MB file size. You may customize your MacBook with at least 512GB of storage if you need to save a sizable amount of images, movies, or audio.
A Mac's SSD storage may hold up to 2TB of data. You might be possible to upgrade the storage if you're using an older model of the MacBook.
Whether you want to speed up slow Mac or delete junk data on Mac, you can try MacClean360 - it can help you delete all junk data, free up memory, manage disks on Mac.
DoYourData Products
Clone HDD, SSD, Mac OS, external disk, USB drive, and more under Mac OS.
Free Trial